Taste Paradise Launches New Individual Set Menus to Combat the Coronavirus
CONTENT: Yiew Kai Jie
To curb the spread of the Coronavirus in Singapore, Taste Paradise have launched new individually plated set menus for diners to chow down on indulgent Cantonese dishes that pack a punch of flavour while protecting diners at the same time.
At Taste Paradise, the restaurant has launched three new set menus that ranges from $36.80 per pax to $68 per pax (minimum of two persons to order). The top-tier $68 option starts off with the Combination of Chilled Black Fungus and Jellyfish in Vinaigrette, Crispy Whitebait Tossed with Salt and Pepper, and Crackling Pork Belly. The tantalising appetiser is followed by the Double-boiled Shredded Shark's Fin in Shark's Cartilage Soup, which is cooked for five hours with a wide array of rich ingredients that results in a creamy concoction that cleanses the palette and gets it ready for the main courses to come. (Guests who do not partake in Shark Fin's soup can opt for an alternative option.)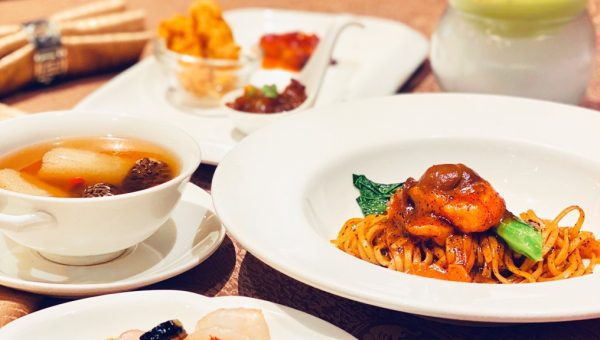 The Stewed Japanese Kurobuta Pork involves a decent portion of kurobuta pork being marinated with a special house-made barbeque sauce that seeps through every fibre of the tenderloin protein that has the right balance of fat and meat that resembles the familiar taste of bak kwa. Balance out the richness of the pork with the Poached Chinese Cabbage with Conpoy in Superior Stock, that acts as a palette cleanser with the flavours of the cabbage blending in unison with the subtle notes of the conpoy and stock. Afterwards, diners should ready themselves with the star dish of the menu, the Stir-fried Ramen with Lobster in XO Sauce, featuring half a lobster served with mildly spicy fried ramen noodles that are imbued with that quintessential wok hei flavour- the must-try dish is an exact reflection of the chef's penchant for constantly experimenting and improving his dishes.
Once the last strands of ramen have been slurped up, diners can end off the six-course meal with a comforting warm bowl of Almond Cream with Peach Resin.
Taste Paradise is located at 2 Orchard Turn, ION Orchard #04-07, Singapore 238801
Operating Hours: Mon to Fri 11.00am – 3.00pm (Last order at 2.30pm) ; 6.00pm – 11.00pm (Last order at 10.00pm) Sat, Sun & PH 11.00am – 4.30pm (Last order at 3.30pm) ; 6.00pm – 11.00pm (Last order at 10.00pm)