The Capitol Kempinski Brings back popular 60's Magnolia Snack Bar with modern day Capitol Milk Bar.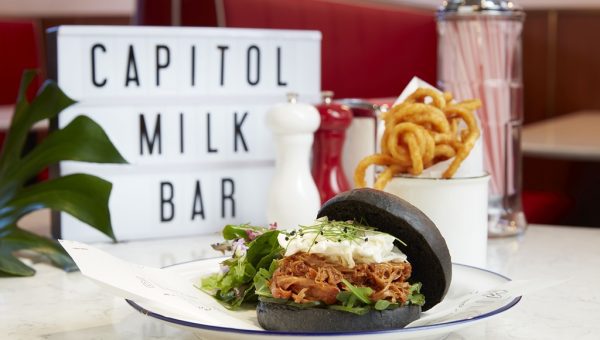 Do you remember the Magnolia Snack Bar that began way back in 1937? The cosy 'Creameries Milk Bar' in the Capitol Building served ice creams, milkshakes and cakes, and it was a hit with Singaporeans both young and old for social gatherings and post-movie bites. Dotted all over the island since the 1960's, Magnolia Snack Bars have been a favourite haunt of students, young courting couples and tourists alike. Many hold fond special memories of the popular Magnolia Snack Bar.
The bars may have closed in the late 1980's but it has now re-emerged in modern times as Capitol Milk Bar in the same premises at Arcade@The Capitol Kempinski with the aim of bringing back that wholesome family fun diner experience but with a revamped menu reflective of our times.
Fresh from the opening of Arcade@The Capitol Kempinski last year, there are now signs of slowing down with its F&B offerings. After 15 Stamford by Alvin Leung, Frieda Restaurant and Berthold Delikatessen, the dining destination on the grounds of The Capitol Kempinski Hotel Singapore has added to its list of dining options, Capitol Milk Bar.
Be transported to Singapore's heydays with retro touches that extend from the furnishing and interior décor to the menu. Test your knowledge on this bygone golden era with trivia based on the old Capitol Theatre and Capitol Building and stand a chance to win a gift for each right answer (per diner).
Once you've worked up that appetite, peruse the menu with items named after famous figures intertwined with the history of the old Capitol Building and its famed theatre.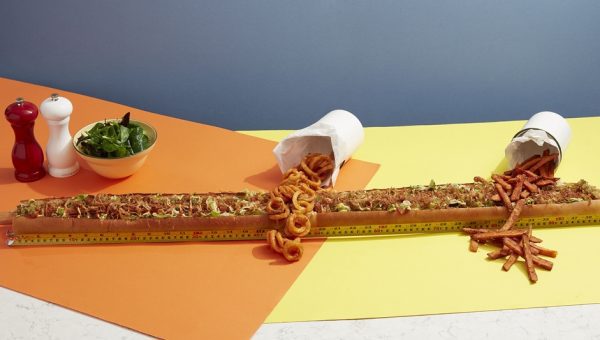 Hotdogs
Hotdogs here can come old-school with simple pork sausage, mustard, ketchup, cucumber relish and crispy onions as in the case of The Classic New Yorker, or adventurous with spicy beef sausage, arugula, chili con carne, mozzarella cheese and tomato salsa, like The Rio Rita. Got a big appetite or a group of friends? Then make it jumbo and ask for it upsized to 1m in length for an experience for the palate as well as your social media.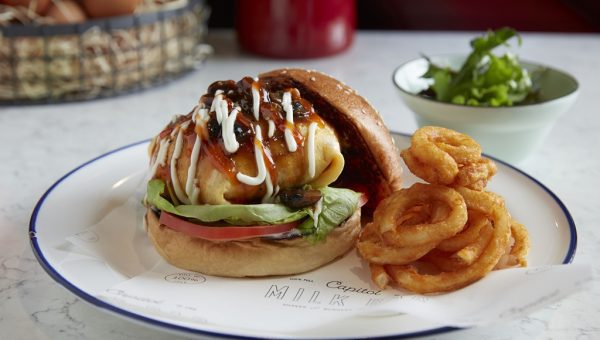 Burgers and Sandwiches
A diner isn't a diner without its Burgers and Sandwiches and the ones here come with a choice of charcoal brioche bun, multi-grain bun or sesame wheat bun, all made fresh in house.
Take your pick from crowd favourites like The Stamford that comes with pulled pork, arugula, pickled cucumber, yuzu cabbage slaw and apple butter barbecue sauce or The Capitol that serves up 150 grams of Black Angus beef patty in an egg wrap topped with cheddar and black pepper mushroom sauce.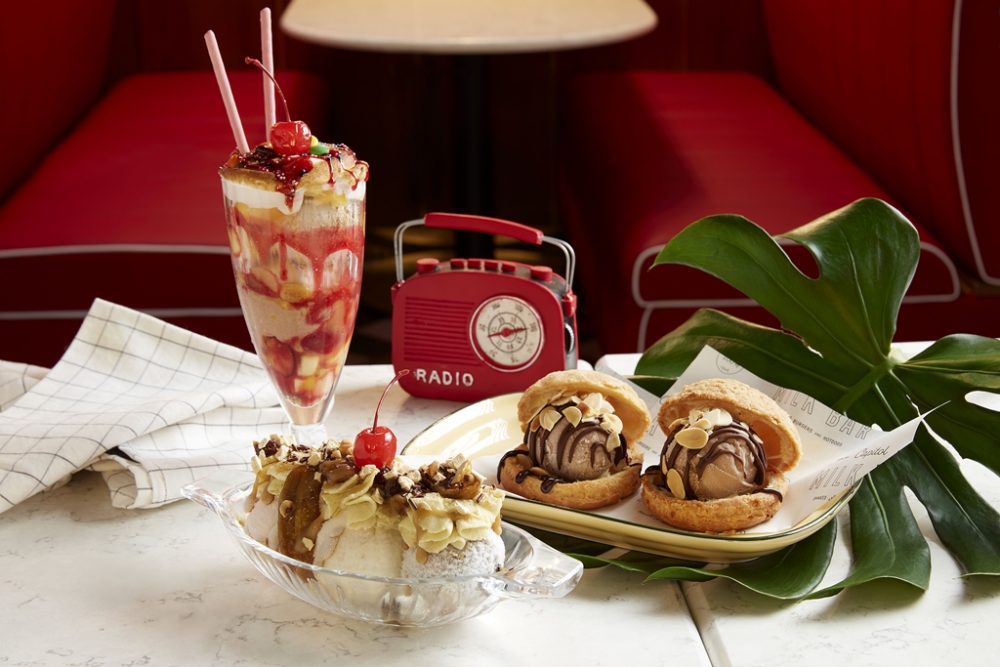 Ice Cream, Milkshakes and Floats
The Capitol Milk Bar Banana Split is a heightened version of your favourite childhood treat with vanilla, chocolate and strawberry ice cream served with caramelised banana raisin, banana vanilla espuma, freeze dried banana and banana rum glaze. A touch of European comes with the Profiteroles which are choux pastry filled with vanilla ice cream, drizzled with hot chocolate sauce, and topped with vanilla Chantilly and roasted almonds.
Even if you're not up for the full dress up, you'll be spoiled for choice with a simple ice cream scoop, since you'll have 10 flavours of ice cream and sorbets to choose from, from Madagascar vanilla bean to chocolate fudge cookie. Peanut butter, chendol, Thai coconut and calamansi are all there in between.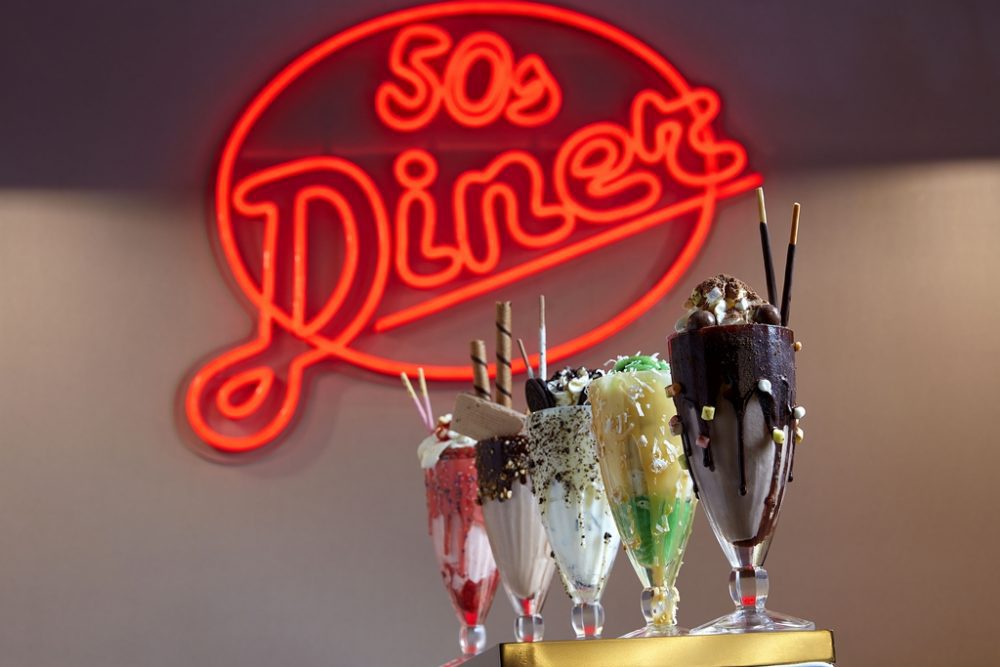 Milkshake options do not disappoint, especially with flavours like Milo Dino Milkshake, a childhood favourite for a lot of us, but now comes amplified with marshmallow, malt balls, chocolate Pocky and a lot of chocolaty powder. The Nutella Milkshake makes the crowd favourite breadspread even more indulgent as a drink with toasted hazelnut, Hanuta wafer, Picola stick and sea water cloud. For a local flavour, the Singapore Dash "Chendol" Milkshake is as good as the traditional dessert, only made better with red bean, pandan jelly, gula Melaka and coconut flakes.
Enjoy all these in a classic diner setting from the '60s complete with accent wall tiles, silestone table and counter tops, and ceramic mosaic flooring, where vintage posters and neon lights will have you reliving the best of the era. Find this blast from the past nestled between other vibrant dining options at Arcade@The Capitol Kempinski.
Capitol Milk Bar is located at: Arcade @ The Capitol Kempinski, #01-84B
For more information or reservations please call: +65 67156874 or email: capitolmilkbar.singapore@kempinski.com