Why Singapore Needs Michelin Stars
Last week Michelin announced the recipients of the inaugural Michelin guide Singapore 2016, wherein the biggest winner for this first edition is French restaurant Joël Robuchon who is the sole restaurant awarded with three Michelin stars.
"From the quality of the ingredients – with only the best selected – to the finesse of the cooking, through to the impressive wine list that includes over 1000 references, the experience offered by the chef Joël Robuchon is quite simple exceptional! " exclaims Michael Ellis. "Each plate is executed with masterful panache, such as poached lobster in a spicy bouillon, or the farmer's guinea fowl with roast foie gras and each offers gourmets a palette of flavours and memorable intensity of taste".
The MICHELIN guide inspectors distinguished 22 one star restaurants, among them is the first ever street food starred in a Michelin guide – Hill Street Tai Hwa Pork Noodle and Hong Kong Soya Sauce Chicken Rice & Noodle. Majority of establishments raised eyebrows when street food eateries like Hill Street Tai Hwa Pork Noodle and Hong Kong Soya Sauce Chicken Rice & Noodle managed to earn One Michelin Star, but for sure the inspectors has their own set of procedures wherein it clearly states that to enable to earn at least One Star, establishments must use quality ingredients and serve carefully prepared dishes with distinct flavours meaning it's all about the taste and ingredients which for sure they deserved the star.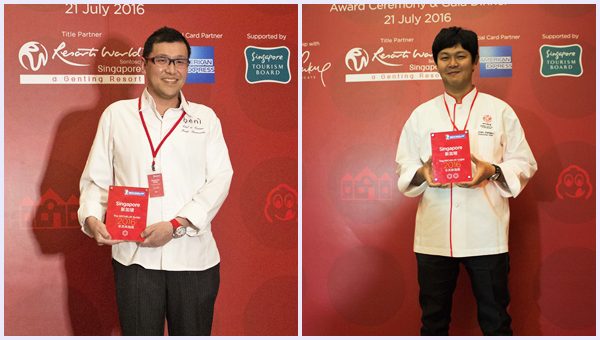 Does Singapore really need Michelin Guide and the stars? But of course Yes, there is a need, The Michelin guide selects the best restaurants and hotels in the 28 countries it covers and highlights the culinary dynamism of the country as well as recognizing new trends and recognizing young talented chefs, with the launch of The Michelin guide, Singapore's local culinary scene is finally being recognized around the world – making it more attractive to tourists.
The guide is a statement of the culinary journey Singapore had evolved from 51 years back. Singapore being the first Southeast Asian country to be rated by the Michelin Guide, gives the country a comparative advantage that reaps huge benefits; amongst them is a regular distinct patron who will queue just to check out your food. This we experienced last when people have to queue for over more than an hour at Hong Kong Soya Sauce Chicken Rice & Noodle just to have a plate of Soya Sauce Chicken.
Michelin Stars gives recognition to the establishment – the stars speak to your mind of how good this establishment is. Travellers from neighbouring countries come to Singapore just to check out the establishments in the Michelin guide.
Lastly, with Michelin Guide, the Singapore restaurants will work harder by improving their food quality and food standards in order for them to earn them this recognition, and for this year's winners, they need to work extra mile to ensure they keep their stars next year. Overall, this will put Singapore in the world culinary map and will encourage more young entrepreneurs to come out open their own food establishment which rounds up to a healthy balanced competition for everyone.
Here are the establishments that made it to the Michelin Guide Singapore 2016: