YUN NANS Releases Five New Peppery Dishes
YUN NANS, the world's largest F&B chain with over 150 outlets in Yunnan, China, has launched five new dishes, as well as a new children's menu in the recently opened outlet in its new Jewel Changi Airport outlet. In keeping with its array of signature offerings, the new dishes are a celebration of Yunnan's heritage in China, which focuses on using fresh ingredients that include the piquant spice of peppercorn from the highlands of the Yunnan province.
Possibly the most outstanding dish out of the range of new dishes was the Steamed Red Grouper with Green Peppercorns (S$48.80). The massive grouper is steamed with fresh green peppercorns, which are more fragrant and less numbing than their red counterparts. This results in a mala-like sauce that nicely coats the tantalising meat that goes well with a simple bowl of rice. However, reservations are required as this delicate and refreshing dish is only available in limited quantities per day.
The Century Egg with Grilled Capsicum (S$6.90) is soused in a special Yunnan chilli sauce that has a spicy-tangy undertone. The bell peppers have been grilled to perfection, thus lending a smoky undertone to the dish that are all unified by a special Yunnan chilli sauce.
The highly addictive Spicy Fish Skin with Jasmine Petals (S$6.90) features deep-fried fish skin coated with a medley of traditional Yunnan spices. Each bite is crunchy and boasts a delightful and mild kick of mala that will leave diners licking their fingers for more of the oily-spicy snack.
No meal is complete without some greens on the table, as the new Fried Chayote with Dried Shrimp (Dried Chilli/Garlic) (S$11.90) will prove to be a hit at the table due to its light and delicate clean-cut taste. The chayote and dried chilli used is sourced straight from Yunnan, and is often used in home dishes by the locals.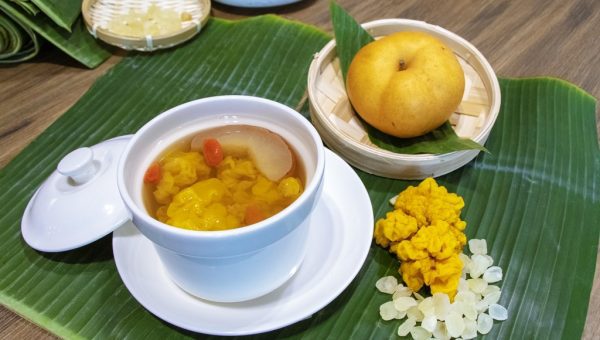 The restaurant's only hot dessert, the Double Boiled Pear with Golden Fungus and Snow Lotus (S$5.90) is first made by brewing soup with pear for a fruity sweetness. Then, natural and wild golden fungus, a speciality ingredient from Yunnan province, is added. The natural wild Snow Lotus, known to alleviate dry cough, is then added as well. The ingredients help to nourish the lungs and improve complexion. Rock sugar caps off the line-up, and the dessert is then steamed for two hours before being served on the table.
Besides the five new dishes, there is also the children's menu, which offers two selections: Yunnan Rice Noodles with Shredded Chicken, Shredded Carrot and Black Fungus (S$7.80) Shredded Chicken Congee (S$7.80). Each course comes with fresh fruits, corn cake and a cup of Ribena.
Apart from the new dishes, there will be an introduction of one of Yun Nan's signature dishes, Double Boiled Chicken with Red Mushrooms (S$29.90, small; S$38.90, large)- a must-order dish on the menu. Black feet chicken is double boiled for at least two hours while wild red mushrooms are then added later to the soup. The wild red mushrooms are considered to be a prized delicacy where the precious ingredient is priced at US$400/kg, only consumed during celebrations or special festivals. Full of nutrients such as amino acid, this rich and healthy soup is especially nourishing for the elderly as it helps replenish the blood and give them an energy boost to go about their daily activities.
Yunnans is located at Jewel Changi Airport, #02-217, 78 Airport Blvd, Singapore 819666.
For reservations, please call: +65 6908 3677.