REVIEW: Legally Blonde The Musical Is So Delightfully Campy, It's Amazing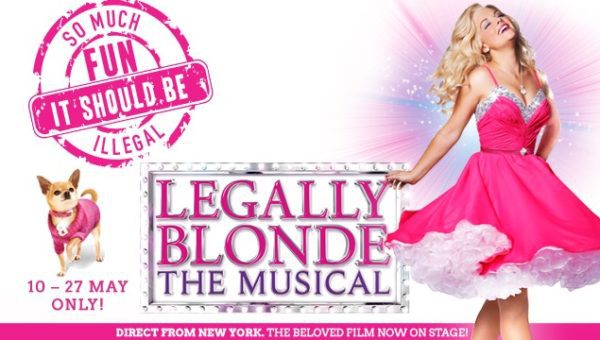 CONTENT: Michelle Ng
IMAGES: Base Entertainment Asia
Depending on whether you grew up watching Mean Girls or Legally Blonde, you would have totally different definitions of the blonde stereotype. While Mean Girls reinforce the blonde as a 'dumb girl', Legally Blonde is the exact opposite. Cos blondes can be smart too!
Even if you haven't watched the book or watched the movie, you'll still enjoy the musical. The feel-good musical is super cheesy, from the songs to the Delta Neu girls' getup, but you'll find yourself drawn into the storyline. The first set might remind you of a Barbie's house, but we're willing to bet that it was on purpose. Soon you'll meet the ditzy Elle Woods and her narcissistic boyfriend who's one and only priority is himself.
The musical pretty much follows the movie plotline, and our blonde bombshell decides to follow her boyfriend, Warner Huntingdon III, to Harvard. The previous sorority leader finds it hard to fit in, especially when she gets kicked out of class by Warner's new girlfriend, Vivian. In between witty one-liners and energetic numbers, our favourite pink gal Elle seems to be fighting a losing battle until she met Emmett, the nice teaching assistant who seems to take a liking to her.
We loved how Elle had her own 'Greek chorus' which materialized in the form of her previous sorority sisters who gave her advice whenever she needed it. Paulette, a friend who came in the form of a salon owner, also lends a listening ear to Elle to truly unleash her inner lawyer. Oh, and who could forget the classic 'Bend And Snap' gesture? It saved both Paulette's love life and Elle's court case to get her that coveted internship at her professor's law firm.
Talking about the 'Bend And Snap', the highlight of the show had to be the courtroom scene when everyone was trying to determine if Nikos the pool boy was gay or not. The sassy Nikos tripped up on his words, although we never heard what happened to him. Does he get to go scot free, or will he reveal who was it that told him to lie on the stand?
Movie fans will love this show, even though it has a much happier ending all around. The musical numbers are all super extra (there's no other way to put it), but that's what makes this musical so good. If you asked us, Legally Blonde is one of those guilty pleasure musicals that everyone secretly loves – cheesy-ness included.
Legally Blonde runs at The Sands Theatre, Marina Bay Sands until 20 May 2018. Get your tickets now via https://www.sistic.com.sg/events/legally0518 or www.marinabaysands.com/ticketing.