1855 The Bottle Shop's Wine & Whisky Week Summer Edition is Back Featuring Exclusive Wineries and Labels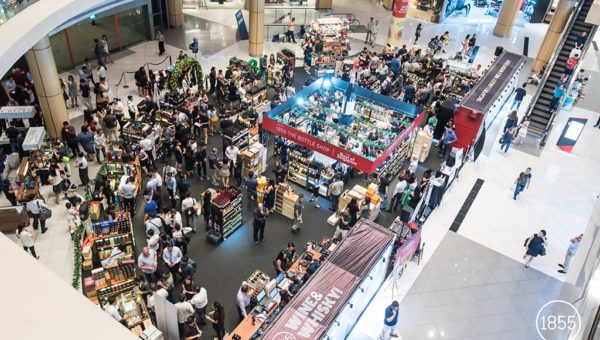 Set to return this 16 to 27 May with a summer theme of "Behold the Beauty of Blends, Soak in the Spirits of Single Varietal", the fifth edition of Wine & Whisky Week (WWW) will feature wineries and labels that are making their debut appearances exclusively at 1855 The Bottle Shop.
These include rising star in the Chilean wine industry Viña Vik; top iconic winery in Italy Duemani; the world's first zero CO2 emissions farm Castello Monte Vibiano Vecchio; highly anticipated Johnnie Walker Blue Label Ghost and Rare, and many more.
"Each edition, we've always tried to push the boundaries by bringing new and highly sought-after wines and spirits to Singapore. Apart from showcasing these exciting labels, our eagle-eyed procurment team at 1855 The Bottle Shop have specially sourced for limited quantities of mature 20-year old (1998) Bordeaux Grand Cru Classe wines for the upcoming edition. At 20 years old, these labels represent quintessential mature Bordeaux at its peak and are great value for money buys.," says Managing Director Lim Jing Zhe.
When asked about its debut in Singapore, Matteo Graziani, Director of Castello Monte Vibiano Vecchio said, "We are very excited to introduce our wines to the wine enthusiasts in Singapore. During WWW, we will be showcasing our newest labels which have never been launched in other countries in Asia. Available in limited quantities, these labels have been used by many celebrity chefs and served at Michelin-starred restaurants."
Since its inception in 2016, every instalment of WWW has received overwhelming response from participants, who get to enjoy the unique experiences of wine tasting, education and shopping under one roof. WWW is the largest wine and whisky event in Singapore, featuring over 500 wine and spirits labels at attractive discounts, with over 100 labels for complimentary sampling and an eight-series Masterclass.
During the 12-day event, visitors can explore blends from Bordeaux, a region recognised as the home of masters who blend with the typical grape varieties: Cabernet Sauvignon, Merlot, Cabernet Franc, Petit Verdot. They can also discover a modern twist of winemaking as artistans include grape varietals like Sangiovese, Sagrantino, Syrah and Carmenere into a typical Bordeaux blend. Spirits such as single malt, grain and blended whiskies, sakes from boutique breweries and gin, etc will be available for tasting too.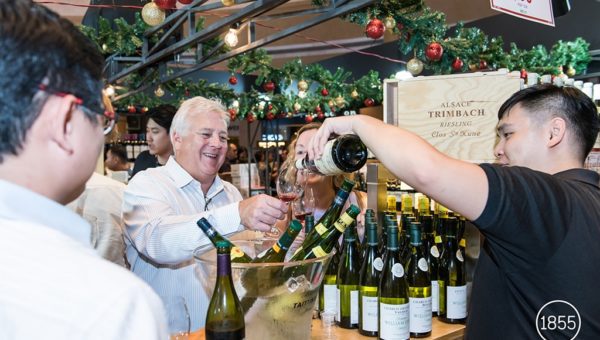 A Not-to-be-missed Showcase
Discover an incredible showcase of more than 500 wine and spirits labels from over 10 countries, including France, Italy, Chile, Scotland, Japan, Australia, New Zealand, Taiwan, USA and Spain all under one roof. Admission is free!
Product Highlights:
La Piu Belle 2011 – by Viña Vik (debut in Singapore & exclusive to 1855 The Bottle Shop)- Owned by Norwegian billionaire Alexander Vik, and with a winemaking team led by Patrick Valette (former owner of Chateau Pavie), Viña Vik is one of the rising stars in the Chilean wine industry. Viña Vik's "La Piu Belle" or "most beautiful" wine features a distinctive and stunning wine label, rarely seen in the industry, with a Goddess painted on the wine bottle.
Altrovino 2015– by Duemani (debut in Singapore & exclusive to 1855 The Bottle Shop)- Touted as one of the 10 most iconic wineries in Central Italy by Robert Parker Wine Advocate.
L'Andrea 2010 – by Castello Monte Vibiano Vecchio (debut in Singapore & exclusive to 1855 The Bottle Shop)- The first zero greenhouse gas emissions farm in the world. Introduction of "Super Umbrian" – Umbria's equivalent to Super Tuscan Wines
Château Gruaud-Larose 1998 – One of the most famous wineries in Bordeaux, Château Gruaud-Larose is located in Saint Julien and was classified as a Second Growth in the Bordeaux Classification of 1855.
Nihonsakari's Imperial Sake – For over 110 years, Nihonsakari has cultivated brewing techniques rooted in traditions from Nada, home to Japan's finest sake. Savour sake offerings beloved by Emperor Meiji and used by the Imperial family for important events and ceremonies.
Johnnie Walker Blue Label Ghost and Rare (Limited edition, debut in Singapore & limited allocation to 1855 The Bottle Shop) – The remarkable limited edition label is the first in a series of special releases created by Johnnie Walker Master Blender, Dr Jim Beveridge using irreplaceable whiskies from "ghost" Scotch whisky distilleries that have long since closed together with other rare malt and grain whiskies. Each release in the series will be crafted with one incredible whisky at its heart, the first being the legendary Brora. A robust melange of eight Scotch whiskies, relish the interplay of light peatiness and mellow sweetness.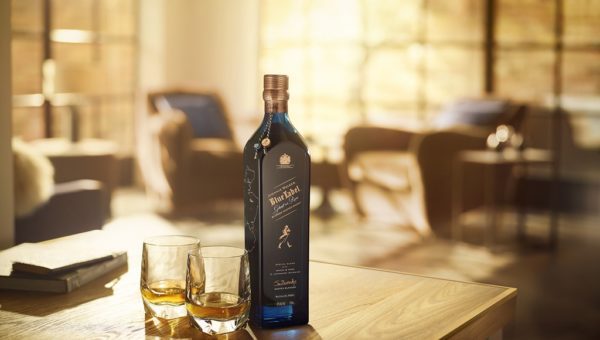 Learn from the Experts during Masterclasses
Another staple of the WWW is the series of eight masterclasses, where industry experts will take centre stage and share their knowledge with participants.
Timothy Barnes, Wholesale Manager, La Maison du Whisky, will helm the "Launch of the New Ki No Bi SEI and Botanicals" masterclass. A good gin is made of multiple high-quality botanicals. But what exactly are the botanicals? Participants will learn about and get to taste the elements and bases of the Ki No Bi Gin, one of the most highly sought-after gins in the world, as well as the new Ki No Bi SEI.
In "The Cultural Significance of Sake and Nada Region by Nihonsakari", Adrian Goh, Sake Sommelier, Interrice Asia, will enlighten on the history of Japanese sake as well as the Nada region of Hyogo and why it is so popular for Japanese sake. During the session, get to savour sakes beloved by Emperor Meiji and used by the Imperial family for important events and ceremonies. Continue the learning experience during "The Influence of Casks". Matthew Fergusson-Stewart, Asia Pacific Regional Brand Ambassador for Glenfiddich, will touch on how different casks influence the taste of whiskies.
Tickets to the classes are priced at S$28 each, and will be available for sale on www.1855thebottleshop.com from 25 April onwards.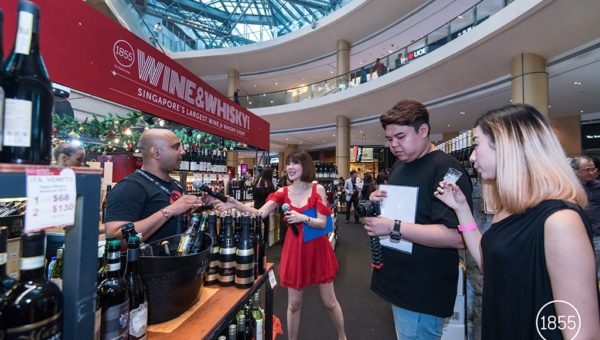 Exciting Contests Throughout the Event
Lucky Draw: Win a Year Supply of Wines & Whiskies worth $3,000 – Every S$200 spend will entitle an entry and customers can enter as many entries. One (1) winner only, to be drawn and announced on 11 June 2018
Wine Chiller Giveaway –  Vintec chiller, V30SGME (Worth: $838) to be given away to first two customers who spend $8,000 in a single receipt.
Sure-win Spin & Win – A minimum spend of S$200 and above in a single receipt will entitle customers to spin and win attractive prizes.. Each receipt entitles each customer to a maximum of three spins.
1855 The Bottle Shop Wine & Whisky Week is held from 16 May to 27 May 2018 at Suntec City East Wing, Level 1 Atrium, Singapore. Admission is Free!