You Are Cordially Invited to XXX: The Very W!LD RICE Ball 2016
W!LD RICE is thrilled to announce the 15th edition of the RICE BALL happening on 8th October 2016, 7pm at the Island Ballroom, Shangri-La Hotel. Presented by Swiss luxury watch-maker Hublot, the world's leading alchemist of revolutionary timepieces, XXX: The Very W!LD RICE BALL will transport guests into an electrifying wonderland of sensual fantasy – part burlesque, part cabaret, and pure entertainment.
As the proud presenting sponsor of Singapore's most anticipated society balls for half a decade, Hublot is ready to celebrate art and culture to the extreme in collaboration with W!LD RICE. Hublot shares W!LD RICE's philosophy of challenging conventional mindsets, while creating exceptional pieces of art. This is in line with Hublot's "Art of Fusion" ethos, and has resulted in an extraordinary partnership that has continued to flourish from strength to strength over the past five years.
This year, XXX: The Very W!LD RICE BALL promises an X-hilarating evening of seduction and sensuality. Leave your inhibitions at the door and step into an X-citing world of hidden passions and secret desires. To tantalise your taste buds, an X-quisite banquet will be laid out by the chefs of the Shangri-La Hotel.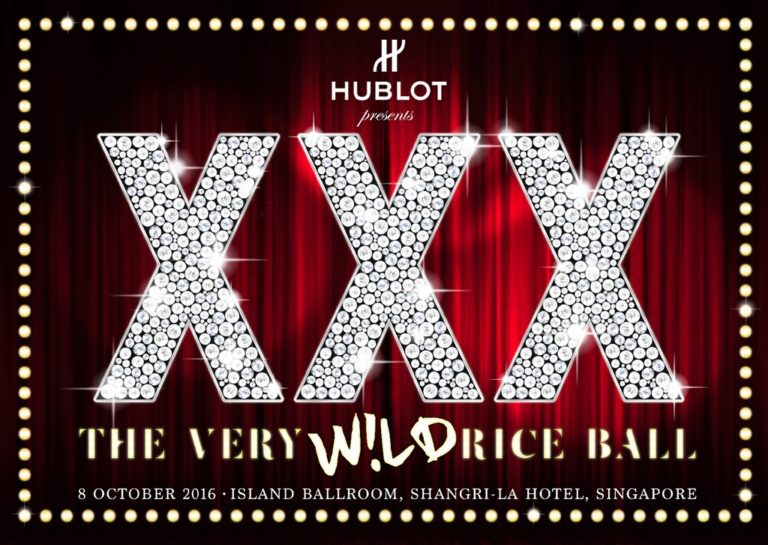 And then, behind closed doors and for one night only, a galaxy of stars will take the stage for The XXX-Factor Cabaret Show. Directed by Ivan Heng and Glen Goei, this eyepopping, heart-pumping X-travaganza will scandalise the Lion City! Some of Singapore's finest multi-talented performers, including Pam Oei and Hossan Leong, will share the stage with acclaimed burlesque artist Sukki Singapora. An international troupe of dancers will also perform dazzling routines created by world-renowned choreographer Lisa Keegan while DJ Keith Colaco will turn the heat up on the dance floor, and have the ballroom sizzling into the wee hours of the morning.
"HUBLOT and W!LD RICE are two creative enterprises that persistently push the envelope in terms of creativity, excellence and collaboration. Our association over the last five years has been extraordinary, exhilarating and, well, very sexy!" says Ivan Heng, Artistic Director of W!LD RICE. "True to form, we expect our guests will check their inhibitions at the door and express themselves freely, while benefiting W!LD RICE in its mission to create excellent theatre for Singapore and the world."
There's no doubt about it: XXX: The Very W!LD RICE BALL is the most X-ceptional, Xtraordinary and X-hilarating event of the fundraising season. Join W!LD RICE for a sensational night to remember!
Donation tables, each seating 10 guests, are now available. For more details, please email riceball@wildrice.com.sg or call Katherine Khoo at 6292-2695. Tables are priced at $20,000, $15,000, $10,000 and $6,000. As W!LD RICE is a Singapore Registered Charity, all donations will be eligible for 250% tax deduction.