Young & W!LD presents: CROSSINGS
From 15 to 19 February 2017, the new young & W!LD cohort will be staging its first public performance, the world premiere of Crossings, a brand-new double-bill of original plays about the choices that make or break our lives, will be staged for seven performances only at Centre 42's Black Box.
Bold, dark and funny, the two plays in Crossings follow characters who have arrived at a critical crossroads in their lives. The choices they make will change their journeys forever: setting them on the road to self-discovery – or self-destruction.
The Mother, The Son and the Holy Ghost explores what it takes to walk through the tunnel and into the light while Arbitrio tells a story of a picture-perfect relationship lies a train-wreck of betrayal and abuse from an unlikely affair to the sudden appearance of a former lover.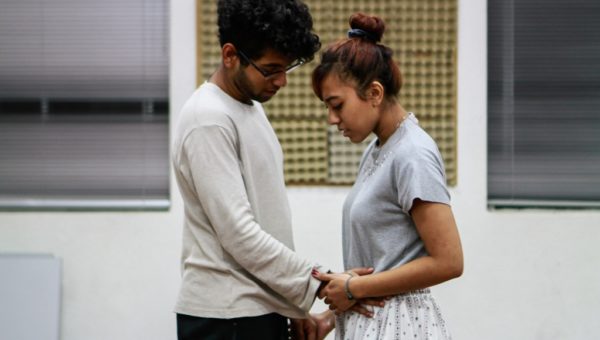 "Just like these troubled characters, we all have to live with the decisions we make and their consequences," explains Oliveiro. "I chose the main title of Crossings because it speaks to me of human wills and desires and ambitions – how we always bravely chug along, how we're always busy with a new endeavour, even as we occasionally miss the subtle signs pointing towards our doom."
The eight members of young & W!LD, from the ages of 19 to 24, came up with the stories, characters and themes that will feature in Crossings via improvisations and devising workshops. With their help, Rodney Oliveiro, their programme co-director, put together the final scripts of both plays.
The current cohort of young & W!LD embarked on their 18-month training programme in February last year. Since then, they have gained valuable experience in devising and performing their own original work. Following months of intensive workshops, they presented When S#!T Hits The Fam, an experimental piece that explored the trials and tribulations of family life, in May 2016.
"Over the past year, I've been most impressed by their openness, their willingness to try new things and their support for one another," says Serena Ho, co-director of young & W!LD and Crossings. "I hope they will trust their voices and never stop surprising themselves"
Bold, inventive and thought-provoking, young & W!LD's Crossings is a celebration of new Singapore voices and talent, brought to you by W!LD RICE and directors Rodney Oliveiro and Serena Ho.
Crossings runs from 15 to 19 February 2017 at Centre 42's Black Box (42 Waterloo Street, S187951). The performances starts 8pm on all days and 3pm on Saturday & Sunday. Tickets from $25 onwards are now available from www.peatix.com
For bookings of 20 or more tickets, please contact Ross Toh at 6292-2685 or sales@wildrice.com.sg.