Bangkok Hospital In Partnership with Mövenpick BDMS Wellness Resort Bangkok Launches 14 Days Long-Stay "Health Watch" Package
The highly respected Bangkok Hospital in partnership with Mövenpick BDMS Wellness Resort has launched 14 Days Health Watch, a 14 days long-stay Urban Wellness Retreat package, which offers Thais and expats the chance to stay in luxury accommodation while being attended by one of the largest and best-equipped medical facilities in the city.

14 Days Health Watch includes accommodation in a 74 sqm Wellness Suite with balcony. Accommodation and full board (three meals per day) are provided by the hotel. Bangkok Hospital conducts an initial consultation with a doctor, daily health monitoring at the hotel under nurse supervision, immune system enhancing supplements from Royal Life Anti-Aging Center (Cordyceps Mix C and Mushroom Extract) and a COVID-19 test at the end of the stay.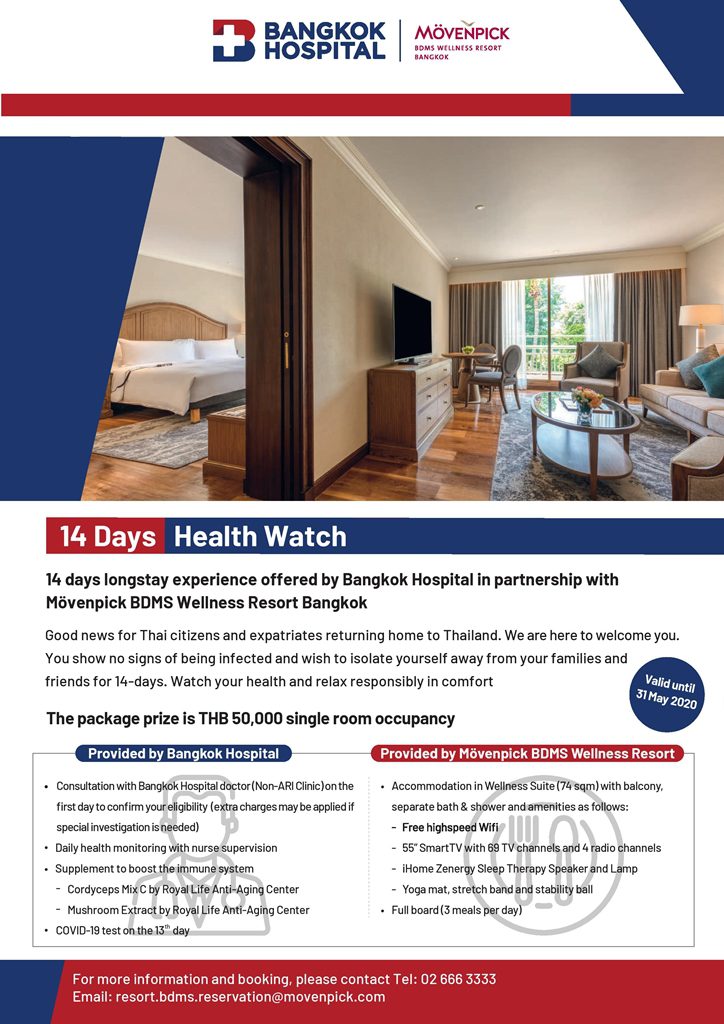 The package costs THB 50,000 net for a single room occupancy and is valid until 31 May 2020.

For more details see please contact +66 (2) 666 3333 or send an email to resort.bdms.reservation@movenpick.com