Boat Lagoon Yachting commemorates the launch of their new Princess Yachts fleet
Having made a name for itself over the course of two decades, Asia's premier provider of a luxury yachting experience, Boat Lagoon Yachting (BLY) showcased the launch of Princess Yacht's state-of-the-art fleet.
With a show of force of the largest and newest fleet of Princess Yachts– the Princess Y85, Princess F45, and Princess R35, at One15 Marina Club.
Over 150 VIP guests were invited to the One15 Marina Club to witness and experience the projection of luxury that BLY and Princess Yacht had put in place with a spectacular selection of entertainment specially curated to celebrate the official launch of the Princess Y85, Princess F45 and Princess R35.
The evening kicked-off with music performances by local celebrity DJ, DJ Red with her extensive selection of nautical-themed and upbeat music paired with a live jazz performance by Singaporean jazz vocalist, Skye Sirena. The highlight of the evening was the first performance of its kind ever in Asia – a spectacular audio-visual display through a state-of-the-art 3D mapping light and sound show, projected onto the elegant silhouette of the very first newly built Princess Y85 yacht.
Guests were then treated to an unique yacht-ballet performance that involved them boarding the yachts and heading out onto the waters at the marina while being serenaded by a melodious jazz performance on board the Princess Y85 which was followed by an immersive fashion showcase by renowned fashion designer and curator, Lisa Von Tang, that featured her East-Meets-West resort collection.
The all-new Princess F45 and Princess Y85 represents the pinnacle of their respective yacht classes, delivering a unique experience for owners who want to travel the seven seas quickly with style. Designed with performance and efficiency in mind, owners will be glad to know that both yachts have an expansive skybridge that are decked out with the best amenities and living cabins that money can buy. Regardless if a customer is taking their yacht out to sea for a family vacation or to celebrate a special occasion, the yachts along with their well-trained crew are able to adapt to accommodate any situation.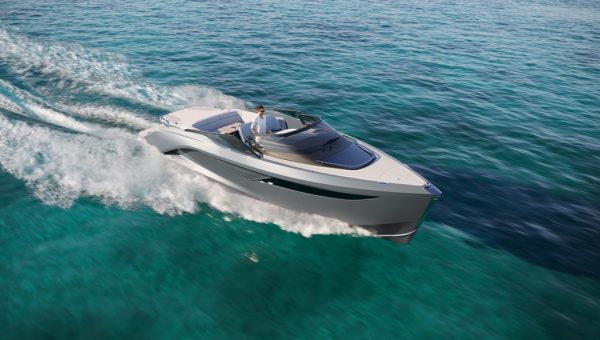 The eye-catching Princess R35 is a first of its kind- the very first Princess R Class performance sports yacht. Designed, handbuilt and fitted with the latest technologies that Princess Yachts has to offer, this speedster is capable of reaching a top speed of 50 knots to deliver the best experience for owners who desire to answer the alluring call of the ocean. Below the top deck, a modish cabin awaits with a fully functional bathroom and kitchen space where the seating space can be converted into a double bed- even the most adventurous seafarer needs to rest and recuperate before continuing on their voyage.
Adhering to their tradition of being the first to bring unique experiences to their clients all over Asia, BLY continued that spirit with a Princess Yachts rendezvous. Private clients and guests came together for an exclusive sunset cruise on board eight of Princess Yachts' latest models; Princess Y85, Princess F45, Princess R35, Princess Y75, Princess F70, Princess S65, Princess F62, and Princess F55.
Cruising together for the first time in Asia, the eight-yacht rendezvous set off during sunset to Lazarus Island for a leisure cruise, and thereafter to Marina Barrage where guests marveled at the picturesque view of Singapore's Central Business District skyline, with a stellar view of the iconic Marina Bay Sands and ArtScience Museum, as well as Singapore's urban nature park, Gardens by the Bay.
For more information, please visit https://www.boatlagoonyachting.com.