Dermalogica Opens Its First Concept Store in Singapore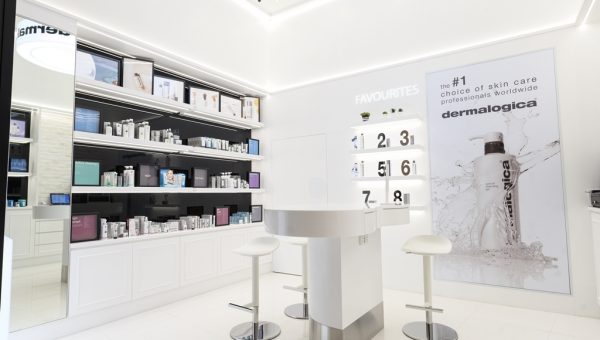 The outlet at Jewel Changi Airport has the FaceFit Skin Bar, and offers customised facial treatments
CONTENT: Luxe Society Asia
One of the best things you can do for yourself is take care of your skin. Enter: Dermalogica, a trusted US skin care brand since1986, which has finally arrived on our shores with its first concept store at Jewel Changi Airport.
The minimalist space is anchored by the FaceFit Skin Bar, manned by experts who can share more about their new product launches as well as which ones are better suited for customers' skin. They can also advice them on their skin health or concerns, and through this, recommend facial treatments.
There are two types available: ProSkin 30 is recommended for those who are in need of a quick fix, and ProSkin 60 for those with more pressing needs. Both follow a tried-and-tested set of modules that have been carefully developed by The International Dermal Institute.
Each module uses Dermalogica products that have IonActive products incorporated in them; these consist of hyaluronic, acid, retinol 1%, niacinamide and oligopeptide. All work together to hydrate the skin; reduce fine lines, discoloration and uneven skin texture; clear acne; decrease post-inflammatory hyperpigmentation; and help brighten skin.
It's also worth noting that these products are cruelty-free and are safe for sensitive skin. They're free from common irritants and ingredients such as lanolin, SD alcohol and mineral oil, which often cause breakouts.
ProSkin 30 follows a three-step module starting with double cleanse, in which the therapist uses a delicate cleanser to clean the face without drying it, and face mapping. The latter is a technology that inspects the skin in detail, so you'll know which issues to tackle. Afterwards, the therapist will perform the appropriate modules (each module lasts 10 minutes) that can be tailored to your needs using various Dermalogica products.
ProSkin 60 has six modules that also include double cleanse and face mapping. Based on the latter, the therapist will then customise the succeeding procedures. This includes the resurfacing module that target uneven skin tone, rough texture and dull skin.
If pimples, blackheads or whiteheads are another major concern, the therapist will do the extractions module, designed for those with congested and comedone skin conditions.
Your skin needs to relax after this, so the touch therapy module aptly comes next. It's a gentle and soothing massage coupled with aromatherapy, acupressure or lymphatic drainage that helps eliminate toxins and relax the tissues in the skin. But those who have specific concerns—whether it's skin dehydration, acne or premature ageing—may need to undergo a more intensive deep treatment module.
And for the final step, it's derma layering or a cooling mask what will give your skin that natural Dermalogica glow for a fresher and younger looking skin.
Dermalogica is located at B1-283 Jewel Changi Airport.