LG Electronics Launches it's 2019 Home Entertainment and IT Products!
LG Electronics (LG) unveiled its 2019 line up of Home Entertainment and IT products that is in line with their commitment to Innovation for a Better Life with their wide range of advanced concepts and products.
This year the brand is introducing products ranging from OLED and NanoCell TV's, LG gram 17, UltraWide, UltraFine and UHD monitors as well as their latest soundbar lineup.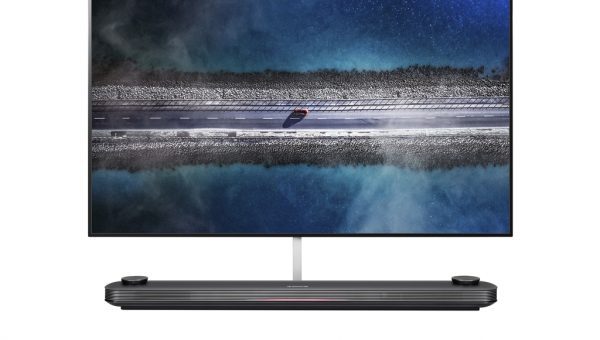 OLED and NanoCell TV's
This year's OLED and NanoCell TVs from LG will offer upgraded AI picture and sound quality, thanks the LG's second generation α (Alpha) 9 and α (Alpha) 7 intelligent processors and deep learning algorithm. By analyzing the source content and ambient conditions, the processors are able to implement the best algorithm for optimal viewing settings. The processors finely adjusts the tone mapping curve in accordance with ambient conditions to achieve the optimal level of screen brightness.
With its advanced AI, the α9 Gen 2 processor can refine High Dynamic Range (HDR) content by altering brightness levels. In brightly lit settings, it can transform dark, shadow-filled scenes into easily discernable images, without sacrificing depth or making colors seem unnatural or oversaturated.
LG's 2019 TVs come with the expanded capabilities of LG's proprietary ThinQ AI platform, as well as Google Assistant built-in. Users can manage daily tasks, search for information, and find answers or specific content with a simple voice command through the remote. On top of that, the 2019 TV lineup offers a new Home Dashboard that can be accessed via the launcher bar. The dashboard lets users view and control other smart home devices connected on the Google Assistant platform, so homeowners can issue voice commands by speaking into the TV remote, and start the robotic vacuum cleaner for cleaning while lazing on the couch, delivering a streamlined experience.
The LG 2019 TVs with ThinQ AI also come with a brand-new feature called Conversational Voice Recognition. Users can interact with the TVs in the same way they would hold a conversation with another person. Instead of having to make a series of repetitive commands, users can now simply say, "Find Tom Cruise movies", followed by "Find his action movies", and the TVs will proceed with the search. By understanding context, the TVs can in turn respond to complex requests more accurately.
The 2019 LG TVs will also support Apple AirPlay 2 and Apple HomeKit by Q3, for easy streaming of video and audio content and connectivity to Apple's smart home products.
The 2019 OLED TVs are available from 55 to 77 inches: LG SIGNATURE OLED TV W9, LG OLED TV E9 and LG OLED TV C9. The LG's NanoCell TV range for 2019 comprises of 4 models with ThinQ AI: SM94, SM90, SM86 and SM81, available in sizes varying from 49 to 86 inches.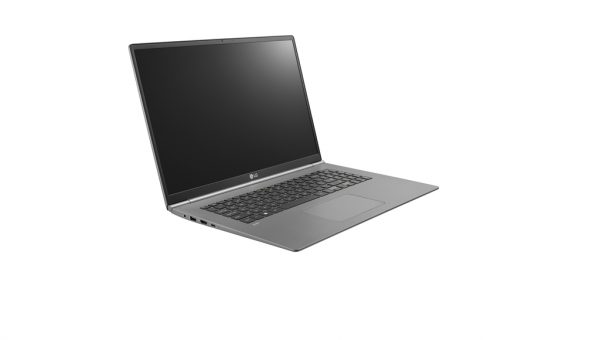 The LG gram 17 (17Z990) : World's Lightest Laptop in It's Class
The flagship LG gram 17 (17Z990) is the lightest 17-inch laptop of its class, weighing a mere 1,340 grams. Given its lightweight, the gram 17 provides a suite of powerful features. A CES 2019 Innovation Awards honoree, it is equipped with a large 17-inch screen with WQXGA resolution in a compact 15.6-inch class body. The 2560 x 1600 resolution is two times that of a standard Full HD screen, and delivers fine, detailed color expression. As such, it is a massive canvas for users to edit videos, retouch photos or simply watch their favorite movies in superb quality. The 16:10 aspect ratio also allows users to view more information on screen in a glance, thus enhancing work efficiency for those who enjoy a large-screen experience on the move with portability.
Unique to the LG gram 17 is the Precision Glass Touchpad, made from durable glass to offer smooth, adaptive recognition. It also supports the configuration of various gestures for handy shortcuts provided by Windows 10, and a four-finger multi-touch for improved utilization.. Another exclusive feature is an additional ThunderboltTM 3 port, which transfers data eight times faster than USB 3.0. A single ThunderboltTM 3 connection can transfer data at a speed of up to 40Gbps, connect two 4K displays or one 5K display such as iMac, and even charge and power up another
Besides the 17-inch model, the gram also comes in 15-, 14-, and 13- inch models that offer USB 3.1 Type-C connections for lightning-fast transfer.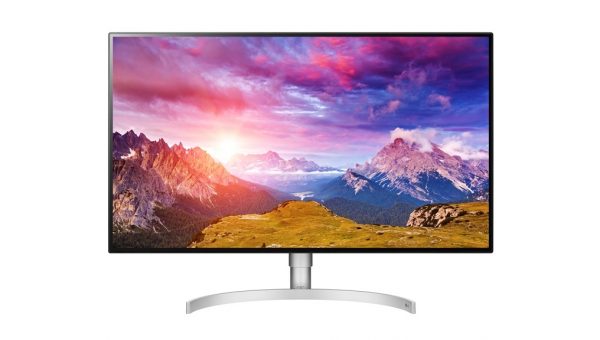 UltraWideTM, UltraFineTM and UHD Monitors with Superb Usability and Excellent Color Performance
Buoyed by LG's Nano IPS panel technology, the LG 34WK95U UltraWideTM and 32UL950 UltraFineTM monitors can achieve digital film industry standard visuals. The nano-sized particles display richer, more accurate colors as it supports a wide color spectrum of 98 percent DCI-P3, and 135 percent of sRGB for expert-level creative work. This means that the contents are displayed just as the creator intended, from shadow details to colors, saturation to brightness, for precise editing as well as overall control in post-production. The LG 34WK95U was awarded the Best Photo Monitor at the TIPA World Awards 2018, and a winner at the 2018 Red Dot Design Awards.
Offering a 5K2K 21:9 UltraWide™ Full HD display (2560X1080), users have up to 33 percent more screen real estate to open multiple programs for various design works. The monitor is also optimized for 5120 x 2160 resolution, so professionals can work on high-quality, full-sized images, videos as well as 3D objects, enjoying a more streamlined workflow.
The LG 32UL950 UltraFineTM monitor is a 16:9 UHD Nano IPS Display that presents breathtaking clarity and fine detail, with four times the resolution of Full HD. It is also equipped with the latest 4K Daisy Chain technology, which allows the monitor to receive or send data through another monitor without being directly connected to a MacBook Pro. Convenience is further enhanced by user-friendly ports such as the Thunderbolt™ 3, available on both the LG 34WK95U and 32UL950
Both monitors are also VESA certified with VESA DisplayHDR™ 600 capability, which displays a wide range of contrast with brightness up to an impressive peak luminance of 600 candelas (cd/m2).
As the Global No. 1 Selling 21:9 Monitor Brand for 6 Years, LG continues to offer users who appreciate the additional screen real estate that is also space efficient, compared to dual monitor setups. Leading this category lineup is the LG 49WL95C, a 32:9 Curved Dual QHD UltraWideTM monitor that provides a similar working setup of two 27" monitors. Users can also utilize its much wider workspace for a multiplex setup, useful for those who require multiple input channels displayed at once. The 49WL95C adapts accordingly to the user's work environment with its Ambient Light Control feature, adjusting the brightness of the screen to reduce strain to the eyes
Content creators that require high color accuracy for editing work will enjoy LG's range of UHD 4K monitors. Both the 27UL850 and 27UL600 support VESA DisplayHDR™ 400 which delivers vivid visual images, so content creators can review HDR content with greater precision. When connected to a HDR-capable console (Xbox One S/PS4 Pro) or HDR-supported graphics card, the monitors will display punchier brightness and highlights with deeper shadows and silhouettes. The 27UL850 also comes with a USB Type-C™ port, which is compatible with MacBook for simultaneous transfer of 4K screen contents and data, as well to charge a MacBook or mobile device.
Dolby Atmos®, Wi-Fi and Bluetooth Soundbars Cater to Various Needs of Audiophiles
LG Electronics(LG) introduced its latest soundbar lineup, which includes Dolby Atmos®, Wi-Fi and Bluetooth soundbars. In particular, LG's new Dolby Atmos® soundbars deliver superior sound quality through a collaboration with Meridian Audio – pioneers of High-Resolution Audio – along with smart functionality and sleek, modern design.
Drawing on 25 years of experience as the masters of Digital Signal Processing, Meridian's Bass & Space technology improves the soundstage with coherent image and strong bass. Together with its Image Elevation technology designed to lift the soundstage in a more lifelike way to boost listeners' sense of immersion, Meridian creates a true cinematic space, delivering powerful surround sound like no other.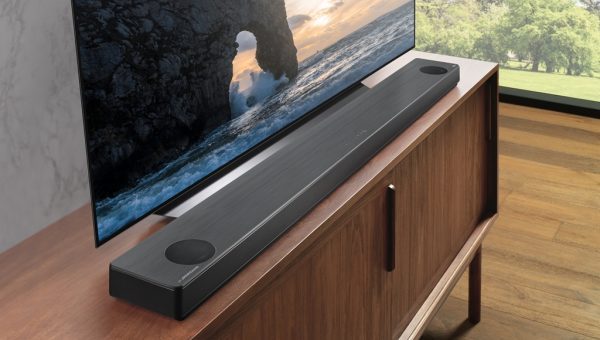 LG's high-end soundbars support both Dolby Atmos® and DTS:X. With these two acclaimed technologies on board, users can enjoy breathtakingly realistic surround sound that seems to come from multiple directions and depths. Moreover, some of LG's new premium soundbar products support high-resolution audio and have an advanced processing algorithm that can upscale conventional file formats, bringing them closer to studio-quality. To bolster the already solid output and detailed soundscape of LG's latest soundbars, users can add the Wireless Rear Speaker Kit* to achieve a more cinema-like experience.
In addition to superior sound combining power with clarity and richness, the new Dolby Atmos® soundbars offer the convenience of AI smart connectivity and voice recognition with the Google Assistant built-in. Users can control their LG soundbars and get information, simply by saying, "Hey Google, increase the volume," or, "Hey Google, which artist is playing this song?" Furthermore, compatibility with Google Assistant-enabled smart products make it possible to control connected devices throughout the home via voice command. Simply say, "Hey Google, ask LG to turn on the air purifier," to the soundbar to make adjustments without leaving the couch.