LIERAC Introduces The First Double Action Day And Night Elixir For Your Stubborn Dark Spots
LIERAC has transcended the league of Phyto-Cosmetics, using the best of botanical active ingredients with the high standards of science to create an ultra-targeted dark spot correction skincare.
Pigmentation has always been one of the main skincare woes many people suffer from, especially when speaking of stubborn dark spots, uneven skin tone, and the lack of radiance. Over time, dark spots intensify on the skin as they set in and are more difficult to treat. Aging, skin damage due to external aggression, overexposure to sun, inflammation, and unhealthy lifestyle (i.e. smoking, stress, lack of sleep) are some of the main causes of these skincare woes.
Behold the first double day & night concentrate for round-the-clock correction of stubborn dark spots, LIERAC Lumilogie Day & Night Dark-Spot Correction Double Concentrate. Formulated by a trio of active ingredients; Hexyl R, Sea Daffodil Extract, and Plantain Extract that act on the three types of dark spots 24 hours a day.
Inspired by the combined aesthetic technique of LEDs (Light Emitting Diodes) and Peeling, LIERAC created LUMILOGIE, the first day and night double concentrate intensive treatment that targets the three types of dark spots:
• Emerging dark spots
• Visible dark spots
• Stubborn dark spots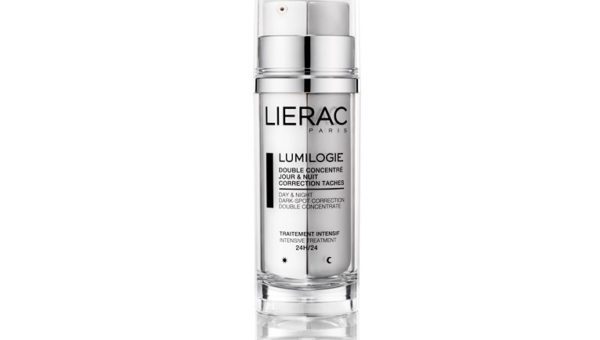 LEDs is a medical technique that uses cold light to trigger photochemical reactions on cells to regulate melanin production and rebuild the DEJ (Dermo-Epidermal Junction) The DEJ is responsible for skin thinning as one ages and its denaturation contributes to the occurrence of hyperpigmentation.
As many would know, peeling is a flagship technique in aesthetic medicine. Using active molecules such as AHA (alpha-hydroxy acids) to trigger the desquamation of dead cells to activate rapid cellular renewal and promote the elimination of melanin build-up. Both techniques act in synergy for maximum efficacy, the LEDPEEL complex brings the best of science and nature double action day and night.
LUMILOGIE is paraben-free, hypoallergenic with no synthetic colorants and suitable for all skin types. This highly effective concentrate leaves one's complexion instantly unified and more luminous with less visible dark spots. The results increases with the use for proven effectiveness from seven days, dark spots are less visible, complexion is more even and skin texture is smoother. After one month, the three types of dark spots are stubborn visibly corrected. The skin is brighter, smoother, clarified and younger.
LUMILOGIE is highly recommended for people with stubborn dark spots issues and complexion that lacks evenness. It also complements in-clinic anti-dark spot treatments and has a sensorial quality with notes of light magnolia and white musk floral fragrance.
LUMILOGIE is available at the following stores:
• Beauty by Nature Ion
Ion Orchard #B3-49/50, 2 Orchard Turn, B3-49/50, Singapore 238801
Tel: +65 6884 5182
• Robinsons The Heeren
260 Orchard Road, Singapore 238855
Tel: +65 6735 8838
• Robinsons Raffles City
252 North Bridge Rd, #03-01, Raffles City Shopping Centre, Singapore 179103
Tel: +65 6216 8388
• Robinsons JEM
50, Jurong Gateway Road, #01-07/13, Singapore 608549
Tel: +65 6887 8838
• Online stores:
Zalora: www.zalora.sg/lierac
Zilingo: https://zilingo.com/en-sg/storefront/SEL5059793140
Shopee: https://shopee.sg/alesgroupsg
For more information on LUMILOGIE, please visit: www.lierac.com