PHYTO Celebrates its Golden Jubilee with a New Look and New Haircare Products
From creating the world's first hydrating hair cream in 1968 to the world's first hair and nail supplement in 1980 and world's first women's hair-loss treatment in 1992, PHYTO is proud to hold over a dozen firsts since its inception 50 years ago.
It all started with one man's love for nature and science during a time when plant-based remedies were only relegated to skincare. He was none other than legendary hairstylist, Patrick Alès, "the man with the golden scissors" who rose to fame after he developed a special blow-drying technique in 1966 that gave hair a glamorous, full-bodied look.
Le Brushing – in which locks of wet hair are meticulously brushed while being blow dried – not only secured him a place in the hairdressers' pantheon but it also drew in a starry customer base, the likes of Catherine Deneuve, Jackie Kennedy, Audrey Hepburn, Brigitte Bardot, and more.
At his salon in Champs-Elysees, he noticed that chemically-laden products were taking a serious toll on the hands of the hairdressers and the hair of their clientele. Hence, Alès went on a personal mission to create products that can reverse the damage using only plants – long before the emergence of environmental awareness and botanical hair care trends.
In 1969, Phytosolba Laboratories was created to develop specialised haircare by plants, and 50 years on, it is still hard at work discovering new technologies and breakthroughs to complement the needs of today's consumer with over 500 plant ingredients used.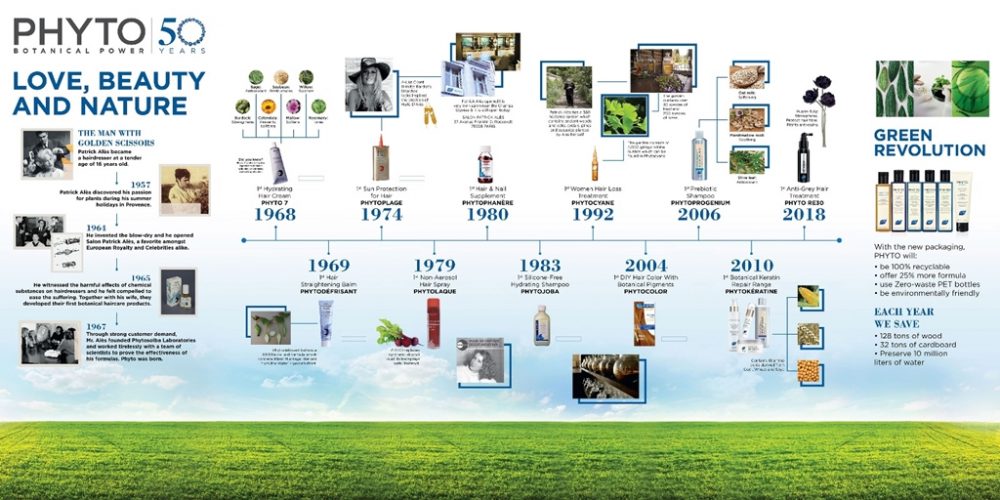 Moving Toward The Next 50 Years
To celebrate half a century of successful botanical-based tress treatments, the Parisian haircare expert will be unravelling sleek new packaging made from recyclable materials, and labels sources from sustainably-managed forests.
PHYTO will be doing away with boxes, and transiting from aluminium bottles to a much lighter eco-friendly plastic material, proven to maintain the freshness and efficacy of the formulas within. With the new packaging, PHYTO will give back to the consumer by upsizing volumes by 25%, and making everything 20% cheaper too. That gives us a total savings of 36%!
New Product Launches and Line Reboots
To complement the new look, PHYTO will roll out four key launches this year, namely the introduction of Phytonovathrix Anti Hair-Loss Treatment, a new and improved 99% botanical treatment which targets 16 biological targets to improve hair growth.
There will also be the unveiling of three 3-step haircare collections: The all-new Phytodetox Anti-Pollution Cleansing line, plus reformulation of Phytojoba Hydrating series and Phytocolor Colour Protecting range.
This year also marks PHYTO's move into the department stores with its very own beauty counter at Robinsons Heeren, and a pop-up counter at Tangs VivoCity from July – Dec 2019. Currently, PHYTO retails over-the-shelf at My Beauté Paris stores, Robinsons, Metro, Takashimaya, NomadX Plaza Singapura, and Guardian stores.
PHYTO is located at My Beauté Paris ION Orchard #B3-49/50, My Beauté Paris Parkway Parade #B-75/76, Robinsons, Metro, Takashimaya, NomadX Plaza Singapura, Tangs (Jul – Dec 2019) and Guardian stores.
Phyto is also available online at www.phyto.sg, Redmart, Lazada, Shopee, Qoo10, Zilingo, EAMart and Amazon.
For more information, please visit: www.phyto.sg