The "Promises" Jewellery Collection, A Meaningful Collaboration Between Dr. Claudine Pang and Daughters Diamond
A collaborative effort between two inspiring women of our times, Sarah Tseng, Founder and Designer of Daughters Diamonds, an eye surgeon-cum-philanthropist. Dr.Claudine Pang, Medical Director of Asia Retina Eye Surgery Centre and Founder of Eye Care Without Borders, the "Promises" collection is a representation of hope, love and community, that aims to provide a shimmering ray of hope to the community through a purposeful initiative. Featuring a range of intricately designed jewellery with multi-hued sapphires and diamonds, Dr. Claudine Pang and Daughters Diamond shopes to spread joy and optimism to its wearer and the community with the 50-piece collection.

An initiative that began with the aim of providing free eye care and eyewear to underprivileged societies in Singapore and some developing countries; the efforts from Eye Care Without Borders came to a halt following the outbreak of Covid-19. Undeterred and determined to find an alternative way to help the community, Eye Care Without Borders worked with Food Bank Singapore and Beyond Social Services on a project to provide families with necessities –the iCare Joypack. Through these effort, the team was able to administer useful, existential items, delivering the heavy items directly to the recipients' homes to provide for the disadvantaged. In a bid to raise more funds for iCare Joypack, Dr Pang partnered with Daughters Diamonds, a brand she has been an avid collector since its establishment in 2016, on the "Promises" collection. With each piece of jewellery sold from the limited edition collection, an iCare Joypack, a food bundle worth S$88 lovingly curated with a month's worth of 20 food and essential items, will be donated to a low-income family in need, promising a month of hope to each family.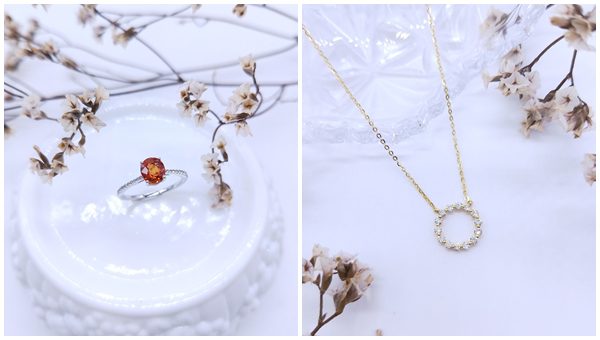 Born out of her love for collecting delicate and intricate jewellery, and her passion for supporting local brands, Dr Claudine Pang was inspired to spread the love during this festive season with the "Promises" collection that is thoughtfully curated as a present that consumers can gift their loved ones, while supporting a meaningful cause.

The jewellery pieces are all crafted out of specially selected sapphire gemstones of five colours that each represents different Promises to the collector. Blue symbolises Peace and Contentment; Pink symbolises Power, Love and Compassion; Orange symbolises Wisdom and Joy; Yellow symbolises Grace and Knowledge; and Green symbolises Peace, Love and Integrity. Every sapphire is unique and carefully hand chosen, before being locally crafted using 18-karat gold with ethically sourced and cruelty-free diamonds. The 'Promises' collection offers personalised, delicate, affordable pieces suitable for consumers who are looking for a understated everyday piece that can be combined or stacked to create statement pieces.


With prices ranging from S$388 to S$1,488, the limited edition "Promises" collection will be available exclusively at Daughters Diamonds Jewellery in Paragon from 4 to 25 December 2020. Apart from donating through this jewellery collection, donors can also donate directly to the iCare Joypack fund at Website support the meaningful cause during this season of giving.