INTERVIEW: Fashion Designer Lisa von Tang
CONTENT: Henry Boen
Lisa von Tang is the CEO and creative director of an online fashion retailer and designer behind her eponymous label (or previously known as ChiChiVonTang). The brand focuses on infusing both west and eastern cultural elements into fashion pieces that nods to the youthful street-luxe aesthetics.
We got a chance to dig beyond the pieces and discover the quirky side of Lisa as she reveals sneak peeks about her latest up-and-coming collection and show, and her personal creative point of view.
Luxe Society Asia: What is your background?
I was born in Canada and had a Chinese mother, which made me an ethnic anomaly at the time.
I've always been an artist as well as a social researcher. I started university majoring in sciences at the University of British Columbia, and then switched to Political Science at Simon Fraser University and graduated on the Dean's List. I was planning to study public policy after graduating, but my plans got derailed after meeting a man in Singapore; falling head over heels in love; moving here and getting married at the age of 22. I ended up working at Ogilvy & Mather's Singapore office as a brand strategist.
Once I got tired of the corporate structure (which really did not suit my overtly intense and passionate way of working), I started my own business in 2012 and sold independent designer labels. Then, I launched my own label, Chi Chi Von Tang, and eventually moved it under a main brand, Lisa Von Tang. I was obsessed with designing statement jackets, and wanted to meld east and west, street and elegance… And here we are now!
Luxe Society Asia: When and how did you realise your passion for the Arts – and especially Fashion?
This passion goes back as far as I can remember. I would sketch out my mannequins then design and redesign, and it got to a point where I began seeing my designs in shops and wondering if they were snooping on my little 9 year old's doodle pad (laughs). I do believe that we are born with an affinity to a particular industry.
I took a bit of a loopy trail to get to a point where I was building my own fashion brand, but I'm glad I did so. It's not just about the fashion for me – although that's my medium – it's about spreading ideals, and making cultural critiques and advancements through art. My personal philosophies, politics, and views are very apparent in the brand.
When I get less busy, I would critic graduate collections for some of the design universities here in Singapore. Often, I would notice interesting technical works, but it 's really hard to find strong brand spirit. In this day and age, there is so much market saturation that you really must stand for something. To gather richness and character, a fashion student's education should involve traveling around the world, and chasing stars for a while. Remember, Miucca Prada and Giorgio Armani lead two of the world's most successful designer-owned brands, and they have never studied fashion.
Luxe Society Asia: Speaking of personal philosophies, what are the ideologies and values that Lisa Von Tang are representing?
Empowerment, Courage, Expression – We believe in defining your own morality, values, and living your own truth as a birthright. We believe that it is important to claim that power over your own life and happiness, to voice your truth, and to be supported when you feel a need to fight for it. As a brand, we really celebrate men and women who show the world how powerful an individual can be. It takes heaps of courage, but the result changes the world we live in for the better.
Warriors of Love – Our tribe (initially dubbed #CHICHIWARRIOR) is made up of Warriors of Love. In a world where there's so much darkness, greed and apathy, we believe that it is important to protect and fight for harmony – whether that be within oneself, in relation to the environment, or within a community. There is a certain rebel spirit in our brand, which is proudly liberal and believes Love is always the answer.
Luxe Society Asia: If you are to introduce a LISAVONTANG lady, she will be..
A woman of the world, she knows the best bar for a kickass Negroni in Beirut, as well as the best pizza in Naples. And while she works in Hong Kong, her private villa is in Formentera. She wears unforgettable statement jackets with such ease that she never looks out of place anywhere, and yet is the most interesting woman you've ever seen. She is aware of the world, and yet can detach from civilization and find her Zen easily. She is a modern day Warrior.
Luxe Society Asia: Tell me more about your up-and-coming show, I AM DURGA.
I AM DURGA tell the story of the most powerful deity in Hindu legends, Durga. She is a Warrior. She saves the world from strife, by riding into battle on her Lion (what a badass!) while sipping wine from one of her ten hands (she enjoys wine! how could we not love her?) She is one of the Shakti goddesses, or 'various faces' of the feminine divine in Hinduism – and the immersive show will bring you through her tale.
The collection has Indian elements, and I was particularly inspired by the Sari, and draping. I use Italian sand-washed silk and Chinese brocade to create seemingly complex draped cocktail dresses and gowns, but they are made from one piece of cloth. The collection is also made up of statement jackets, and a very special line of luxe tracksuits. There's so much incredible history, depth, beauty, and mystique to it. I've really fallen in love with India's design heritage.
Luxe Society Asia: How and what was your creative flow like?
I am constantly collecting pieces of inspiration, into a very deep well somewhere in my psyche; so that when its time to design and create, its readily accessible.
For example, I became really interested in Hindu goddesses a year ago. I began researching for my own pleasure; came across Durga; then found her at the Asian Civilizations Museum and was lucky enough to find a Devi expert there to guide me further. Five months ago, it was time to come up with a new collection – and because I had already been immersing myself in a lot of Indian cultural material, it felt natural to go there.
What I'm trying to say is: I live a life of inspiration and I follow my interests and curiosity in a rather natural way. And then when its time to create, the well is full of options. When its not 'time to create' a whole new collection, I'm busy running my business, but I'll still have my ear to the ground and hand to my heart, following different 'leads' that interest me. I'll have three books going at once, usually all research.
Luxe Society Asia: Did your mixed heritage play a part in your creations?
Very much so. I am very inspired by China and Southeast Asia, and so far these regions has mainly inspired my collections. However, the Western-globalized side of me has a taste for ethnically inspired clothing that is also very wearable, cool, and one with the times. I want women to feel a cultural presence in my clothing, and not like some throwback from a bygone era. It's funny that 'Asian-inspired' fashion is seen as the outlier, whereas Anglo fashion is the norm. I think that will change.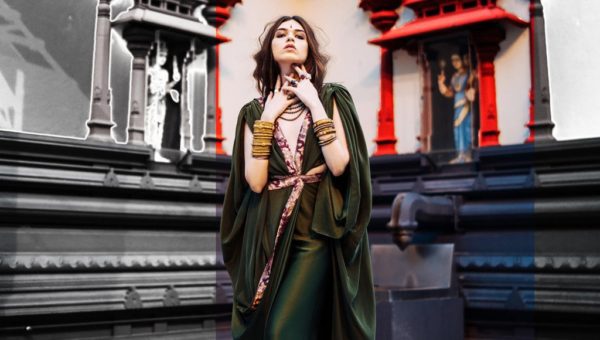 Luxe Society Asia: If you are given a chance to collaborate with any local fashion brand/designer, who will it be and why?
I would probably choose Max Tan. I like his Alexander Wang-like minimalistic style. It's daring and full of blacks. It's ironic that I am actually color-obsessed, with a penchant for exquisite prints and textiles, but I appreciate his esthetic, and think we could create something cool together. If not, I would love to have my jackets styled with his ensembles.
Luxe Society Asia: What's for the rest of the year?
We have a top-secret collection coming out with a universe of superheroes…. which I will reveal more in the later part of the year. The next show after I AM DURGA will focus on pre-patriarchal times, when the Feminine was revered on every continent of the world. It will have a modern day goddess vibe with my street-luxe interpretation. It will also be presented within an immersive maze-like show again.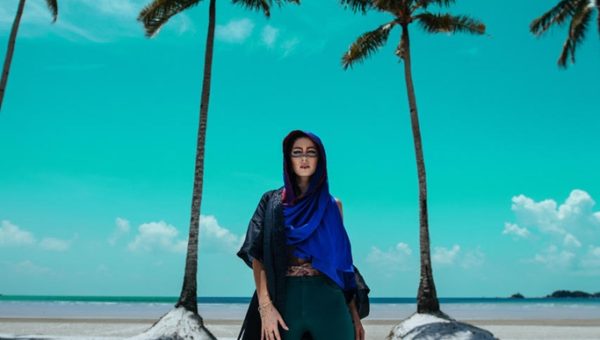 Luxe Society Asia: If you can craft your own fantasy world in the eyes of Lisa Von Tang, how will it be like and what is the mandatory dress for the residents?
(Laughs) This is an awesome question. This should not have been asked to someone like me, who has made philosophy my closet hobby for over a decade.
Well, the capital of my fantasy world would be called YIN YANG, and there would be no countries. Only decentralized communities, with their own governance. Each community would have to be sustainable, and it would be really fun touring different mini cities around the world to see how they adjusted to their particular climate, vegetation, and cultural traditions. Borders would be open, and you could travel freely, and live anywhere you like. No one could live in a community, without contributing to it – and it would be a tough life living alone, so most people just decide to contribute.
Fashion would be interesting, because synthetic and chemically dyed materials would be illegal – so there would be a return to gorgeous hand-woven creations, which would decompose back into the earth once discarded. No birkas in my Fantasy World – The human form would be admired instead of seen as something to hide.
The people in the world's capital of YIN YANG would have some basic rules and a team of superheroes protecting those rules in all the mini cities around the world. No guns or any sort of weapons other than martial arts would be allowed. Libertarianism would be followed, to the extent that everyone may live freely and how they wish as long as they are not harming anyone else. And instead of money, the most successful people would be most honoured for how they guide others towards lives of harmony.
Criminals would be dealt with by the community they lived in, and the victim and community elders would decide on the appropriate punishment, with reparations going directly to the victim. If the community couldn't handle the criminal in the end, the YIN YANG superheroes would come to the rescue and kick ass.
Lastly, there would be a ginormous yin yang, carved into the ground at of each community center, where all residents would have to go every morning to do group meditation. They would all sit in a massive circle, and connect with the earth, each other and themselves. 10 minutes meditation. 10 minutes twerk-cercise while hysterically laughing at each other. And then off to work you go. Not showing up for morning meditation would get you a penalty of having to go around picking up litter for two days straight. So most people would just show up to meditation.