Lee Hwa Jewellery Brings Hope, Dazzle and Love This Christmas
From dealing with a global pandemic to coping with the added pressures of juggling work-from-home and family time, 2020 has been an incredibly difficult year. For many of us, going through these challenges has reshaped our priorities and made us realise the importance of our relationships. While large group gatherings, family holidays and festive parties may not be possible this Christmas, what truly matters remains. The everlasting bonds between family, lovers and friends. And, what better time and opportunity than now to give thanks and show our appreciation to our loved ones with a shimmering gift?

Ushering in Hope, Dazzle and Love, Lee Hwa Jewellery's new Christmas designs consist of intricate pieces, reminiscent of festive ornaments. Bedecked with Destinée diamonds, the Destinée Dazzle Collection draws inspiration from elegant Christmas trees while the Purple Gold Paola Collection turns poinsettia flowers, which convey good cheer and success, into personal lucky charms. Other standouts include the Swing Star Collection which consists of dainty diamonds that swing effortlessly with slight movements of the body and the Twinkle Diamond series of pendants, festooned with motifs of stars, angels and doves – symbols of love and hope.

In addition to the above collections, shoppers can look out for stunning pieces from international collections by Destinée, Forevermark and Niessing, carried exclusively by Lee Hwa Jewellery, along with classic jewellery designs such as cross pendants and tennis bracelets. For more gift ideas, there will also be special festive deals and jewellery gift ideas under $300, $500 and $700 to suit varying budgets. Available in-store and online, shoppers not only have the option to browse the jewellery designs in person but to shop from the comfort of their own homes and have their gifts shipped right to the doorstep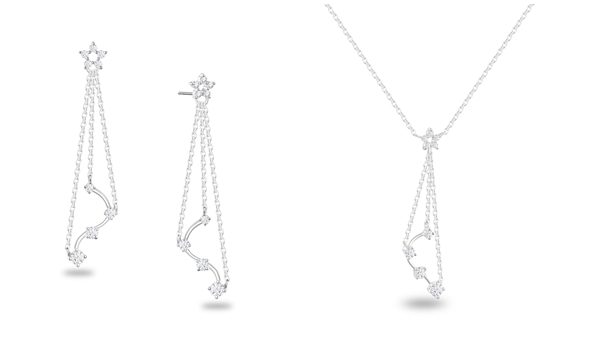 Star of this Season: Destinée Dazzle Collection
Make the holiday season shine brighter with ideal-cut Destinée diamonds crafted by Belgian Diamond Masters. The Destinée Dazzle Collection is Lee Hwa Jewellery's Star of this Season, that features a mesmerising spiral of diamonds in the shape of a Christmas tree, embellished with a bedazzling star, set in white gold. Designed to be a multi-wear piece, the Destinée Dazzle Multi-Wear Earrings can be adorned as a pair of diamond star studs or worn as dangling earrings for an extra dash of personality. The possibilities are also plentiful to suit different moods – don them mismatched, or opt to wear the dangling portion at the front or back of the earlobe. A versatile gift suitable for daily wear or a joyous festive party!


New: Purple Gold Paola Collection
A world's first set in a luxurious hue and crafted in nothing less than solid 19K gold, the Purple Gold Collection is the epitome of Lee Hwa Jewellery's commitment to innovation and design. The Purple Gold Paola Collection is inspired by the iconic poinsettia, known as the flower of Christmas. Each flower is framed with precious petals set with a solitaire diamond in the middle, exuding an air of festive sophistication. A symbol of good cheer and success, the collection consists of a necklace, pendant, bracelet, ring, and two pairs of detachable earrings to bring forth wishes of celebration for a significant other, or best friend.

For those that like a touch of floral flamboyance, the Purple Gold Paola Earrings features a bold pair of earring jackets that accompanies a set of diamond studs while the Purple Gold Paola Multi-Wear Earrings features a delicate detachable design, allowing it to be worn as either a pair of flower studs or dangling earrings. Or, even experiment with an asymmetric style. Who knew dolling up for the season could be so delightful!


New: Swing Star Paloma and Amaris Collections
Score yourself a sleigh full of brownie points with friends and loved ones with these new glittering designs from the Swing Star collection crafted in white and rose gold. Due to a special setting, the solitaire diamond of each Swing Star piece swings brilliantly in a figure of eight within an infinity loop, enabling it to sparkle brilliantly with one's unique movement when worn. The Swing Star Paloma Collection, which consists of a necklace and a pair of earrings, features an infinity motif, symbolising everlasting love while the Swing Star Amaris Collection, which comes with a pendant and a pair of earrings, features loops that encircle and accentuate the swinging diamond, representing unity and perfection.

No festive celebration is complete without evergreen symbols of the season. This new line-up of pendants from the Twinkle Diamond Collection brings Christmas to life with meaningful motifs of stars, angels and doves that symbolise hope and love. This innovative patented Twinkle design is a clever engineering setting that features a centre diamond on a tiny pivot. Even the slightest movement of a heartbeat sets the diamond into motion, sending twinkles in every direction. Set in white gold, it's a unique present that will captivate the hearts of your loved ones.


Gift Ideas and Exclusive Promotions
Aside from the new collections, Lee Hwa Jewellery offers a jolly good assortment of gift options from jewellery sets to tennis bracelets and cross pendants. For those looking for an exquisite piece to surprise a special someone or to commemorate a personal milestone, equally stunning options include the timeless Forevermark Black Label Collection and luxurious Spannring Collection crafted by German jeweller, Niessing.

From now until 31 December 2020, enjoy up to 50% off selected designs, In-store Exclusive, $30 cash voucher with every $1,000 spend at Lee Hwa Jewellery boutiques and Online Exclusive, free Majesta Pendant (worth $228) with minimum $300 spend at the e-boutique.

There is also a handy guide of jewellery gift ideas sorted based on the following budgets – under $300 and under $500 and under $700. It's truly gifting made easy!

For more sparkling festive exclusives and timeless designs in celebration of Lee Hwa Jewellery's 50th anniversary this year, drop by their nearest boutique or visit the e-boutique