VLTN Is The Talk Of Our Fashion Town
CONTENT: Henry Boen
No seriously – we've seen the continual rise of graphic lettering prints that trickled up to luxury fashion houses from street brands with crazy marketing ideas (a.k.a Supreme and that confusing brick stunt). It's really no surprise that Valentino have been catching up with the trend as the recent offerings seemed to be dictated by Pierpaolo Piccioli's younger self with a penchant for social media buzz, street styles and sneakers.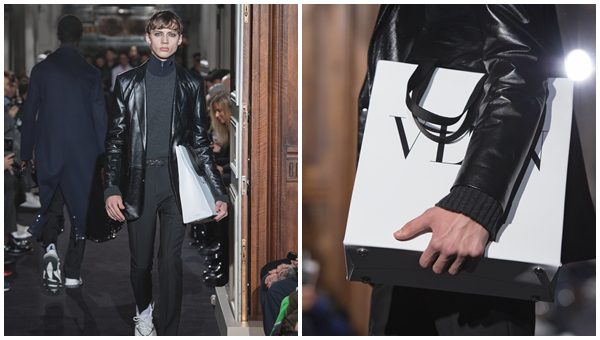 Cue Womenswear Pre-fall 2018 and Menswear Fall 2018 collection – Valentino has cut short its branding label to welcome the new "VLTN" motif that were prominently spread across the accessory line-up. Scarfs; purses; belts and bags – namely the covetable "paper shopping bag" made from lightweight leather were structurally aesthetical and fresh.
In addition, the motifs traveled further to runway pieces like the shiny white puffer jacket made in collaboration with Moncler while black joggers adorned with repeated white "VLTN" motifs surfaced in Valentino's menswear department. The vibe of youthfulness in the very atheleisure-adapted collection was no doubt charming, which fitted the minimalistic theme of streetwear and complimented its relaxed pairing codes. Detailing like zippers and adjustable drawstring fastenings also adorned in some of the Womenswear Pre-Fall 2018 collection pieces.
However, the showcase was only a "safe" venture to streetwear fashion and does not really strike as intriguing as it was probably meant to be. Piccioli knows that he had to be strategic and convincing, since the aesthetic shift may well affect Valentino's image. To leave such hefty task to Piccioli alone seem a little more than questionable, but we have high hopes for the designer's vision to attain more deserving merits (much like their success with Moncler's collaboration). In any case, anyone needing a subtle statement piece/accessory can head over to Valentino for a browse through, who knows, you'll find something you'd like in the sea of black and white contrasts.