5 Reasons Why Khao Yai is the Next Must-Visit Destination in Thailand
CONTENT: Yiew Kai Jie
IMAGE: Luxe Multimedia
For all the wanderlusters out there who are tired of the city life and wish to slip away into a countryside retreat, a small state in Thailand still holds its own surprises for weary city dwellers.
Translated as "a large mountain" in Thai, Khao Yai is a nature lover's paradise located a mere three-hour car ride away from Bangkok that is surrounded by a mountainous landscape area and lush greenery as far as the eye can see. Due to the high elevation of the area, many locals head to the area to take in the clean air and to revel in colder temperatures that could drop to 10 degrees during the cold season between November till February. But despite the relative distance from the city, there are many activities for wanderlusters to partake in and reconnect with nature to destress themselves from their massive workloads and hectic city life.
Check out Khao Yai National Park
Khao Yai National park is the third-largest national park in Thailand, covering a huge swath of land that spans over 300km2 that is inclusive of tropical seasonal forests and vast grasslands. The park was designated a UNESCO World Heritage Site back in 2005 thanks to the government's efforts to preserve the park and animals from illegal loggers and poachers. The forest is teeming with wildlife that ranges from gibbons and macaques to crocodiles and elephants. The park itself is home to several breathtaking waterfalls, the most popular one being Haew Suwat Waterfall due to it being featured in Leonardo Dicaprio's 2004 movie, "The Beach". The park is also perfect for trekking as there are several trekking routes around the park that will take travellers off the beaten track to front row seats to watch wild animals in their natural habitats instead of being caged away in a zoo. (Note: It is highly recommended for travellers to hire a trekking guide especially for the longer routes.)
400 baht entry fee for adults, 200 baht entry fee for children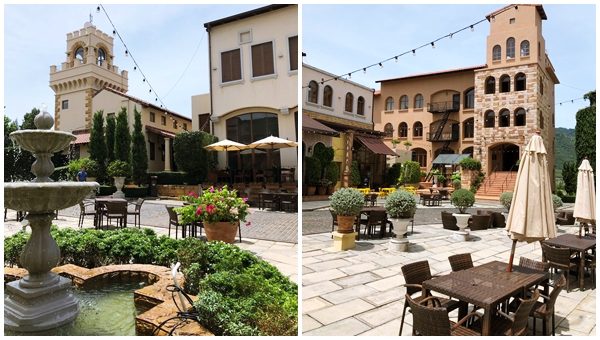 Experience the Little Italy of Thailand
It's not exactly the authentic version of Italy, but it's perfect for young wanderlusters who don't have the budget to travel all the way to Italia or have the patience to endure a 14-hour flight. To that end, Khao Yai is home to several places that make for stunning instaworthy shots that are reminiscent of breathtaking Italian architecture. For starters, Tuscano Valley is a high-end residential development area that includes a private golf course and country club which is filled with private villas that have taken inspiration from many countryside houses that are commonplace in Italy. While the private villas are out of bounds, travellers are able to take pictures with a replica of The Leaning Tower of Pisa! (Although this replica is standing upright) The main plaza of the valley contains a wide array of cafes, restaurants and wine bars that have dedicated themselves to serving authentic Italian food fare and wines to their guests to turn the piazza into a lively town square either during the day or at night.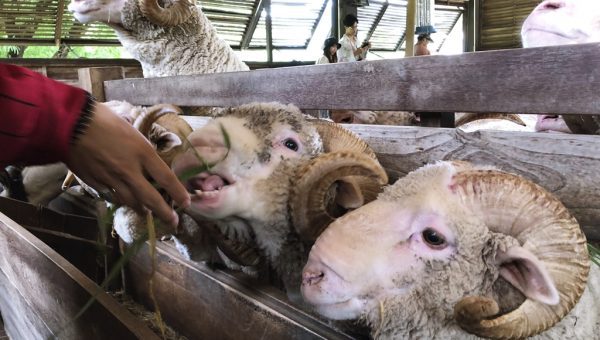 Another must-visit location would be the famous tourist hotspot Primo Piazza, which is known for its spectacular Italian buildings and gives travellers the chance to feed and bond with friendly llamas and alpacas! The piazza has many houses that are open for travellers to walk in to take pictures and everything in the houses are specifically poised to benefit the modern instagrammer- there is literally no bad angle in this place to take a picture with! Once the pictures are done, travellers can visit the enclosure at the back of the piazza to get up close and personal with a pack of llamas, alpacas and donkeys to feed them! However, travellers are highly recommended to avoid buying any of the overpriced souvenirs and instead opt for Palio Village, an Italian shopping centre that has a wider variety of goods and food that are more reasonably priced.
Primo Piazza entry fee: 100 baht
Sip on a Variety of Red and White Wines Produced Entirely in Khao Yai
Wine connoisseurs will be happy to know that the locals at Khao Yai have taken to planting and investing in their own vineyards in order to produce their own wines as an attempt to be the dominant wine producers of Southeast Asia. One of the most popular wineries is the award-winning PB Valley Khao Yai Winery, which happens to be the largest winery in Khao Yai and Southeast Asia that spans over 800 acres of land space. Having been operating for over two decades, the winery has been producing 150,000 to 300,000 bottles of wine a year with a maximum production rate that peaks at 600,000 bottles! Travellers can book a tour of the winery that includes a detailed tour of their enormous vineyards, a showcase of the types of grapes that are grown and concludes with an intimate wine tasting session of their three main vintages. (PB Khao Yai Reserve Oaked Chenin Blanc, Sawasdee Khao Yai Shiraz and PB Khao Yai Reserve Shiraz) If travellers were to visit the winery in February, they will have the opportunity to take part in the annual grape harvest at PB Valley.
Reservations for the wine tour are required at their website: www.pbvalley.com/wine-tour/
350 baht per adult, 300 baht for adults under 20 years old
Experience The Simple Farm Life and Ride on an ATV
Further emphasizing on the need to get away from the city, travellers can go back to a simpler time at Farm Chokchai, a second-generation farm that specializes in agriculture and farming which provides travellers with an insight into an authentic farm life experience. Travellers and their families will get the chance to go on the two hour long Farm Chokchai Agro Tour to educate travellers about the animals and how the farm runs on a daily basis. There will also be opportunities to feed and take pictures with the various farm animals, from young calves to fully grown adult cows! For a truly immersive experience, travellers can opt for the Umm!..Milk Ice Cream Workshop that will give them the chance to make their own ice cream from fresh milk gotten straight from the cows- it doesn't get any fresher than this! Alternatively, travellers can also get the chance to ride on an ATV and go around the perimeter of the farm to witness the sheer beauty of the surrounding forest and open fields and stop at a clearing to take in the fresh country air and zen out before proceeding to take a picture for that mandatory Instagram moment!
Reservations for the farm tour and ice cream workshop can be found on their site: http://www.farmchokchai.com/en/index_content.php?content_id=39 300 baht per adult, 150 baht per child. The ATV ride will cost 200 baht per ride.
Experience a Wide Array of Cuisines in Khao Yai
Khao Yai is home to a wide variety of cuisines, but its specialty lies in traditional Issan food and cuisine as Khao Yai is considered to be the gateway to the northwestern area of Thailand. Issan food is generally known for more its robust and complex flavours compared to the typical fare that travellers can find in Bangkok. The cuisine is also known for not skimming on chillies, as chilli peppers can be found in almost every dish and their variation of som tum will make the spiciest chilli crab in Singapore seem pale by comparison.
The 300 seater Penlaos-Un Yang Kor Dai (UKYD) restaurant specialises in Issan cuisine, where a crack team of five to eight chefs take charge of different stations that work together in unison that cooks specific dishes taken from traditional recipes passed down from one generation to another. A direct translation of the restaurant's name means "anything goes"– a carefree restaurant that places the emphasis on its employees and customers that results in a harmonious working environment and flavourful Issan food being served to its customers. Popular with the locals, their signature dishes include their Penlaos Herbal Grilled Chicken (130 Baht- Half Chicken, 240 Baht- Whole Chicken), Grilled Pork Neck (120 Baht) and Somtum with Salted Crabs, Pickled Fish and Prawns (130 Baht). Even if travellers were to dine at the restaurant in a group, their average spending would only come to around 250 baht per person which gives them a bang for their buck. While the Penlao kitchen is only open for breakfast and lunch, the UYKD section will be open for dinner with their irresistible hotpot deals. With such versatility and flavourful food, its no wonder that the restaurant is considered to be one of the top five restaurants in Khao Yai.
Should travellers be looking for other food apart from Issan or Thai food, they can opt for Prime 19, one of the best steakhouses in Khao Yai that spans two stories with a huge variety of wine and has its own range of products for locals to buy and cook it at home. As the name suggests, The Chocolate Factory is a restaurant that specializes in everyone's favourite guilty pleasure along with European dishes with a Thai twist.
From the avid environmentalist to the loud cowboy to the overtaxed worker, Khao Yai offers a wide variety of hotel concepts and activities that will appeal to and satisfy travellers regards of their backgrounds or interests. With its pristine clean air and countryside like atmosphere, many travellers will come to appreciate the quiet and solitude that the peace of the countryside brings them. However, getting to and around Khao Yai will be a bit of a hurdle as not many taxis operate around the area. Travellers have to either rent a private car to drive there or book a private driver for the duration of their stay in Khao Yai to get around to visit the various attractions!
Travellers can rent a private car via: https://www.thairentacar.com , https://www.tripadvisor.com.sg/RentalCars-g2098196-Nakhon_Ratchasima_Province.html or opt for a custom tour with Klook: https://www.klook.com/activity/3738-khao-yai-custom-tour-from-bangkok