Dream Cruises' A Taste of the Palace 2019: Feast and Live Like a Royalty!
CONTENT: Andrew Kho
IMAGE: Dream Cruises/Luxe Multimedia
Last year, Dream Cruises launched its signature culinary extravaganza on World Dream which saw the ship's Dream culinary team collaborating with six celebrity chefs in the region. Due to the overwhelming response, Dream Cruises launched this year "A Taste of the Palace" and this time, it is extended to both Genting Dream and World Dream.
This year's "A Taste of the Palace" featured two internationally acclaimed celebrity chefs, Chef Darren McGrady – former British Royal Family chef to Queen Elizabeth II, Diana, Princess of Wales, as well as Princes' William and Harry and Chef Ivan Li of Family Li Imperial Cuisine who hails from a family of imperial high court officials who served the courts of the Qing dynasty in China.
A Taste of the Palace Experience
Upon the invitation of Dream Cruises, we boarded Genting Dream for a 4 Day/3 Night cruise to experience the "The Queen's Feast" by Chef Darren McGrady.
For this sailing, we are staying at the 37 sq.m Palace Suite which comes with all The Palace privileges.
The Palace Privileges:
Priority Check-in and embarkation: upon arriving at the Marina Bay Cruise Terminal, we were guided to the lounge where we get to enjoy some snacks and beverages while we await for boarding. Yes, we were the first to board and first to embark during this trip.
Bespoke 24-hour butler concierge service: Immediately upon stepping in to our room, our assigned butler immediately gave us a call to inform us if he is able to come to our room to explain our privileges, helped us to make reservations at our choice specialty restaurants, booked our choice shore excursion package ( shore excursion is included for The Palace guests).
Inclusive dining entitlements at The Palace and specialty restaurants: all The Palace guests are entitled to complimentary dining at Silk Road Chinese Restaurant, Prime Steak House by Mark Best, Seafood Grill by Mark Best, Umi Uma, Umi Uma Teppanyaki and Hotpot. The Palace Restaurant located at Deck 17 Forward is also available for your private buffet Breakfast, Lunch, Dinner and Supper which opens till 02:00am
Palace Cocktail Party: Just like in every cruise ship, there will always be a captain's night. Being guest of The Palace, you will have an exclusive cocktail party with the Management, Officers and of course the Captain at the Palm Court before he heads to the main lobby where the rest of the cruise passengers await to have a photo opportunity with him.
Premium Beverage Package: Being guests at The Palace entitles you to Complimentary Beverage Package which enables you to enjoy unlimited housepour wines, spirits, cocktails as well as non-alcoholic beverages in all bars & lounges around the ship.
Complimentary WiFi: Everyone knows the cost of WiFi onboard cruise ships, but being guests of The Palace, each guest are able to access 2 devices to be connected simultaneously.
Priority Seats at Zodiac Theatre: Watching the signature shows onboard might sometimes be a hassle due to queue to enter and the seats availability, being The Palace guests you have an exclusive entrance as well as priority seats reserved only for The Palace guiests.
Private Facilities: Enjoy your private pool & sun deck at The Palace Pool as well as your private 24hrs Palace Gym or choose to enjoy the steam room and sauna with a magnificent view of the ocean.
The Queen's Feast by Chef Darren McGrady
"A Taste of the Palace" is Chef Darren's cruise debut as well as his first-ever culinary project in Hong Kong and Singapore and for this cruise, he specially prepared an exclusive wine pairing menu featuring dishes he served during when he was still chef to the Queen of England and her entire family.
For starter, Chef Darren prepared Princess Diana and Queen Elizabeth's husband favourite Gleneagles Pate, this dish features layers of smoked salmon, smoked trout and smoked mackerel parfait with suedoise sauce and eggs drumkilbo. This is also a celebratory dish at Buckingham Palace .
Came up next was the Smoked Bell Pepper and Tomato Soup with English Stilton Shortbread followed by the Entree for the night which is also Queen Elizabeth's favourite – Gaelic Steak with whisky wild mushroom sauce, Scottish cheddar scalloped potatoes and ratatouille cannoise. Gaelic Steak is Chef Darren's signature dish.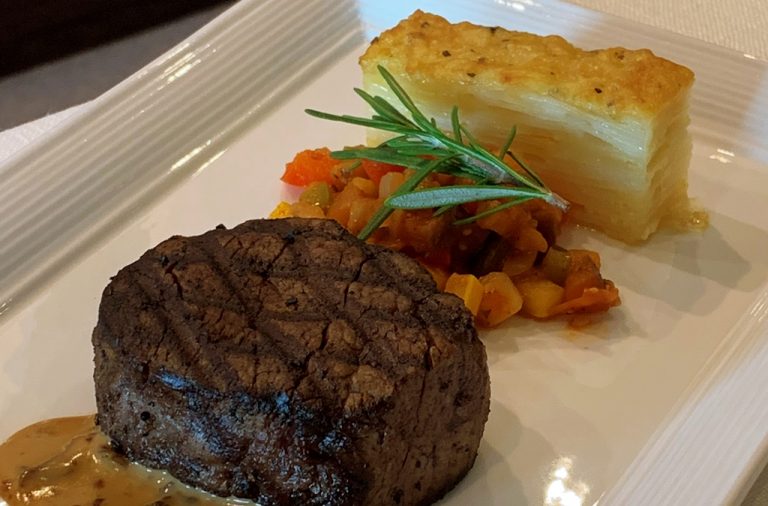 To cap our meal is of course a dessert, and for this we got to try not one but two desserts, first was another Chef Darren's signature English Treacle Tart with Creme Anglais and Caramelized Bananas. Second was Princess Diana's favourite Bread & Butter Pudding.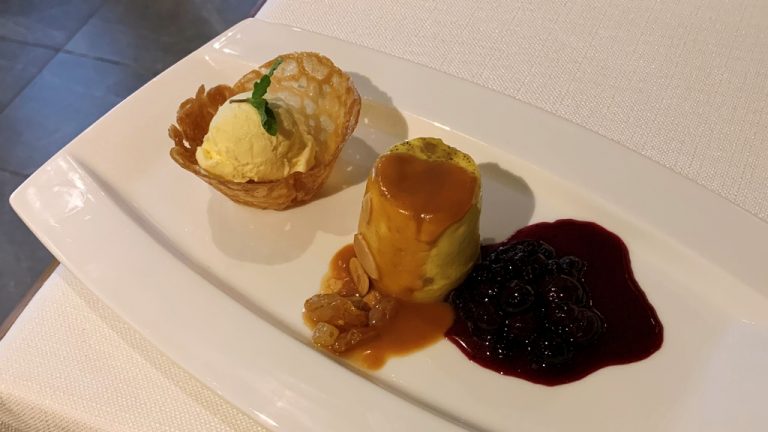 Non-Palace suite guests also got to enjoy the "Taste the Dream" menu by topping up S350 per person, which is available for booking onboard Genting Dream on a first come first served basis.
The Queen's Feast by Chef Darren McGrady Cruise Package:
Aside from The Palace privileges, guests of Taste the Dream 2019: "A Taste of the Palace" who are availing of The Palace package are entitled to One Meal of "The Queen's Feast wine pairing menu as well as exclusive complimentary admission too Millinery "Royal Hat" Workshop by Awon Golding, "Style at Any Age" by Genevieve Peggy Jeffs, British Garden Tea Party, The Beatles Night music soiree and "Make Your Own Blend" workshop.
During this trip, we enjoyed the Millinery "Royal Hat" Workshop by London-based milliner Awon Golding who is also the head millinery designer of Lock & Co., the world's oldest hat shop and royal warrant holder. Amongst her countless clients include Duchess of Sussex Megan Markle ( married to Prince Harry) and Lady Gaga.
Awon taught select guests including us the art of millinery by teaching us how to create our own headpiece. It was truly an experience to remember.
For those who missed this year's Taste The Dream, wait for the next edition in 2020! We are already looking forward to next years edition.
For bookings, reservations or more information visit www.dreamcruiseline.com