Review: The Barracks Hotel Sentosa' Sea Breeze & Champagne Staycation
As COVID-19 continues to put a damper on the aviation and tourism industry, many hotels in Singapore have refocused their efforts by launching enticing staycation packages. Every Friday, we feature hotels in Singapore we deem worthy for you you to take a short break from your home and fulfill your urge to travel by booking a room for a short staycation.
CONTENT: Seraphina Tang | Andrew Kho 
IMAGE: The Barracks Hotel Sentosa
Opened only around December last year, The Barracks Hotel Sentosa is one of Singapore's newest luxury hotel. Being a member of Small Luxury Hotels of The World (SLH) portfolio, we have set our expectations high as we enter this two-storey property in Sentosa and experience their Sea Breeze & Champagne Staycation Package.

Located within walking distance from the Imbiah Station, the property is located adjacent to The Outpost Hotel Sentosa and Village Hotel Sentosa and within the Mess Hall complex which houses select mouth-watering Asian restaurants, surrounded by heritage trees and a lovely huge outdoor heritage courtyard, you wouldn't need to go far out to satisfy your palate.


Check-In process was a breeze while hot towels and their signature welcome drink Barracks Spritz was served to us during the check-in process. We were also handed out their breakfast menu for us to select our choice of breakfast to enjoy the next day either at the living room or in-room dining. We were also told that guests staying at this property enjoy a 24-hour Equerry Service or butler service.


The Rooms
Being a former British artillery outpost in 1904, the 40 room property ( 34 Premier Rooms & 6 Suites) designed by Kunio Iwata of KKS International combines both vintage and modern design. We stayed at the Premier Room which is quite spacious with the option to choose either King or Twin bed. Our room is located on the second level which gave us our own private balcony which is also one the highlight of the property. Should you be staying on the first level, you will have your own patio instead and some will have direct access to the pool.

Each room features a Marshall Speaker which is supported by a Bluetooth function which we really enjoyed, guests will especially love this speaker if you love playing your favourite tracks in your room, the high ceiling makes the sound spread louder in the room which means you don't need to blast your volume up and you won't disturb the next door visitors. The headboards, nightstands and mini trunk bar are clad in leather while the standing lamp is coated in brass skeleton.


The bathroom is spacious and features a handmade Apaiser bathtub as well as separate shower furnished with Axor by Hansgrohe fittings and a Toto Neorest washlet with automated functions in the toilet cubicle. The bathroom amenities are provided by Australian luxury brand Apelles. The timber sliding doors separate the bedroom from the bathroom should you prefer your own privacy.

All beverages in the minibar are complimentary for guests excluding alcohol, should you want to concoct your own cocktails, there is a shaker and cocktails recipes for you to follow through.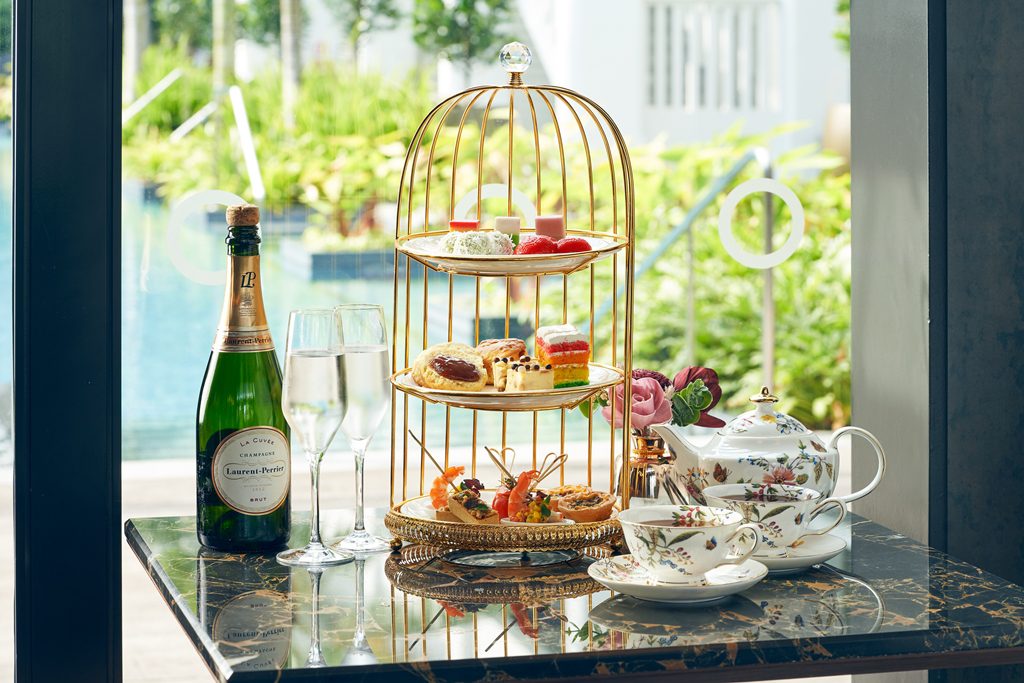 The Living Room & Afternoon Tea
One bonus of the Sea Breeze & Champagne Staycation Package is an afternoon high tea session at the hotel's lounge, The Living Room. Sit back and savour your afternoon tea & bubbly in this gorgeous space filled with natural light, and lush, upholstered seats; light wooden accents making the space feel rustic and like a holiday away from home. Or, drop by any time during your stay for a bite or two! There's also evening cocktails and canapés from 5-8pm – we recommend sitting outside if the weather permits, for a poolside view as you sip on a whisky sour or margarita and nibble on some cheese.

The Afternoon Tea is a beautiful three-tier set that will wow both your eyes and stomachs, complete with sweet & savoury bites, free-flow champagne, as well as a unique tea tailoring experience from Pryce Tea & The Tea Tailor.

We especially enjoyed the refreshing Prawn with Mango Salad, and addictive Reconstructed Chicken Satay. Those with a sweet tooth will enjoy the lovely Salted Caramel Cheesecake, as well as the quintessential Cranberry & Plain Scones that one must have with any high tea – don't forget to dole on the cream and jam!

For the personalised tea tailoring experience, you're invited to pick your own tea base, and select up to two of your favourite floral or fruit pairings – we enjoyed this as each tea is customised to your own taste! We picked the Organic Honeybush Rooibos Tea with Tropical Fruits, which turned out to be a delightfully summery and fragrant blend that paired well with the various tea-time bites.
Why You Must Book the Sea Breeze & Champagne Staycation Package
If you love afternoon tea with champagne pairing, then you will surely love this package as only guests staying at the property get to enjoy the afternoon tea experience, and not to mention the unlimited champagne that comes with it. This package also includes a one way limousine package to the destination of your choice within Sentosa. (Booking must be made in advance as this is subject to availability). For Breakfast, we highly recommend their Nasi Lemak, it is really surprisingly good and delicious.

Overall, we highly recommend guests who missed travelling to stay at The Barracks Hotel Sentosa, the ambiance of the property up to the rooms and the pool will make you feel that you are in a private resort in Bali or Phuket away from the hustle and bustle of the city life.

We enjoyed our stay and will definitely be back to stay at this property.
 
Stand a chance to win a return staycation at one of Far East Hospitality Sentosa hotels when you book The Barracks Hotel Sentosa Sea Breeze & Champagne Staycation and stay by 15 November 2020. For Bookings and Reservations please visit website 
The Barracks Hotel Sentosa
2 Gunner Ln, Sentosa island, S099567
Website