MO Bar Celebrates its First Anniversary with a New Afternoon Tea Menu inspired by its Opulent Interiors.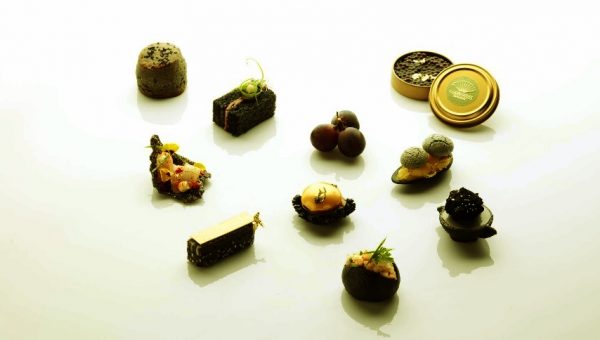 CONTENT: Yiew Kai Jie
IMAGE: Mandarin Oriental Singapore/ Luxe Multimedia
In celebration of MO BAR first anniversary this September, the bar has curated a new Black and Gold Afternoon Tea Menu from the 1st of September to the 31st of October that is hugely influenced by the bar's contemporary interiors. Diners can look forward to a decadent menu of contrasting pastries and re-imagined sweets that are best paired with the mildly bitter yet delicate Malacca Gold BOP TWG Tea.
Reflecting the bar's luxurious vibe, diners will be presented with a golden tin that's filled to the brim with jewels of coffee spheres that one might easily mistake for caviar. Made using a molecular gastronomy technique, its bold caffeine taste is balanced by the velvety pear puree at the bottom of the tin while being topped off with gold flakes to give the extra touch of luxury to the course. Harnessing ingredients from the land of the rising sun, the Taraba Crab Vol Au Vent, Cured and Smoked Hamachi with Seaweed Cracker are a perfect reflection of the contrasting theme of the afternoon tea menu. The protein in the single-bite dishes are exceptionally flavourful, well complimented and their key flavour does not get overwhelmed while providing a little texture to the overall bite.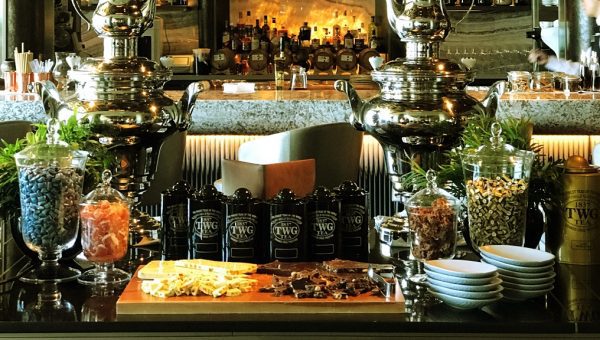 Diners shouldn't miss out on the Boston Lobster Roll, Wagyu Pastrami with Japanese Pickle and Ebi Shrimp with Sriracha-Aioli that are considered the "main courses" of the afternoon tea set menu, in order to ensure that diners don't walk away feeling peckish or hungry at the end of their high tea session.
The distinction of the two colours also takes centre stage in the desserts section of the menu with the Dulcey Puffed Rice topped with a chocolate caramelised banana sphere that offers a chocolatey and fruity edge to the dessert course. Gratifyingly sweet and covered with caramelised peanuts for a distinct textural comparison, the Chocolate Pâte Sablée is made with Pastry Chef Desmond Lee's Co-Ka-Me 68.5% chocolate that ensures a velvety nutty texture with a tantalising sweet finish. The Black Sesame Sponge with Coconut Soft Ganache and Citrus Confit with Yuzu Cream are also not to be missed in order to bring the high tea session to a close.
As part of a new Anniversary Time package, the Black and Gold Afternoon Tea experience can also be enhanced with a staycation package along with welcome amenities courtesy of MO Bar and a cocktail making session for two with MO Bar Manager Michele Mariotti.
The Black and Gold Afternoon Tea is priced at S$48 per person and S$88 for two persons inclusive of one pot of coffee or TWG tea. Diners can upgrade to one cocktail or mocktail at S$65 per person or S$68 per person inclusive of one glass of "R" de Ruinart champagne.
MO Bar is located at Mandarin Oriental Singapore, 5 Raffles Avenue, Marina Square, Singapore 039797.