A Collaboration Between Two Ramen Powerhouses Results in Dishes that Accommodates Both Worlds
Bishamon and Eat At Seven's Menya Takeichi join forces to offer traditional Sapporo-style Miso Ramen made with Pork and Chicken Broth to its customers
CONTENT: Yiew Kai Jie
IMAGE: Luxe Multimedia
After a long wait, the 58-seater Bishamon ramen restaurant will be offering a brand new menu that includes a traditional Sapporo-style miso ramen right here at Suntec City! It will be sharing floor space with popular chicken ramen chain Menya Takeichi at Eat At Seven so that long time fans of the latter can now enjoy ramen offerings made from both pork and chicken broth.
Bishamon's Special Sapporo Miso Ramen (S$15.80) consists of a unique blend of three different types of red, white and black miso. Black Miso is extremely difficult to come by and therefore it's rarely used in Singapore- let alone in ramen dishes. Bishamon procures its black miso from special suppliers in Japan. The different types of miso are stir-fried, made into a paste, then mixed with pork-bone and chicken soup. This special paste helps to lift the broth with a tinge of nutty piquancy. The ramen also has a wide variety of vegetables such as corn, bamboo shoots and soft boiled eggs in it.
The dish is then topped off with slices of tender kurobuta pork collar chashu and seaweed. The pork is cooked in Bishamon's pork broth for two hours and then marinated in a marriage of fresh fruit, vegetables and tamari (Japanese fermented soy sauce) for another two. The chashu is chilled for 24 hours before being sliced and served atop of the ramen. The amount of effort placed into the preparation of the pork can be seen and tasted once the pork comes off so easily and is very easy and tender to chew on. The broth is much more thicker and rich partly due to the miso mixture and has a distinct seaweed-vegetarian aftertaste, but this is probably due to the surplus of vegetables found in the ramen.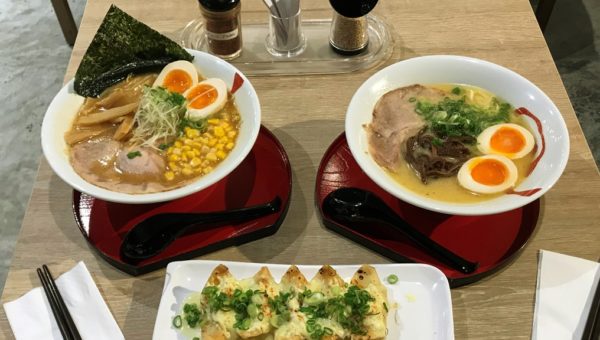 The Special Tonkotsu Miso Ramen (S$15.80) is made from the same broth as the Sapporo just that it uses only white miso paste instead of all three. Thin white ramen noodles are used instead of the traditional yellow noodles found in the Sapporo-style miso ramen as well. This ramen is a perfect meal for those who prefer a milder flavour or for customers who don't want their ramen to be too rich or thick- especially in terms of the broth. Don't worry about the noodles, both bowls had al dente noodles which were cooked to perfection! Just remember to consume quickly, no longer then 20 minutes as the noodles tend to get clumpy after a while.
Other than the ramen, savour six different types of chicken gyoza at Bishamon: Original, Mentaiko, Wasabi, Grilled Cheese, Okonomiyaki and Garlic. Gyoza makes the perfect side dish to ramen and the creative side dishes will definitely catch the eye of different people with different taste preferences as a snack to share! (Because sharing is always caring.) The prices of the gyozas start from S$6 onwards.
Bishamon is located at Suntec City North Wing, 3 Temasek Boulevard #03-313 Singapore 038983
Bishamon is open from Monday to Sunday from 11:30am to 3pm and 5:30pm to 10:30pm.
For reservations, please call: +65 62353386