Sink Your Teeth Into a Juicy Cut of Meat and Quality Wines at Otto's Deli Fresh
CONTENT: Andrew Kho
Located in Raffles @ Holland Village, Otto's Deli Fresh introduces an amazing range of premium quality Australian steaks and wines that can be enjoyed anytime of the week without burning a hole in your pocket.
Helmed by Chef Otto, who has over 40 years of experience having worked at Shangri-La Hotel in Singapore and Hong Kong as well as The Stamford & Fairmont, Singapore, Chef Otto's culinary experience is widely sought after, and he is currently the Honorary President of Bocuse d'Or Asia-Pacific, having previously served as President of Bocuse d'Or Singapore and Asia Pacific from 2008 to 2015. He is a member of the Chaine de Rotisseurs Singapore, and of World Association Cooks Society, receiving its Lifetime Award in 2014.
Otto's Deli Fresh offers three different grades of steak to cater to each and everyone's preference, Prime, Choice and Select, with all steaks seasoned with Maldon sea salt, which is imported from England.
Here are some of the Steaks we tried:
Australian Grass-fed Beef Ribeye (SGD $18)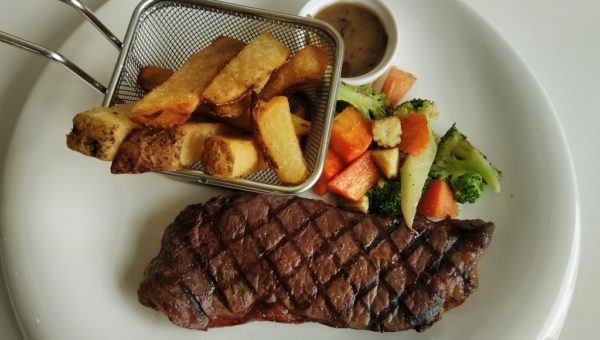 Australian Grain-fed Wagyu Beef Sirloin ( Grade 6) (SGD $35)
The steaks are properly cooked to perfection and it does really melt in your mouth. We were surprised that for the cost of the steaks here, the quality is at par or even tasted much better with some of the well-known steak houses out there.
All steaks being served at Otto's Deli Fresh come with the complimentary Signature Handcut Fries and a choice of salad or sautéed vegetables.
We also tried The Butcher Platter (SGD $22) which consists of Chorizo Salami, Premium Honey Glazed Ham, Hungarian Salami, Mortadella Pork Ham, Parma Ham, Paprika Lyones, Pork Meatloaf and served with pickled pearl onion, gherkin and toasted bread.
Once again, they didn't disappoint us by serving only the best quality cold-cuts meat selections in the platter.
All of the steaks and platters pairs well with their wide selection of red and white wines which is priced from SGD $45.90 onwards.
Overall, the quality of the steaks being served here coupled with their attractive prices makes them the perfect place to dine at anytime, any day of the week. Steakhouses don't get any better than this.
Otto's Deli Fresh is located at: 118 Holland Avenue, #02-01 Raffles @ Holland Village, Singapore 278990.
For reservations or more information, please call: +65 6694 3291 or visit: www.ottosdelifresh.com