BandKara by Bistro8: Singapore's Newest Singing Hot Spot!
CONTENT: Andrew Kho
Have you ran out of places to hangout or tired of the usual Karaoke places you often go to? BandKara, an authentic Japanese live band karaoke restaurant and bar concept from Tokyo has finally opened its first outlet in Singapore!
Located at Cineleisure Orchard, this newest hot spot is a popular activity in Japan that sees individuals singing their choice of karaoke songs in front of an audience accompanied by a live band.
BandKara has over 250,000 songs in their collection for guests to choose from. The live band which came all the way from Japan is also well equipped to play any song from any genre regardless of language, and they are there to enhance the guests experience on stage. You can even go on to play the instruments or bring your own if you like to.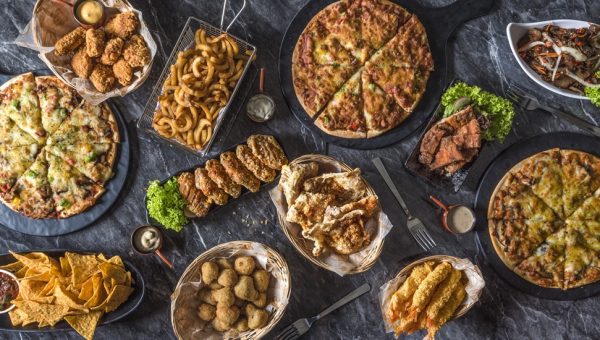 BandKara also serves up a decent food menu which comprises of the Super Mario, a plate of fried buttoned mushrooms, the Japanese Chix , piping hot Chicken Teriyaki Pizza. Otherwise, try out the Curly, Curly mouth-watering dish of Truffle Curly Fries, or their Chicken, Prawn or Me, a classic twist of Prawn Paste Chicken.
Their Hot & Sexy, a plate of hot and spicy mid-joints, guaranteed to leave everyone hot and maybe asking for more and Hay, Hay, Hay, a plate of deep fried ebi served hot and crispy is surely a perfect combination to pair with their signature cocktails Tokyo Ice Tea and Tequila Sunrise. For those non-alcoholic drinkers, the place also serves their signature mocktails, Lychee Ribena Soda and Shirley Temple.
Mr. Nobuhiro Genmei, Chief Operations Officer of Koshidaka Singapore, believes that everyone can have a good time at BandKara, by reliving their dreams as a superstar, or just by chilling and enjoying the live performances for those not performing.
BandKara charges per hour from $20 per person from 9PM – 11PM and $25 per person from 11PM to closing.
Table rates is also available for large group of customers from $500 per table from 9PM – 3AM (Sunday, Tuesday – Thursday, and Public Holiday) and $500 per table from 12AM – 6AM (Friday – Saturday, and Eve of Public Holiday).
BandKara by Bistro8 is also available for booking for private events, birthday celebrations, corporate functions; please email: events@koshidaka.com.sg for more information.
At BandKara, you are the superstar and the stage is yours!
BandKara by Bistro8 is located at 8 Grange Road #08-01, Singapore 239695