Celebrate Sesame Street's 50th Year Anniversary at the Kumoya Pop Up Café
Content: Michelle Ng
It doesn't matter whether you're bringing your nieces or your besties with you because both young or old, everyone will become a child again once you step into the vibrant world of Sesame Street over at Kumoya!
Bidding goodbye to the black and white cartoon world of Snoopy, Kumoya is now awash in rainbows and the cheerful Sesame Street Babies. Elmo is waiting to greet you under the iconic lamp-post at the door, where Big Bird, Cookie Monster and Oscar The Grouch are frolicking in the clouds.
The menu sees a nice refresh, styled by Shirley Ho/ Little Miss Bento. Here's where the fun kicks in, because you can choose to order your entire meal featuring a single character or all of them! That's right, you can have your starter, entrée, drink and dessert ALL with Oscar The Grouch. Or Big Bird, Elmo, or Cookie Monster.
Aside from the usual fries and wedges, there are two new starters: Crispy Golden Onion Rings ($11.90) and Truffle Chicken Spam Fries ($13.90). While the onion rings were fried to crispy rings, the spam fries were a let down as they were oily and soggy despite arriving from the kitchen piping hot. We suggest sticking with their normal fries options or Karaage Chicken with Shoyu Glaze – popular mainstays that never fail to satisfy.
Your tastebuds will start watering when it's time to move to the more exciting mains. The Cookie Monster's OM NOM NOM Japanese Croquette Rice ($22.90) with cream sauce and ABCD and E for Elmo Japanese Seafood Curry Rice ($26.90) are two creamy, comforting dishes. We recommend the seafood curry rice for a richer, tastier meal, with a side tempura ebi, salmon and calamari to boot.
Get down and dirty with Oscar's Teriyaki Chicken Katsu Burger ($24.90) for a Western-fusion twist. The burger bun is a delicious dense mantou, encasing a teriyaki chicken patty, cheese and garden salad. And since it's Oscar, the burger is served in a cute little bin, although it looked far from grouchy. It even comes with a side of curly fries, a crowd favourite.
Make sure to save some space for dessert! If you only have space for one, get the Big Bird And Friends Mango Kiwi Shibuya Toast ($27.90). It's pretty huge and can almost be considered a main by itself. The buttery shibuya toast is filled with fried buttered toast bits that complements the Hokkaido soft serve. And who can resist the macarons that look like Elmo and Cookie Monster? The cherry on the top of the very sweet dessert is that it even comes with a mystery gift!
If you're in luck, make sure to get the Cookie Monster's Cookie Shot With Matcha Milk ($14.90). The drink is very popular and tends to run out pretty quickly – and it's hard to see why not. The Instagrammable cookie shot glass is edible and makes for novel shot as you're pouring the matcha milk in. Best of all, it even comes with a Cookie Monster plush keychain that you can bring home at no extra charge!
Other fun drinks that you can get instead is the Big Bird "I'm a bird" Mango Tango Soda ($15.90), a glass of soda topped with a gigantic ball of floofy cotton candy, or the La La La Elmo Hot Latte ($10.90), a steaming cup of latte served in an adorable Elmo cup (but you can't bring home the cup!). Every drink on the menu comes with a limited edition coaster in various designs with Elmo, Big Bird, and Cookie Monster.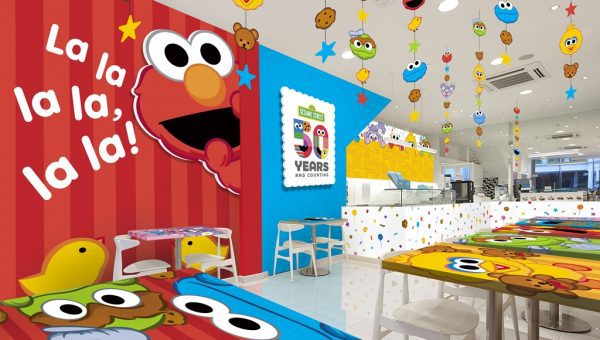 The merchandise stand sells the usual selection of plushies, which also feature additional characters like Bert, Ernie, and Abby Cadabby. For something different, fans can also get their hands on half-skeleton figurines that are part of a collaboration between local brand Mighty Jaxx and Freeny's Hidden Dissectibiles. The figurines are available in blind boxes, where you get either Big Bird, Elmo, Cookie Monster, Count Von Count, Bert or Ernie depending on your luck.
There's always a chance to score a plushie for just $2 at the claw machine outside the cafe, although only Elmo and Cookie Monster plushies are up for grabs.
The Sesame Street x Kumoya pop-up will last until 29 December 2019.
Kumoya is located at 8 Jalan Klapa S199320.