Dior and Ruinart Rosé Champagne presents a Multi-Sensory Afternoon Tea at St. Regis Singapore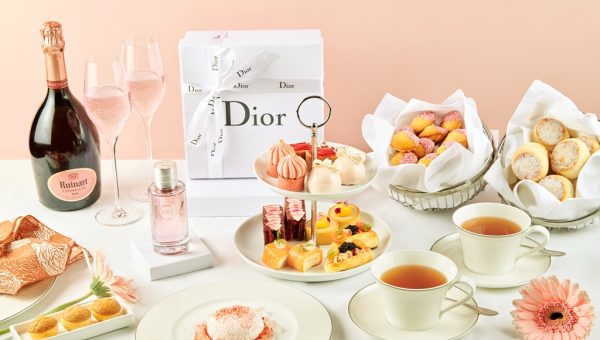 CONTENT: Yiew Kai Jie
From now until the end of November, Ruinart Champagne and Dior Parfums have collaborated together with St. Regis Singapore to fashion a brand new afternoon tea experience that strikes a perfect balance between elegance and beauty that offers a multisensory experience that will appease the eyes, invigorate the nose and appease the taste buds.
Spearheaded by St Regis's Executive Chef Thibault Chiumenti, the joint effort took two months to materialize due to his commitment to ensure that the fruity expression of the Ruinart Rosé champagne along the floral notes of the new JOY perfume by Dior will be able to blend together in harmony with the food offerings to give guests a whole new afternoon tea experience that invokes a declaration of one's love of life.
Upon entry to The Drawing Room, guests will be greeted by a ceremonious Champagne Sabrage usually reserved for special occasions in France to kick-start the afternoon tea on a high note that is followed by a small spritz of the new JOY perfume by Dior and the bubbly effervescence of the Ruinart Rosé Champagne. The menu itself is imbued with the scent of the JOY perfume and guests are encouraged to bring it home as a memento.
Before diners tuck into the indulgent creations, guests will be visited by a tea blend master showcasing the exclusive St. Regis Singapore tea blend, prepared tableside and accompanied by the warm, fluffy amuse-bouche of Goats Cheese Gougères baked fresh from the oven that should be eaten immediately before it turns cold and mushy. The St. Regis Singapore tea blend is a blend of black and green tea that will go well with sweet treats and proves to be an extremely effective tea for a morning pick-me-up. (This blend can only be found in the St Regis Singapore and other St Regis hotels in Southeast Asia.)
An elegant two-tier high tea stand will then be placed at the table, which includes a range of sweet treats involving Rosé Bavarois with Gula Melaka Cream on Raspberry Tartlet, Strawberry Éclairs, and Pistachio and Sakura Mousse with Confit Kumquat topped off with spritz of Orange Blossom water, along with decadent savouries such as Lobster Mayonnaise Soft Bun Sandwich with Herring Caviar, Foie Gras Mousse Tartlet with Fig Compote and Mango, Beetroot and Goat Cheese Sandwich, and Salmon and Cucumber Cream Cheese Sandwich. The high tea delights should be eaten in a sweet-savoury-sweet format to counter the taste and balance each other out followed by occasional sips from the teacup to cleanse the palate before the next bite.
Afterwards, Chef Thibault will personally come around with a box of freshly baked Ruby Chocolate-coated Madeleines and raisin scones to introduce himself to the guests and check on their experience thus far. He will then conclude the experience with a plated dessert of Vanilla Vacherin with Lime Coconut Meringue, Verbena Parfait and Coconut Jelly with a healthy shaving of Rhubard. While the dessert is an astounding eye-catching piece of art, it might be slightly too sweet for some guests and could end the afternoon tea experience on a bad note that leaves an overly saccharine taste in some of the guest's palates.
As the afternoon tea session comes to an inevitable conclusion, guests won't leave empty-handed as there will be a mystery gift given to each and every guest- a form of appreciation and care that reflects the high standards of how St. Regis treats their guests even when they depart their establishment.
The Afternoon Tea set (S$78++) with a glass of Ruinart Rosé champagne)is available daily from now until 30th November 2019. A top-up fee of S$28.00++ applies for every additional glass of Ruinart Rosé.
The Afternoon Tea Set is available daily Monday – Friday | 3:00 PM – 5:00 PM, Saturday and Sunday | 1:00 PM – 3:00 PM (1st seating); 3:30 PM – 5:30 PM (2nd seating)
Reservations are highly recommended, due to the limited space available. Please contact them at +65 6506 6860 or email bls@stregis.com.
St. Regis Singapore is located at 29 Tanglin Rd, Singapore 247911.