Genting Cruise Lines Unveils Newest Cruise Fleet Global Dream
Genting Cruise Lines officially announced the world premiere and unveiling of Global Dream's brand new hull artwork, entitled "A Dream Through Time and Space" at ITB Asia in Singapore last week.
Building on the successful debuts of Genting Dream, World Dream and Explorer Dream, Dream Cruises' new 208,000 gross tonne ship, Global Dream, is currently under construction at Genting Hong Kong's very own MV Werften shipyard in Germany. Global Dream is set to enter into service in early 2021 and will invite more Asian guests to cruise worldwide on inspiring voyages on board the largest cruise ship to homeport in the Asia Pacific region.
Global Dream's luxurious Global Class cabins will be the industry's most spacious staterooms at approximately 15% larger than standard cabins found on most other cruise lines.
Global Dream's cabins will also feature cutting edge, state-of-the-art technology, redefining the concept of cruising with Bluetooth locks and a new smart system, enabling passengers to control different functions such as the LED mood lighting and climate control with a smartphone app, voice recognition or through a touch-screen control panel. Smart sensors will also be able to detect occupants in the cabin to automatically adjust the lights and temperature for better energy efficiency and triple vent air-conditioning outlets ensure even air distribution for maximum comfort.
Accommodating over 9,000 passengers and with lower berth capacity of 4,700 passengers, Global Dream will be the largest cruise ships in the world by passenger capacity and brings affordable, high-end cruising to a wide range of passengers with 2,350 cabins consisting of a variety of categories including villas, penthouses, suites, themed suites, balcony cabins and inside cabins. Global Dream will also feature Dream Cruises' signature 151-suite luxury "ship-within-a-ship' concept, "The Palace".
Featuring a variety of innovative new features and facilities, Global Dream will include the industry's most spacious staterooms and most luxurious suites, the first-ever theme park concept at sea – "Dream Park at the Pier" highlighted by the "Space Cruiser", the world's longest roller coaster at sea – the largest cinema at sea with eight theatres to meet the leisure and entertainment needs of travellers and MICE guests, and more. Singapore's homegrown and internationally renowned nightlife brand, Zouk, the 3rd best club in the world, will also have a presence on Global Dream while Dream Avenue will provide guests with a multi-purpose outdoor leisure and recreational space.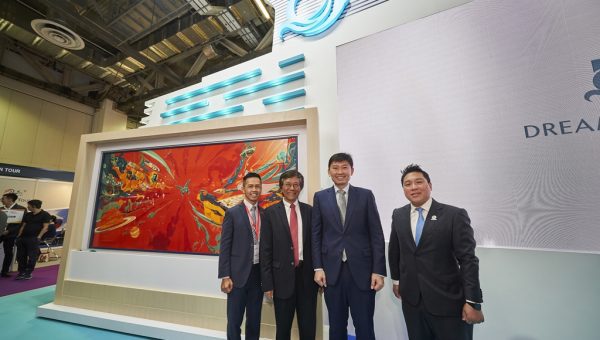 With Global Dream's sister ship to debut in 2022, Dream Cruises' five ship fleet will be the youngest and most modern in the world. As the only global cruise line with all "Made in Germany" cruise ships, Dream Cruises' fleet will feature the highest safety standards, build quality, speed, power and luxury finishes. A testament to Dream Cruises' quality vessels and exemplary service, the latest edition of the well-respected Berlitz Cruising and Cruise Ships 2020 has again ranked Genting Dream and World Dream in the Top 10 'Large Resort Ship' – the only two highly ranked cruise ships to homeport year-round in Asia. Dream Cruises' latest addition, Explorer Dream, also made her debut in the Berlitz Cruising and Cruise Ships 2020 guide under the "Mid-Sized Ship" category, earning a Top 20 ranking.
Shanghai native and London based Illustrator, Shan Jiang, was commissioned to create the latest chapter of the Dream Cruises hull art romance. Having worked with a variety of notable companies and publications, Mr Shan's work is strongly influenced by his home city of Shanghai; its skyscrapers and bungalows, contemporary concepts and traditional superstitions and flourishing subcultures
"A Dream Through Time and Space" continues the epic journey of the mermaid and the astronaut as they seek to satisfy their boundless curiosity and explore an infinite universe – driven by the desire for the extraordinary. Embodying the independent and fearless spirit of a new generation of traveller, the two worlds of the mermaid and astronaut blend together, resulting in a new way to explore the seven seas– one that combines age-old maritime tradition with space-age technology.
For more information please visit: http://www.gentingcruiselines.com