Chinese New Year 2022: 6 Restaurants To Reunite Over A Feast!
Content: Michelle Ng / Seraphina Tang

The feasting doesn't end with Chinese New Year close on our heels. Once again with the threat of a pandemic rearing its head, we have to gather in groups of no more than 5 pax when. Although we're not sure if this might be another blessing in disguise as we would have to break up our gatherings into smaller groups, thus allowing us to enjoy more meals and good food in even better company. And the smaller group means lesser fighting over delicious dishes, which you would want to take your time to appreciate the Chinese New Year menus at these 6 restaurants we've curated specially for you.


1. Golden Peony at Conrad Centennial Singapore

Reminisce over a traditional CNY dinner over at Golden Peony, where Chef Ku has whipped up a bountiful meal to celebrate the roaring Year of the Tiger. Toss your way to abundance with their Lo Hei, which comes topped with snow crab, tiger prawns, crispy white bait and fish skin. The set menu features new creations like a refreshing Water Bamboo Shoot soup, New Bedford Scallops seared to perfection and fried in Golden Peony's XO sauce, and an lovely Chilled Peach Jelly.

We were absolutely blown away by the Lobster Baked With Custard and Mozzarella Cheese with Sichuan Peppercorn Sauce. The crunchy custard and cheese worked together with the spicy sichyan peppercorn to bring out the freshness of the lobster, which comes out of the shell with a slight pull. End your meal with Gold Peony's signature Suckling Pig, that is stuffed with preserved vegetables and rice Hakka style.

Set menus start from S$158 per person, available for booking from now till 15 February 2022.


2. SE7ENTH at Oakwood ATMD

SE7ENTH strikes the right balance between tradition and modernity with their CNY set menu. Their Propserity Yu Sheng has all the classic fittings, but with a slight twist with the addition of smoked salmon, smoked snow fish and a strawberry-infused plum sauce for that zesty-ness.

The Blissful Reunion Set Menu then continues with a comforting hearty Crabmeat & Fish Maw Soup with Bamboo Shoot & Bailing Mushroom, before diners can choose between a succulent Oven Baked Black Cod Fish with XO Sauce and Roasted Five Spice Potatoes or a flavourful Pan Seared Duck Breast with Mandarin Orange Sauce and Mashed Purple Potato. Desert is always a good way to cleanse your palate, and end the meal with the all-time favourite of Mango Sago with Champagne Pearls and a delectable Mochi.

The Blissful Reunion Set Menu will be available for dine-ins at SE7ENTH till 15 February 2022 for both lunch and dinner. Reservations can be made online via Chope, by
phone at +65 6812 6050 or by email SE7ENTH.premier-singapore@oakwood.com


3. Cherry Garden at Mandarin Oriental Singapore

Cherry Garden has brought back their selection of five propitious Yu Sheng platters to give you an abundance of choice for your reunion dinner. The signature classic Prosperity Yusheng comes with salmon and crispy fish skin, or you can celebrate with the extra indulgent Triumph Yu Sheng that also comes topped with scallop, black truffle and black caviar ontop the fresh vegetables. With healthy eating becoming a trend late, the Garden of Health Yu Sheng is a mix of colorful fresh fruits and julienned vegetables. Other dishes to look forward include Braised Pork Belly, created by Chef Soong with a homemade brown sauce and Chinese mushrooms, and the Braised Sliced Abalone and Sea Cucumber, to signify good tidings and abundance in the new year. And of course, not to forget the popular Pan-fried Nian Gao for an extra boost of good luck and success!

The Lunar New Year Set Menus are available till 15 February 2022. To reserve a table, email mosin-dining@mohg.com or call +65 68853500


4. Esseplore

A foodtech company that aims to bring gourmet cuisine to families and corporate diners alike, Esseplore has launched curated Feastboxes, or communal sharing dishes in gorgeous pine boxes, this year of the Tiger. Available for delivery, the CNY Feastbox 2022 (from $198 for 4 to 6 pax) is a great option for family reunion meals, or even virtual corporate reunion meals.

Enjoy the fresh, preservative-free Yu Sheng, topped with toro sashimi, pomegranate seeds, pomelo chunks and a zesty plum sauce. Highly recommended too, is the luscious collagen-filled Buddha Jumps Over the Wall (1 pax: $68, 2 pax: $128, 4 pax: $248, 6 pax: $368) that's served in a beautiful glazed ceramic pot that you get to keep; double-boiled with nourishing ingredients like abalone, fish maw and sea cucumbers.

For something a little different, the Nonyalicious Chinese New Year menu (4-6 pax at $428, 8-10 pax at $698), with highlights such as the Traditional Baba Fish Maw & Crab Meatball Soup featuring homemade stock, juicy crab meatballs and fish maw; as well as the staple Heirloom Buah Keluak Pork Belly.

(Note: Order by 12 February 2022; orders require 2 days in advance notice)

Esseplore's CNY Menus are available from 15 January to 15 February 2022 Online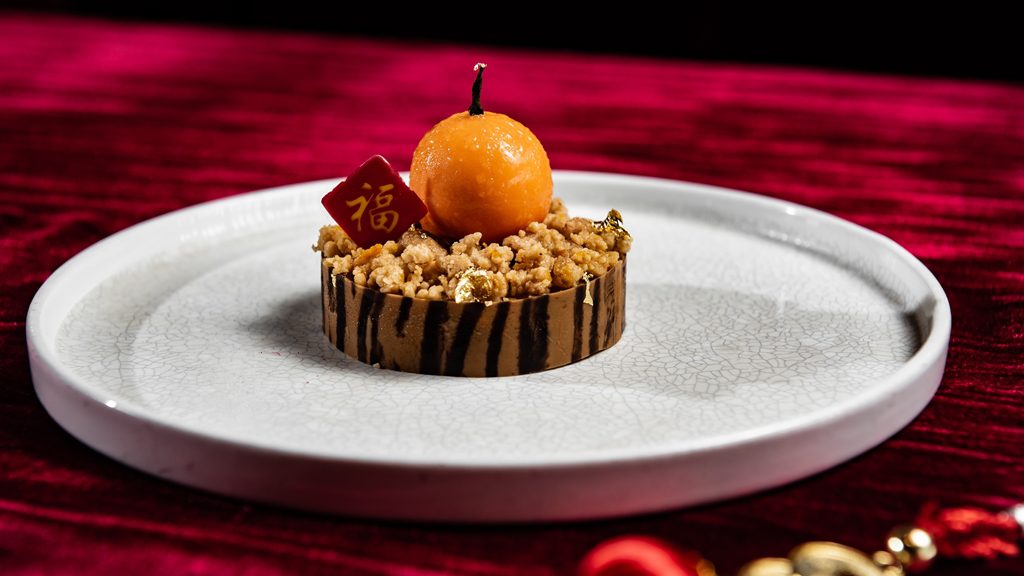 5. CÉ LA VI

Indulge in a feast with CE LA VI's decadent Lunar New Year Six-Course Set Dinner. And if you're lucky, you might even enjoy a breathtaking sunset over the skyline views of the city. The six course dinner is themed to wish you the best for a successful 2022, with each course named after a wish. Prosperity is a yusheng topped with lotus chips and fresh salmon, Longevity follows up as a Hokkaido Scallop Ceviche & Clam with Baeri Oscietra Caviar seasoned in yuzu koshu, before you embrace Harmony with fleshy Grilled King Prawns marinated in togarashi spice and drizzled with curry leaf oil. Grow your Wealth with tender A5 Kagoshima Wagyu Beef,
asparagus, and truffle in Kampot pepper sauce, and bask the year in Love with the
impeccably done Tiger Prosperity dessert filled with jasmine tea cremeux, orange pineapple marmalade and biscuit sponge.

CÉ LA VI Lunar New Year Six-Course Set Dinner Menu is $398 for two pax available till 6 February 2022, and can be reserved by phone at +65 6508 2188 or email at reservation-sg@celavi.com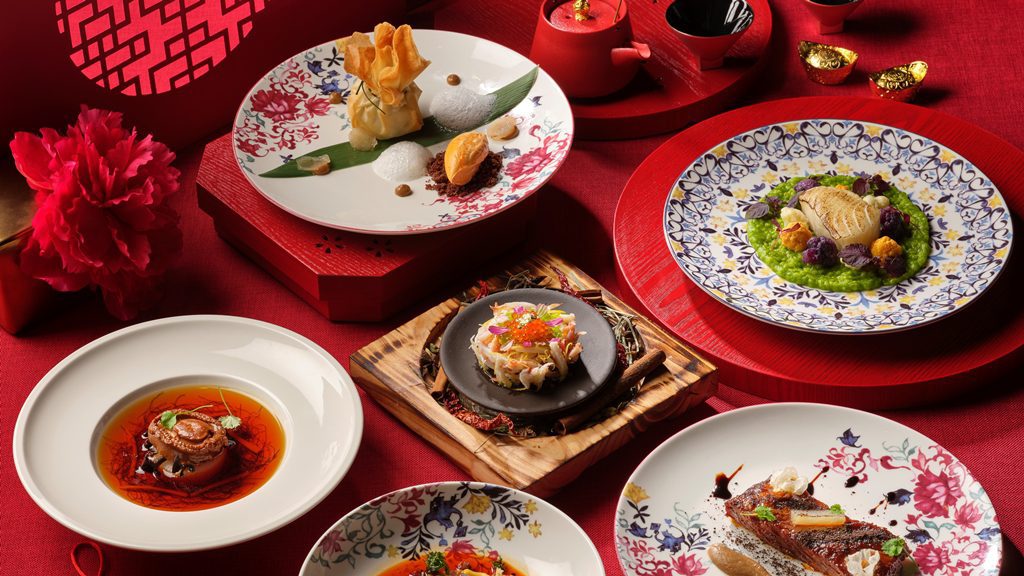 6. 15 Stamford by Alvin Leung at Capitol Kempinski

Alvin Leung's creations toe the fine line between Asian modern techniques and authentic traditional flavours this CNY, with a specially curated lunch and dinner set menu. For lunch, a 3-Course Chinese New Year Set Lunch starts with Mandarin Orange Cured Salmon or Bak Kwa Toast, followed by Wild Atlantic Sardine with air dried tomato puree and Pat Chun chicory or Braised Angus Beef Neck, before wrapping things up with Spiced Persimmon to whet your appetite. The simple meal is great for quick catchups between family members during the busy day. At night, 6-Course Chinese New Year Set Dinner with more fancy dishes like Alaskan King Crab, Korean Abalone and Scottish Lobster Dumpling, Fried Toothfish and Japanese Wagyu Beef Rib before ending with a Pandan Nian Gao.

Available till 15 February 2022.