CP Food Introduces Newest Range of AA Food Products
Explore the delicious range of AA products, proudly brought to you by CP Food, one of Asia's leading brands for delicious and convenient frozen food. From ready-meals to easy-to-prepare dishes and snacks, AA products are the perfect quick-fix to help you get through the day!
Originated from Thailand, AA products has over 30 products, including Fish & Cheese Burger, Yellow Curry and Pineapple with Rice ready-meal to Shrimp Cake and Spicy Squid easy snacks to satisfy your every food craving.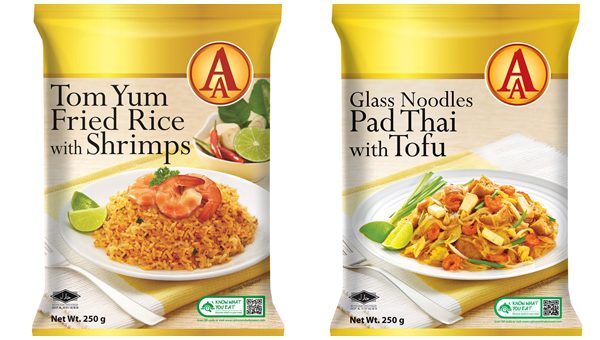 Exclusively selected for Singapore, AA is proud to introduce five of its best-seller products. With an authentic Thai recipe, savour the goodness of AA Glass Noodles Pad Thai with Tofu and AA Tom Yum Fried Rice with Shrimps. Well seasoned and packed conveniently for consumption with no cooking required, it takes less than five minutes to prepare a delicious meal.
Simply remove the frozen product from the package and place in the microwave and heat for approximately two minutes. Open the lid and stir the food before covering the lid back to heat up for another one minute or until thoroughly heated for a greater taste.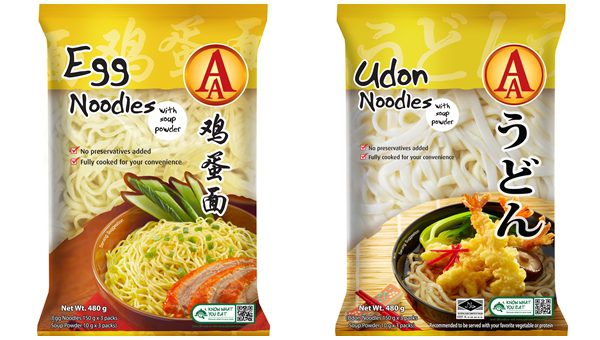 For udon and noodle lovers, indulge in the AA Udon and AA Egg Noodles. The AA Udon has a soft, chewy and smooth texture while the AA Egg Noodles come with an al dente texture. Simply add the AA Udon or AA Egg Noodles into a pot of boiling water and pour the packet of tasty soup powder (provided in every pack) into the water to create a delicious soup base within a few minutes! Top if off with your preferred ingredients such as vegetables, meat and seafood to complete your meal.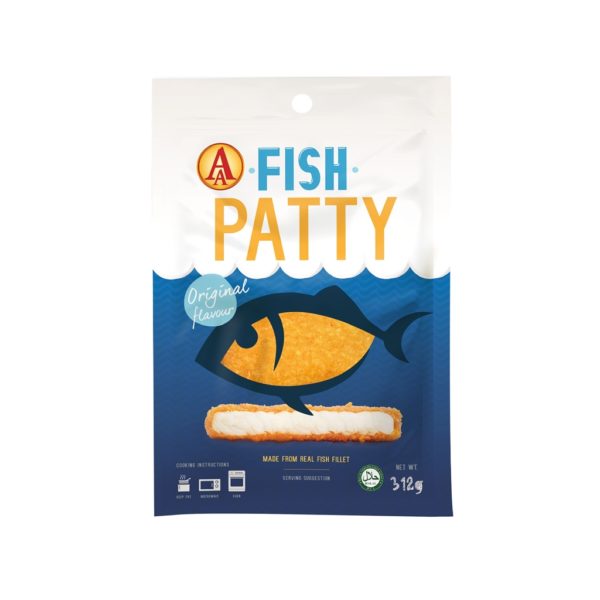 For a great snack, explore the delectable taste of AA Fish Patty. Made from real fish fillet, you may choose to deep fry, microwave or oven-baked the fish patty to create your very own snack party.
Impress your guests with delicious fish burgers with deep-fried AA Fish Patty, topped with fresh lettuce, tartar sauce and a slice of cheese. For a satisfying and healthy meal, create a crispy AA Fish Patty tortilla wrap filled with fresh lettuce, chopped eggs and tomatoes. Alternatively, you can also serve the oven-baked AA Fish Patty with fries to enjoy a hearty meal. Dip the fish patties with tartar sauce for an authentic Mediterranean dish! Every packet comes with six pieces of fish patties, which are perfect for friends and family gathering.

CP Food is also introducing their newest CP Chicken Gyoza range, voted as Singapore's Top Favourite Gyoza at the supermarkets, their two newest addition to gyoza range are CP Pork and Chicken Gyoza with Suki Sauce, and CP Pork and Chicken Gyoza with Chives .
The CP Chicken gyoza is made from fresh, high-quality minced chicken and vegetables (cabbages, carrot and spring onion), nicely wrapped in smooth and delicate pastry sheet. Shaped like a money bag, the gyoza is a popular dish among the Chinese and Japanese.
Product Availability:
CP Gyoza is available online at: cpshopz.sg, and at all major supermarkets, including Cold Storage, NTUC FairPrice, Shen Siong and Prime Supermarket.
AA Glass Noodles Pad Thai with Tofu and AA Tom Yum Fried Rice with Shrimps are available at: NTUC FairPrice, Cold Storage (located at Jelita, Great World, Kallang and United Square), Isetan Orchard and Online retail sites, such as RedMart, HonestBee, Qoo10 and CPShopz.sg
AA Udon and AA Egg Noodles are available at: NTUC FairPrice, Sheng Siong and Online retail sites, such as RedMart, HonestBee, Qoo10 and CPShopz.sg
AA Fish Patty is available at: NTUC FairPrice, Sheng Siong, Cold Storage (located at Plaza Singapura, Jelita, Great World, Kallang and United Square), Meidiya and Online retail sites, such as RedMart, HonestBee, Qoo10 and CPShopz.sg