Enjoy Four Unique Beef Cuts at The Carvery's The Great Meat Feast 2018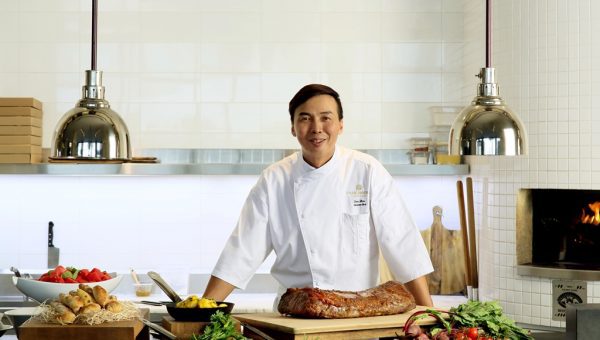 CONTENT: Andrew Kho
The Carvery at Park Hotel Alexandra brings back The Great Meat Feast! Enjoy unique beef cuts with unique origins, curing methods and in a variety of steak cuts that will get meat lovers excited.
Happening from 28 September till 21 October 2018, expect only the premium quality beef from various farms around the globe. For this year, The Carvery is showcasing four unique beef cuts – Tajima Wagyu from Australia – The Australian Tajima cattle are grain-fed on a specially formulated diet for 400 days which resulted in very high-quality wagyu with beautiful marbling and making it tender. , 150 Days Grain-fed Beef City Black from Australia – Beef City Black Angus is known for its exquisite marbling as the cows are grain-fed for 150 days, developing substantial intramuscular fat, with great taste and texture, Ana Paul Black Angus from Uruguay – known for its leaner cuts, this is one of Uruguay's prime exports and lastly, the Yukimoro Snow-Aged Wagyu Beef from Japan ( only available on Friday, Saturday and Sunday). – This wagyu beef from Niigata prefecture is snow-aged using an ancient Japanese method dating back some 200 years. This meat has a supple and tender texture. If you couldn't decide which one to choose, we highly suggest you to try all four. The Beef City Black 150 Days Grain-Fed Tomahawk is also available for Tomahawk lovers out there – Bone-in Steak cooked "dirty-style' – directly on hot coals which makes it smoky.
The Carvery has also created a line-up of condiments and sauces to pair with the meat selections. One of them is our favourite, their house-made flavoured butters – The fragrant Truffle Butter and Red Wine infused butter.
Aside from the succulent meats, Salads, Hot Dishes and weekly fresh catch from New Zealand such as Red Gurnard, Monkfish, John Dory, Lemon Sole and Yellow Belly Flounder are also available. Choose your own preferred pasta at their Pasta station and end your meal on a sweet note with their two new desserts – The Valrhona Chocolate Brownie Trifle and The Rhubarb and Plum Crumble.
Diners who opt to pair their meats with Wine, The Carvery has shortlisted a selection of red and white wines from Old and New World territories to complement the dining experience ($12++ per glass | $60++ per bottle). For the adventurous, Nikka Whisky, From the Barrel ($12++ per glass | $200++ per bottle) is also available.
The Carvery will make available some of the highlighted items featured in The Great Meat Feast for diners to bring back. Vacuum-packed for convenience, the items are available while stocks last.
The Great Meat Feast is available from 28 September till 21 October 2018 at Park Hotel Alexandra, 323 Alexandra Road, Level 7, Singapore 159972. from Monday – Sunday Dinner: 6:30pm – 10:00pm and is priced at: Adult: $78++ (Mon – Thurs) | $88++ (Fri – Sun), Child (5 to 12 years old): $38++ (Mon – Sun).
For reservations or more information, please call: +65 6828 8880 or email: thecarvery.phal@parkhotelgroup.com