Enjoy the World's Most Rare and Exclusive Wines at The St. Regis Langkawi
Sophisticated in design and inviting in ambience, The St. Regis Bar at The St. Regis Langkawi boasts an expertly curated collection of rare and exclusive wines and spirits. Guests are invited to partake from a fine selection of over 190 premium spirits, 200 wines and Cuban cigars.
Decanter is housed within The St. Regis Bar; a vision in marble graced by crystal globe fixtures illuminating a traditional bar as well as a resplendent tiered chandelier crowning a separate lounge with plush seating and a team of sommeliers who can make recommendations from the extensive assemblage of traditional and exclusive vintages.
Head Sommelier Jan Kuebler, a graduate of the prestigious Court of Master Sommeliers, where he achieved his Professional Sommelier Diploma brings to The St. Regis Langkawi his enormous knowledge which includes cigars, spirits and beer, as well as wine and winemaking. Jan also earned his SAL Diploma in Lichtenstein, which has provided him with a deep, holistic knowledge of the wine industry from curating a cellar and pairing through to the complexities of international wine markets and trade.
A holder of one of the highest qualifications in the wine industry, Jan has a deep love and understanding of the Burgundy and Bordeaux regions and the exclusive selection at Decanter reflects this with over 1000 bottles of traditional and exclusive vintages in the wine cellar, including some of the rarest Burgundies in the world. The wine list is constantly adapting to the tastes of customers, global wine trends and availability of the world's finest bottles. Jan is particularly sensitive to the requirements of the extremely sophisticated and knowledgeable wine lovers who typically stay at The St. Regis Langkawi, where the most premium requests can usually be met.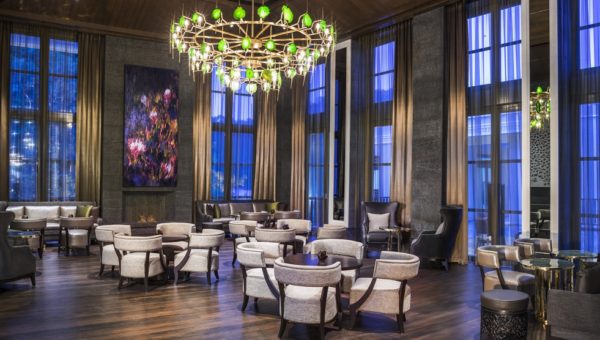 Jan has selected some of the great wines for the Decanter cellar, including a 1999 Richebourg Grand Cru Domaine de la Romanée-Conti or a 1990 Château d'Yquem Premier Cru Supérieur whilst the 2010 Château Mouton Rothschild, 1er Grand Cru Classe Cabernet Sauvignon, Merlot, Cabernet Franc & Petite Verdot or 2000 Château Petrus Magnum are among the world's most sought after and expensive bottles.
The extensive wine list includes a selection of superb champagnes from Dom Perignon, Salon and Louis Roederer, including a 1996 Cristal. Guests can enjoy the ceremony of champagne sabering as their favourite vintage is opened in the most extravagant way.
The St. Regis Bar's tantalizing array of cocktails—including the Lang Mary, the signature interpretation of The St. Regis Bloody Mary tradition—is certain to please both connoisseurs and eclectic tastes. Each evening a mobile bar station presents guests with the opportunity to create their own bespoke version of a gin and tonic, crafted to order from a selection of 10 botanical gins, rare infused bitters and dried fruits.
The St. Regis Bar is located at The St. Regis Langkawi; Jalan Pantai Beringin, 07000 Langkawi, Kedah, Malaysia.
For more information please visit http://www.stregislangkawi.com or contact +604 960 6666