Five Guys Opens It's First Outlet in Singapore at Plaza Singapura Today!
CONTENT: Andrew Kho
IMAGE: Five Guys Singapore
The much anticipated opening of Five Guys Burgers and Fries – America's favourite burger joint with over 1,600 stores worldwide, has finally opened its doors today at Plaza Singapura.
Occupying over 460 square metres with a seating capacity of 52 seats, the Singapore outlet is a first joint franchise in Asia in partnership with Zouk Group.
The store prides itself of not having any freezers, can openers or timers. Yes, they make cook everything from scratch and prepared daily.
The Singapore menu comprise of Burgers, Hotdogs and Sandwiches. Using only 100% grain-fed beef, you will be able to immediately taste and differentiate the quality of the beef they use as compared to the other burger joints in Singapore with just one bite.
Choose from either the classic Hamburger (S$13.00), Cheeseburger (S$15.00), Baconburger (S$ 15.00) or the popular Bacon Cheeseburger (S$17.00). Every burger entitles you to choose from a maximum of 15 toppings of your choice for Free!. All their burgers and hotdogs are also available bunless.
For sides, choose from either the Five Guys Style or Cajun Style both available in either Little (S$7.00), Regular (S$9.00) or Large size (S$ 11.00). Five guys fries are made from fresh cut potatoes everyday and cooked in peanut oil.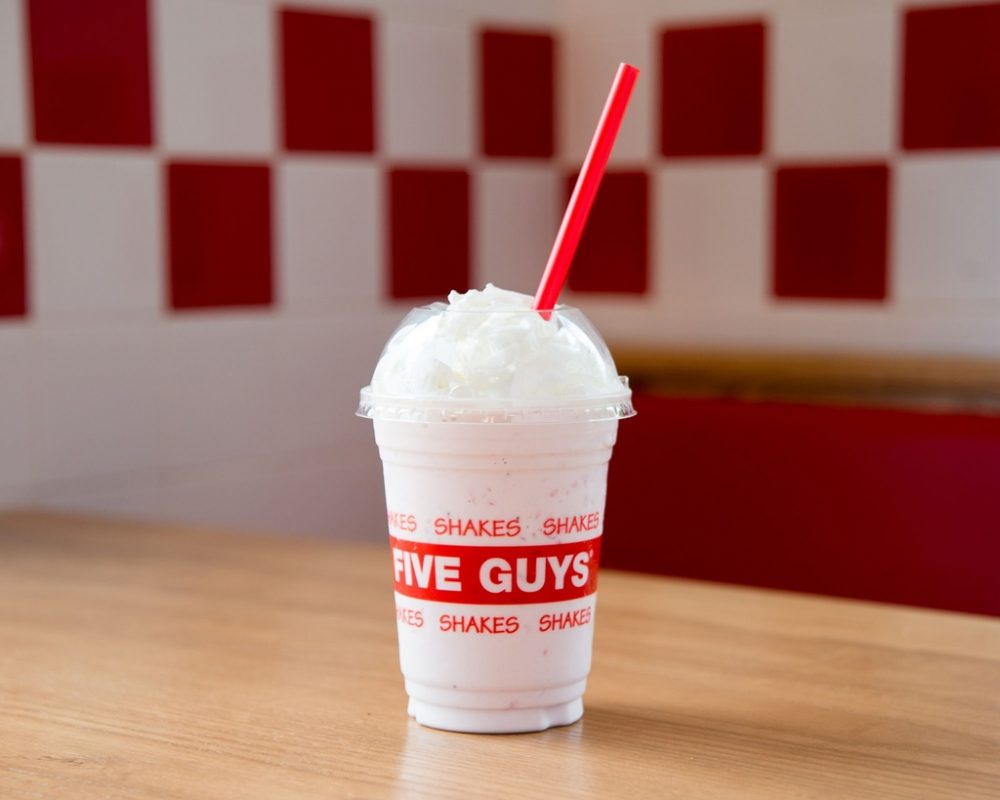 A must try here is their signature Milkshakes. The Five Guys Shake (S$10.00) have a creamy, vanilla base. Customize your drink by choosing from the eleven premium mix-ins available in the menu selection. You can opt to have your milkshakes with or without whipped cream.
Awarded "Burger Restaurant Brand of the Year" by Harris Poll Equitrend Study 2017 & 2018, give Five Guys a try and your perception towards burgers will surely change.
Five Guys is located at: 68 Orchard Road, Plaza Singapura, #01-32, Singapore 238839
Opening Hours: 11am – 10pm (Mon – Sun)