Handcrafted Mid-Autumn Masterpieces awaits at Singapore Marriott Tang Plaza Hotel.
This Mid-Autumn Festival, Singapore Marriott Tang Plaza Hotel marries Mid-Autumn panache, flavours, craftsmanship and tradition with a medley of 11 exquisitely handcrafted mooncake creations as well as a limited-edition premium gift set.
From timeless classics to modern creations, their baked and snowskin mooncakes that are available from now till 13 September 2019, are perfect for jubilant family gatherings or as gifts for treasured business associates.
Befitting this joyous occasion, each piece is meticulously handcrafted by the award-winning Wan Hao Chinese Restaurant, which is helmed by Executive Chinese Chef Brian Wong. Singapore Marriott Tang Plaza Hotel's baked and snowskin mooncakes have no added preservatives or artificial flavouring.
Upping the ante this year, Singapore Marriott Tang Plaza Hotel is pulling out the stops to showcase new and unique flavours that epitomize traditional mastery and modern refinement: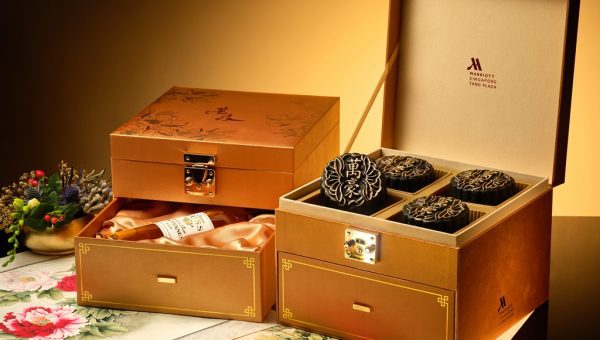 Making a debut this year is four luxurious, extravagant gold-dusted Red Date Baked Mooncakes with Pistachio, Jambon de Bayonne, Sesame & Salted Egg accompanied with a bottle of Chateau Rieussec Cru Classé Sauternes, France 2015 (375ml) that is encased in a luxurious two-tier, gold satin chest box. Hotstamped with peonies, this elegant piece represents prosperity and good fortune, making it a perfect gift that will definitely make an impression.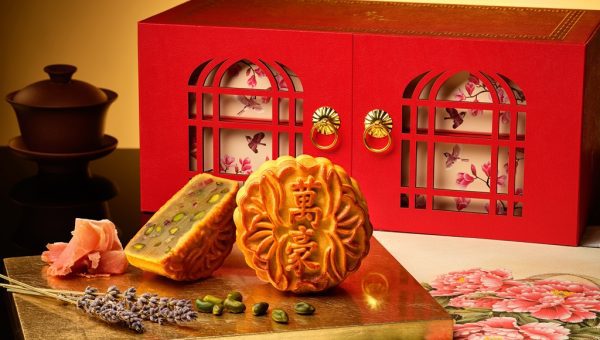 Looking for that comforting and heartwarming traditional baked mooncake, yet craving for something novel? Fret no further as Singapore Marriott Tang Plaza Hotel presents the best of both worlds and the perfect mix of sweet and savoury with the White Lotus Seed Paste Baked Mooncakes with Jambon de Bayonne & Lavender & Pistachio. The golden, buttery crust opens up to reveal a silky smooth, fragrant white lotus seed paste that is well-balanced with savory Jambon de Bayonne and crunchy, aromatic pistachios. These mooncakes have a lingering aftertaste of lavender.
Refreshingly creamy and light in texture is the Raspberry Yoghurt with Rosemary Honey Praline Snowskin Mooncakes.With each bite into the soft decadent piece, we will take your breath away with a delicate and velvety, pink-hue skin, alongside the refreshing balance of sweet and tangy flavours from the symphony of raspberry yoghurt and rosemary honey praline. This is a sinful and indulgent treat, but one with a big nutritional punch thanks to the wholesome raspberry yoghurt. A gloriously ambrosial treat that truly defines the height of good taste.
Snowskin mooncake connoisseurs and chocoholics alike can look forward to a new flavour – the luscious and rich Mocha Snowskin Mooncake with Rose Liquor Praline that is guaranteed to please.. Enrobed in the richness of the mocha-infused premium white lotus seed paste lies a Rose Liquor Praline – presenting the best of the Western dessert in traditional Eastern form, and that much-needed satisfying kick. Prepare yourself for a contrast of flavours and the delightful, floral rose after-taste that makes this mooncake cake irresistible.
You don't need to hit a bar to get your boozy fix with this Mid-Autumn treat. Be captivated by the alluring Coconut Snowskin Mooncake with Champagne Praline. Its jade-like appearance will capture the attention of many, likewise with the unique twist of Asian and Western fusion. Sweet, luscious and packed with a fragrant tropical punch, each bite promises a delicious and sensational unison of creamy, luscious Coconut Paste, while the bittersweet champagne praline core balances the sweetness, resulting in a creation of unparalleled pleasure and excellent taste.
All-time favourites include White Lotus Seed Paste with Single/Double Yolk, Macadamia Nuts as well as Chicken-Bak Kwa with Assorted Nuts . Each delicate gem is carefully glazed with egg and baked to golden brown perfection- promisinf to delight and thrill the taste buds of even the most discerning connoisseur.
Snowskin mooncakes are always a decadent treat with its kaleidoscope of colourful and flavourful skins as well as innovative fillings. Back by popular demand to tease and tempt your palates is White Lotus Seed Paste Snowskin Mooncakes with Salted Egg Truffle as well as Durian Snowskin Mooncakes.
Singapore Marriott Tang Plaza Hotel's mooncakes are available for pre-orders online at www.singaporemarriott.com/mooncakes. Alternatively, please call: +65 6831 4708, or visit the hotel's Forecourt Stall (by the hotel entrance) and various shopping malls.