Hearts on Fire: First Ever Edible Fashion Show & Chocolate Dinner
World Gourmet Summit presented last 19 April 2013 its first ever Edible Fashion Show and Chocolate Dinner, Dubbed as Hearts on Fire at W Sentosa Cove. The Edible Fashion Show was helmed by Chef Paco & Jacob Toreblanca, NAFA Fashion Designer, Bhavana Sadhwani and Chef Janice Wong of famed 2am: lab Singapore.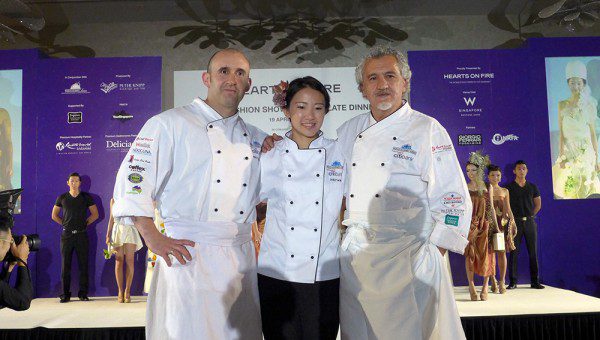 Chef Paco is considered by many to be the driving force behind patisserie in haute cuisine. At his three patisseries in Alcante, Chef Torreblanca has been clear about his ambition to design the flavour of chocolate. He is fascinated by the possibilities of blending cocoa with spices from all over the world, as well as with principal Mediterranean Ingredients, and has even studied and experimented with the use of extra virgin olive oil to replace cocoa butter, creating chocolates with astonishing smoothness. Bhavana is currently a student at Nanyang Academy of Fine Arts (NAFA) who is looking for ways to express her own experiences in her own distinct style while Chef Janice Wong, aims to elevate the status of desserts to that of their savoury counterparts in top restaurants in Singapore and the world.
Bhavana's dress designs were used to create the chocolate dresses for the Edible Fashion Show. Masterchefs Paco and Jacob Torreblanca as well as Chef Janice Wong used these designs as a basis for their creations for the event.
The Night wouldn't be complete without the Chocolate Dinner helmed by W Singapore – Sentosa Cove's very own Chef Matthew Woolford. Much of Chef Wooldfoord's career in the food and beverage industry is tied to the chain of W Hotels around the world. Over his 18 years of experience in the culinary sector, the Asutralian native was once awarded the "le Torques Blanches Australian Apprentice of the Year" by Tony Bilson and in the process he worked in restaurants in France, Paris and Lyon.
Highlights of the four course dinner includes:
About Hearts on Fire
The Hearts on Fire Company (HOF) is successfully building the pre-eminent consumer brand in the fine diamond jewellery business, powered by the pulsating energy of extraordinary diamonds. Founded in 1996, Hearts on Fire has established a new industry standard for diamond cutting perfection, enabling the company to become the world's fastest growing diamond brand. The company continues to redefine the industry through its extraordinary diamonds, sophisticated, marketing and training programs and unique retail relationships. Hearts on Fire, the world's most perfectly cut diamond is carried in 34 countries including over 500 U.S. retail locations, as well as locations throughout the U.K., Asia and the Caribbean.