Hong Kong set to host All-Female Speed Bartending Competition Speed Rack Asia 2019 in October!

Speed Rack, a global competition created by and for female bartenders that raises money to fight breast cancer, will head to Hong Kong for the first time this October.
16 bartenders from Hong Kong, Singapore, Thailand, Malaysia, Philippines, China, South Korea and Vietnam will go head to head for the title of Miss Speed Rack Asia 2019 at The Salon of Michelin-starred restaurant Duddell's in Central on Sunday, 27 October 2019. These top female bartenders will duke it out round-robin style, seeing who can shake the fastest and best cocktails for the panel of world-renowned judges.
Speed Rack Asia 2019 – Season 2
Inspired by the success of multi-city tours in the USA, Canada, Mexico, the UK, Singapore, and Australia, Speed Rack Asia 2019 will be the second time the Asia market will experience the competition.
16 established and emerging female bartenders from all over Asia were selected via online application. On 27 October, they will go head-to-head in a qualifying round that tests not only their speed, but also their aptitude making four cocktails featuring Speed Rack's sponsor brands. The eight fastest times after penalty adjustments will advance to the live on-stage finals at Duddell's from 5.30pm onwards.
These eight bartenders are then placed into a bracketed, round-robin style competition. Using sponsors' products, competitors go head-to-head in instant elimination rounds. They will each make a round of cocktails selected at random, culled from a list of 50 spirit industry-standard recipes. The judges request their selected drink from each competitor and then evaluate it based on accuracy, taste and presentation. The swiftest and most skilled women move forward to the next round until the final showdown, where the winner will be crowned Miss Speed Rack Asia 2019.
A Global Bartending Competition by Women, for Women
Speed Rack is the first global competition of its kind to highlight the bar industry's leading women, with 100% of the proceeds going directly to breast cancer education, prevention and research. Speed Rack Asia 2019 will be held during Breast Cancer Awareness Month, with charity partner, the Hong Kong Breast Cancer Foundation, receiving all proceeds from the event.
Founded by USA industry veterans Ivy Mix and Lynnette Marrero in 2011, Speed Rack shines a spotlight on female mixologists thriving behind bars around the globe, while raising money for breast cancer research, education and prevention. The idea was to create a cocktail competition for the ladies – one that celebrated women, was created by women and supported women, in and out of the spirits industry.
During the eight years Speed Rack has been running around the globe, the event has raised over USD1m for breast cancer charities, and had over 1200 women compete for the title of their region's Miss Speed Rack. Speed Rack USA is currently in its eighth season, and the Hong Kong event marks its second year in Asia.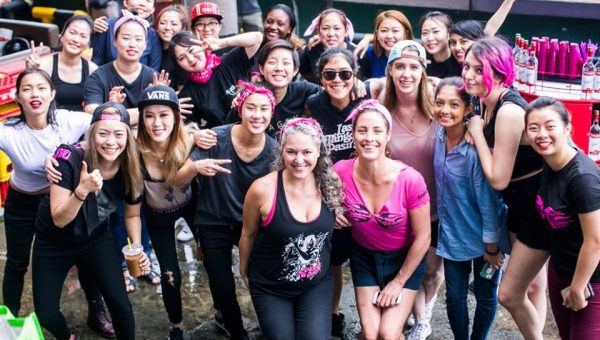 Judges
Speed Rack Asia 2019's esteemed judging panel includes: Jay Khan (owner of COA, Hong Kong, no. 12 Asia's 50 Best Bars 2019), Charlene Dawes (founder of Tastings Group, the company behind decorated Hong Kong venues Quinary, VEA, The Envoy, Room 309 and Ori-gin); Martin Hudak (Mr Black's global brand and ambassador and co-owner of Maybe Sammy in Sydney, recent winner of the Spirited Awards' Best International Bar); and Micaela Piccolo (Spirits Director for Nimbility Asia). MCing the event will be Hong Kong legend Beckaly Franks of The Pontiac, with many other of Asia's favourite F&B personalities also helping out.
Tickets
100% of ticket purchases and proceeds from the event will go directly to charity partner the Hong Kong Breast Cancer Foundation. Tickets will give the audience access to the competition finals, along with snacks and free-flow drinks and cocktails from sponsor brands. Tickets are available from HKD250 per person before October 20 2019, and HKD300 thereafter and on the door.
Speed Rack Asia 2019 finals will be held on Sunday, October 27 2019, 5.30pm at The Salon at Duddell's, Level 4 Shanghai Tang Mansion, 1 Duddell Street, Central, Hong Kong
For tickets and donations please visit: http://bit.ly/speedrackasiatickets
For more details on Speed Rack Asia 2019 please visit: http://speed-rack.com