Hutong Unveils Its New Spice-Infused Menu Alongside $1 Szechuan BBQ Skewers
CONTENT: Yiew Kai Jie

Inspired by the old alleyways and narrow streets of Beijing, Hutong has made themselves known for their old school Northern Chinese cuisine mainstays. In order to stay true to their endearing reputation, the restaurant has launched its brand new menu that consists of Moutai infused dishes and drinks alongside forty new varieties of Szechuan BBQ skewers of various meats, seafood and vegetables.

All of Hutong's skewers are marinated and left set overnight with a special inhouse blend consisting of salt, white pepper powder, cooking wine and cumin powder. This results in the marinade making its way throughout every inch of the meat, which will leave an flavourful impression especially for first time diners. Diners can choose from a multitude of meat offerings including chicken meat, pig stomach, pig intestine, premium beef cube, mutton leg meat, tentacles of squid and fresh prawns. For the proteins, a layer of dark soya sauce is used to coat the meats with an additional umami flavour before being sprinkled with a fiery finishing of cumin powder and chilli flakes for an additional fiery kick! Balance out the richness of the proteins with a range of greens that include oyster mushrooms, sliced lotus root, broccoli and romaine lettuce.

Each skewer is charcoal grilled then served over a griller that is especially imported from China that keeps the sticks warm throughout the meal! Diners can further cook their skewers on the grill for an extra charred flavour or if they prefer their meats a little more thoroughly cooked.


Other must-try offerings include the Grilled Oysters (S$7.00/2pcs) and Premium Half Shell Scallops (S$8.80/2pcs), which are grilled together with the restaurant's house-made chilli paste. The succulent oysters and scallops themselves are extremely large and will release a flavour bomb of unami and spice as they are slurped up by hungry diners. These irresistible seafood appetizers will prove to be a great start to the meal or a pacing snack as diners wait for their main courses to arrive at the table.

Another one of Hutong's new signature offering is their Mala Xiao Long Xia with Moutai (S$38.90). A dish that is filled with a generous amount of baby crawfish, stir-fried with a blend of aromatic mala spices. When served, a shot of Moutai is slowly poured over the dish; then flambéed for a dramatic presentation with chilli flakes being dusted over for a crackling finish. While each crawfish was juicy and succulent and wonderfully marinated in the spices seasoning, somehow it just felt like the rewards just were not worth the effort of painfully plucking through the hard shell just to get through the little scraps of meat within. It would have been easier and more worthwhile if the restaurant would have used crayfish instead for a sweeter and more satisfying dish.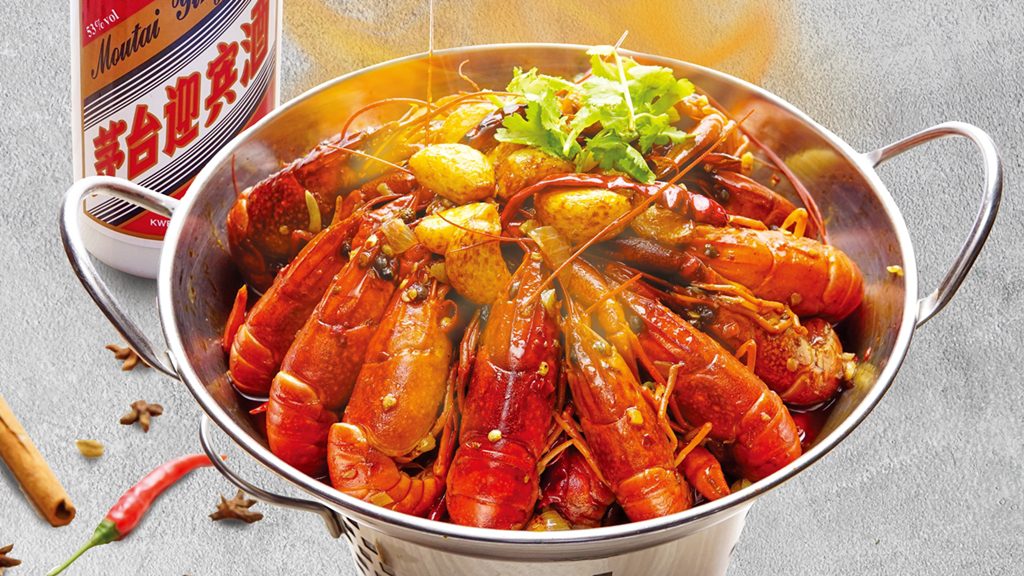 Skewers or seafood would not be complete without an accompanying drink by the side to wash down the heat of the dishes and to that end, Hutong has concocted two unique cocktails that are imbued with Maotai! For diners who are looking for a more citrus or fruity concoction, the Moutai Punch (S$12) is a smooth tasting concoction made with yuzu syrup, tonic water, lime juice and soda. Diners who are looking for a more intense and sweet-tasting cocktail can opt for the creamy Moutai Colada (S$12) combines the flavours of Malibu rum, pineapple juice and coconut milk. However, diners have to be wary of the cocktails they are drinking as the drinks are extremely intense and potent due to the usage of th strong chinese liquor.

If diners are craving for other types of cuisines, they will be able to order across several other brands under the Katrina Group, all conveniently located at Clarke Quay. From an array of Japanese dishes and sushi from Japanese bar Tomo Izakaya, an indonesian grill platter that consists of Boston Lobsters and Stingray from Indonesian restaurant Bayang, as well as Thai and Mexican mainstays from Thai restaurant RENNThai and Mexican bar Muchos.

Hutong
3D River Valley Rd, #01-07 Block D, Singapore 179023