Imperial Feast: State Banquet Dishes at Affordable Prices for the Populace
Helmed by Head Chef Wu Hai Feng who has whipped up his dishes to many famous figures, including President Clinton!
CONTENT: Yiew Kai Jie
IMAGES: Luxe Multimedia
Experience an exquisite imperial feast based on the finest banquet dishes traditionally reserved for hosting important politicians and VIPs. At Imperial Feast, traditional state banquet dishes are served at wallet-friendly prices for all to enjoy.
Commonly known as the Guo Yan, the imperial feast features a myriad of legendary cooking techniques from all over China. A showcase of the best that Chinese cuisine has to offer, the dishes at Imperial Feast are skillfully prepared by award-winning Chef Wu Hai Feng. With over 20 years of experience under his belt, Chef Wu has hosted many international leaders, including President Clinton during his visit to Beijing for the news conference with President Jiang Zemin back in 1998.
The dishes at Imperial Feast take their roots from Huaiyang and Cantonese cuisine, which is two of the Four Great Traditions in Chinese cuisine, and widely heralded as one of the most popular and prestigious styles of Chinese cuisine. At Imperial Feast, Chef Wu pays homage to the traditional cuisine, while adding in elements of Western cooking to appeal to international and western palettes.
Here's what we had:
Imperial Feast Trio Appetizer Platter – An east-meets-west appetizer consisting of tender abalone uniquely paired with wasabi, zesty passionfruit prawns, and crunchy jellyfish marinated in aged vinegar.
For the abalone, the pairing of the protein with the watermelon was completely unnecessary, it was delicious on it's own and the fruit did not help to complement the abalone. Additionally, the taste of the wasabi was completely undetectable maybe opting to serve it on it's on with a light broth would be a better option. The jellyfish had a nice spice and it was rather easy to chew down, almost a certain crunchiness to it! The prawns themselves were evenly coated in the passionfruit sauce and tasted sweet and juicy when bitten down upon.
Chrysanthemum Tofu Soup – A delicacy requiring years of knife training experience to execute, Chef Wu's delicate and precise knife skills are showcased in this dish. This delicacy consists of a piece of silky tofu finely sliced into 3,600 strands to form the shape of a chrysanthemum flower, which sits in a bowl of chicken broth slow-simmered with two types of chicken for eight hours with bok choy. The dish is aesthetically pleasing to the eyes, making it a mandatory for the camera to eat first before the diner does. The tofu's texture is soft and silky due to Chef Wu's cutting technique while the broth is smooth, herbal and not overpowering to the point that it oversaturates the tofu with the taste of the broth. A definite must-order, this dish won the title of Grand Champion at the 2015 Chinese World Chef Championships, and second runner-up at the 2016 Chinese National Chef Championships!
Spanish Kurobuta Pork Chop with Yuzu – Chef Wu's interpretation of this dish translates to tender Spanish Kurobuta pork marinated in a secret home-made sauce with citrus yuzu. The pork chop is then crisp-fried in a pan till golden perfection. Crispy on the outside and juicy on the inside, the pork chop is garnished with pomelo for a light, zesty finish. However, the pork was rather dry, it could have used more sauce to help compensate for the dryness of the protein. Adding the chilli to the pork helps to enhance the flavour by giving it a spicy kick.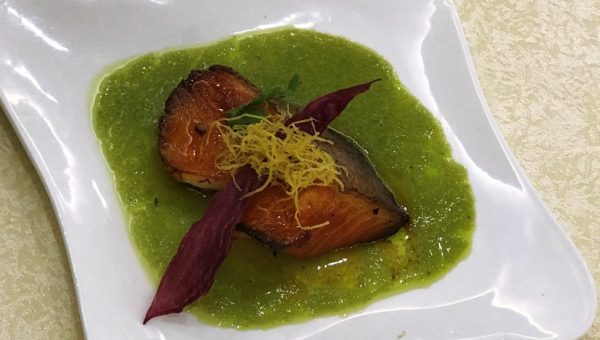 Fried Cod Fish with Green Puree – A Guangdong dish with a western twist, the cod fish is baked first and then pan-fried (instead of the traditional Chinese way of being steamed), and paired with a Western-style puree that is inspired by traditional Cantonese vegetables and flavours. While the Cantonese way of enjoying fish is to steam and drizzle with soy sauce, spring onions and ginger, Chef Wu creates a puree made from a light blend of the same 3 ingredients – elevating the dish with an elegant touch. The cod is delicate, soft and perfectly cooked while the puree is chocked full of flavour and complements the protein well, although it would have been perfect if the puree was thicker. Overall, the dish is rather simple but it hits the right notes every step of the way- it's just impossible to fail or mess up with a basic protein like cod!
Tobiko Egg White Fried Rice with Crab Meat and Scallop – A fragrant mixture of 4 different types of rice, stir fried with scallops and crab meat topped off with crunchy gold dusted rice puffs and tobiko eggs. Cooked using egg whites instead of yolks, the dish requires careful attention to the heat and skilful execution for individual grains that are expertly tossed for a perfect light and less-greasy finish. The rice has a combination of soft and hard textures due to the golden fried rice puffs, and it was extremely delicious and addictive but it could use a small bowl of soup on the side as it gets slightly dry and oily after a while.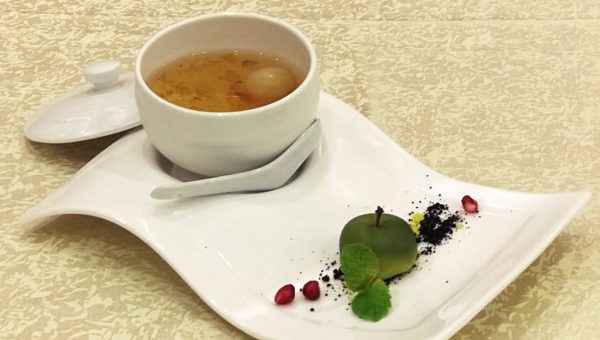 Double Boiled Roselle Flowers with Red Dates & Dried Longan – A nourishing & collagen booster traditional desert. Full of health benefits, the Roselle flowers and amber dew are great for beauty, digestive system, and easing the joints. Cold and refreshingly sweet, this dessert is perfect after a heavy meal to cleanse the body and revitalize the mind!
On top of the Guo Yan dishes, Chef Wu demonstrates his wide culinary repertoire with his other signature dishes. One of his marquee dishes is the Squirrel Fish (松鼠鱼) ($58), an extremely popular dish across China. The entire fish is skilfully deboned with exceptional knife skills, and the boneless fish will curl while frying resembling a bushy squirrel's tail. The crispy fish is then drizzled with an appetizing sweet and sour sauce with capsicum and fragrant pine nuts. Visually, it is nothing short of extraordinary and looks like a stunning art piece. But despite the protein being the main star of the dish, the sauce was a little overwhelming and the taste of the fish was completely lost to the sweet and sour sauce. The protein tasted mildly cold on the inside, meaning that Chef Wan should watch out for the temperature balance in the fish when he deep fries it.
Promotion
Imperial Feast now offers Guo Yan at $48++ only (usual price $88++). Reservations are required 3 days in advance.
Imperial Feast is located at: The Chevrons, Level 3, 48 Boon Lay Way, Singapore 609961 and is open daily from 11:00am to 2:30pm and 6pm to 10:00pm.
For bookings, please call: +65 6794 4528