Indulge In These Luxurious Lunar New Year Pen Cai
CONTENT: Andrew Kho

Every Year, Chinese New Year is one major occasion where every family celebrate to usher in a brand new year. The period where friends, relatives and family gather to enjoy sumptuous festive delicacies, feast over delicious dishes on the table and enjoy each other's company.

Not-to-be-missed every Lunar New Year is the Pen Cai (some call it Poon Choi), a traditional Cantonese festival meal composed of many layers of different ingredients. It is served in large wooden, porcelain or metal basins called poon, due to the communal style of consumption. Being passed down and enjoyed for generations, there are now a variety of versions and ways of enjoying this traditional family dish, here are a few of this year's best pen cai for you to savour.


TOP 3 Must-Try!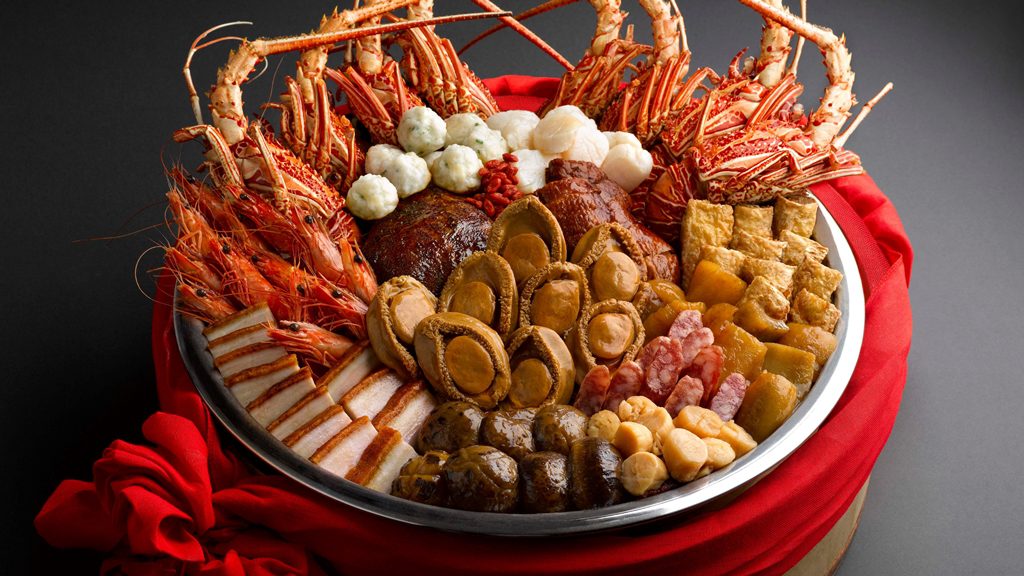 Cherry Garden, Mandarin Oriental Singapore
The Mandarin Oriental Singapore's Cherry Garden, the seasonal favourite Luxurious Pen Cai is back! A favourite for years by families, this Luxurious Pen Cai is served in a lavish pot of premium ingredients such as whole head abalone, lobster, scallop, king prawn, sea cucumber, dried oyster roll, dace fillet, black moss, roasted pork belly, roasted duck, chicken and more.

Cherry Garden's Luxurious Pen Cai is available in their Lunar New Year Set Menus from 8 January to 26 February 2021. You may view the dining menus here .Takeaway is also available at the festive counter at the hotel lobby from 25 January to 26 February 2021, 11am till 8pm. You may view the takeaway menus here.

For more information, please email mosin-dining@mohg.com or call +65 6885 3500.

Cherry Garden, 4/F Mandarin Oriental Singapore, 5 Raffles Avenue, Marina Square, Singapore 039797, +65 6885 3500


Golden Peony, Conrad Centennial Singapore
The reputed Golden Peony at Conrad Centennial Singapore, has always been a favourite destination for Lunar New Year celebrations. For this upcoming season, their chefs have chosen only the best exquisite ingredients for their Prosperity Pen Cai such as Abalone, Conpoy, Fish Maw, Sea Cucumber, Dried Oysters, Black Mushrooms, Scallops, Prawns, Black Moss, Roast Pork, Homemade Meat Ball and Cabbage.

Golden Peony's Prosperity Pen Cai is available in their Lunar New Year Set Menus from 18 January to 26 February 2021. You may view the dining menus here. Takeaway is also available at The Terrace from 18 January to26 February 2021 from 10am till 8pm. You may view the takeaway menu here. Delivery Charge of S$30 Nett per location within Singapore, excluding Gated or Restricted Areas / Zones

For more information please email sinci.festive@conradhotels.com or call +65 6432 7486 / 9

Golden Peony, 3/F Conrad Centennial Singapore, 2 Temasek Boulevard, Singapore 038982, +65 6334 8888


Peach Garden
Peach Garden spices up the traditional Pen Cai with their newest Premium Mala Seafood Pen Cai, each pot serves up to six and will surely delight those who loves spicy or enjoy the Mala taste. Tuck into the pot of luxurious ingredients such as Lobster, Red Grouper, Sea Cucumber, Australian Scallop, Live Prawn, Fish Maw, Tien Shin Cabbage, Gluten Puff, Radish, King Oyster Mushroom and more. Each pot is infused in the Peach Garden's in-house mala spice and layered upon one another for a medley of flavours. Each pot are made using only the finest ingredients which are carefully selected and handled with finesse, experience and craftsmanship by the team of their master chefs.

Peach Garden's Pen Cai is available in all their outlets throughout Lunar New Year, including the first and second day of Lunar New Year (12 and 13 Feb). Make your reservations online. Enjoy the Pen Cai at home with free delivery with a minimum spend of $80 via their E-Shop. Online orders have to be placed at least one day in advance. For local delivery or collection between 11- 14 February 2021, orders must be placed by 9 February. 2021. Dine-in, Lunar New Year Ala Carte Menu and Set Menu are available here 

Peach Garden (All Outlets)
You can also opt for below noteworthy Pen Cai for this year's Lunar New Year Celebrations:
Auntie's Wok and Steam, Andaz Singapore
Recently reopened after a brief closure, Andaz Singapore's Auntie's Wok and Steam pays homage to traditions for their Lunar New Year offerings. Savour their popular Auspicious Treasures Pen Cai prepared with premium ingredients such as conpoy, shitake mushrooms, pork belly, four pieces of Australian eight-head abalone and tiger prawns sustainably sourced from Vietnam.

Auntie's Wok and Steam Auspicious Treasures Pen Cai is available in their Lunar New Year Set Menus and as well as Ala-Carte Menu from 25 January to 26 February 2021, you may view the menus here 

For more information, please visit andazsingapore.com or call +65 6408 1288.

Auntie's Wok and Steam, 25/F Andaz Singapore, 5 Fraser Street, Singapore 189354, +65 6408 1288


Hua Ting, Orchard Hotel Singapore
Delight in award-winning Hua Ting Restaurant's Signature Fortune Pot Pen Cai which brims with well-stocked delicacies including Abalone, Fish Maw, Sea Cucumber, Tiger Prawns, Dried Scallops, Japanese Mushrooms, Dried Oysters and Roasts, served in an auspicious red wooden round container representing an abundance of food and wealth for the new year!

Hua Ting Restaurant's Signature Fortune Pot Pen Cai is available for dine-in from their prosperity set menu and takeaway from 11 January to 26 February 2021.

For more information, please email huating.ohs@millenniumhotels.com or call +65 6739 6666.

Hua Ting Restaurant  2/F Orchard Hotel Singapore, 442 Orchard Road, Singapore 238879


藝 yì by Jereme Leung, Raffles Hotel Singapore
Usher in the arrival of spring over time-honoured traditions with 藝 yì by Jereme Leung's exceptional Bountiful Seafood Treasure Pot, a delectable trove of 10-head abalone, scallops, dried oysters and other delicacies simmered to perfection prepared by Chef Jereme's team and available exclusively for takeaways from 18 January to 26 February 2021.

You may place your takeaway orders here

For more information, please email singapore@raffles.com or call +65 6412 1816

藝 yì by Jereme Leung  #03-02, Raffles Arcade, 328 North Bridge Road, Singapore 188719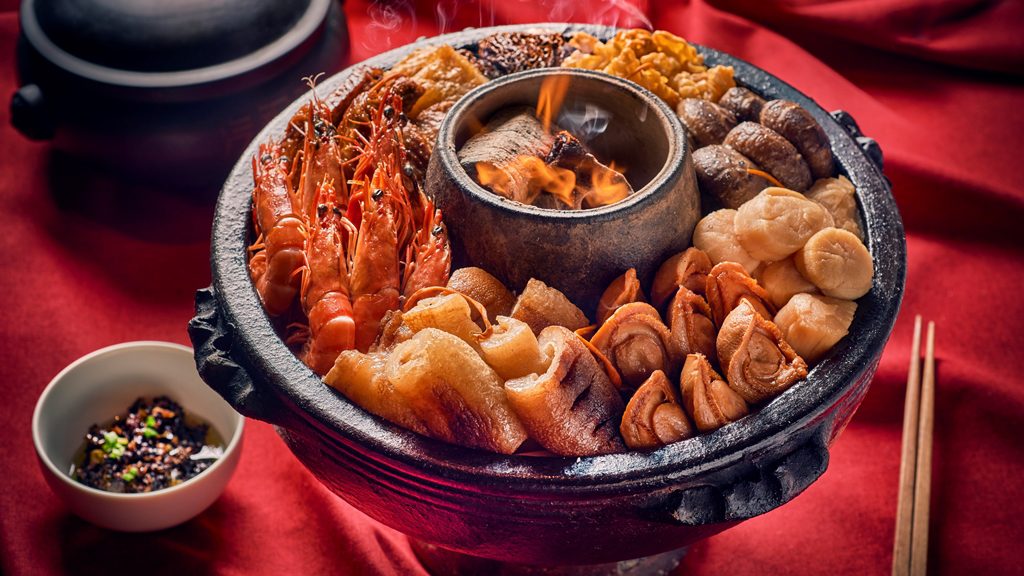 YUN NANS
Hailing from and known in China as 云海肴 (Yunhaiyao), YUN NANS brings back their popular Prosperity Treasure Hot Pot and now added with even more premium ingredients such as wild morel, wild golden fungus, sea cucumber, abalone, scallops, prawns, mushrooms, fish maw and chong cao hua (cordyceps) and laid with yam and Chinese cabbage as base. The ingredients are then simmered in the broth made jinhua ham, old hens, chicken feet, pork bones, lean pork, pork trotters, dried scallops and carrots which is brewed for six hours.

YUN NANS Prosperity Treasure Hot Pot is available in for dine-in and takeaway.

For more information please call +65 6908 3677 (Jewel Changi Airport outlet) or +65 6970 9891 (Westgate Outlet)


Man Fu Yuan, Intercontinental Singapore
Delight in Man Fu Yuan's delectable Abundance Treasure Pot, brimming with over 18 premium choice ingredients such as 10-head abalone, Canadian lobster, Hokkaido scallops, pig's trotters, Australia sea cucumber, black trumpet mushrooms and more!

Man Fu Yuan's Abundance Treasure Pot is available for dine-in and online till 26 February 2021.

Enjoy an additional 5% savings when you order online Three days are required for processing of orders.

For more information please email sinhbmanfuyuan.manfuyuan@ihg.com or visit Online Shop 

Man Fu Yuan  2/F InterContinental Singapore, 80 Middle Road, Singapore 188966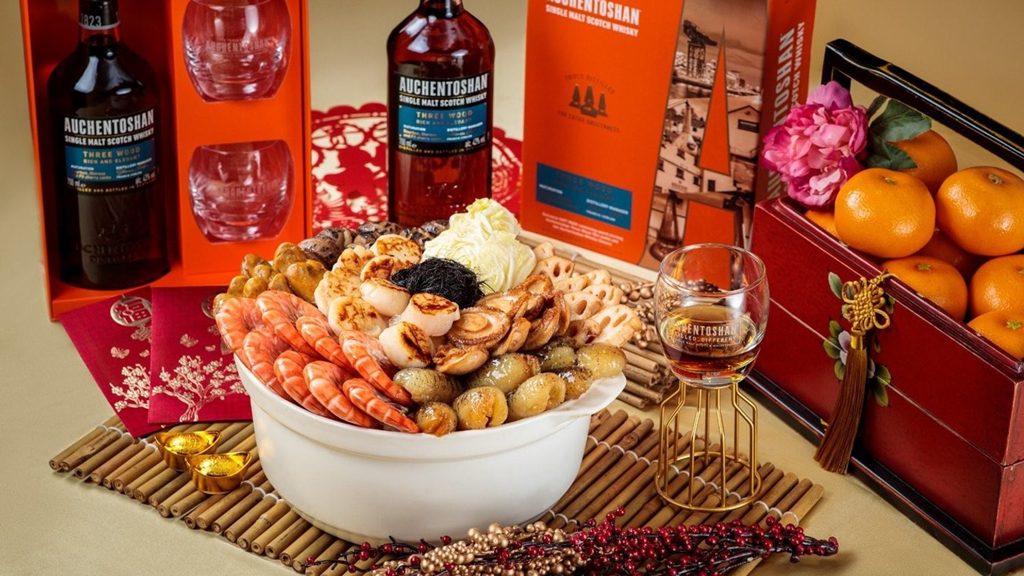 Mimi
Mimi's "Full of Huat" Pen Cai for 8-10pax is the ultimate luxury to indulge in this Lunar New Year, each pot is filled with ingredients such as Scallop, 10-head abalone, sea cucumber, tiger prawn, black moss, smoked duck, roasted pork, chicken meatball, dried mushroom, dried oyster, chinese cabbage, fried bean curd, fried yam, lotus root, & daikon.

Mimi's "Full of Huat" Pen Cai is available for delivery or self collection from 12pm – 8pm from 27Jan to 28 Feb, except on CNY day 1 (On the eve of CNY, pickup and delivery hours between 2:30pm – 4:30pm only)

Every order of Mimi "Full of Huat" Treasure Pot comes with a Bottle Auchentoshan Three Wood Scotch Whisky! You may place your order online 

Mimi 3A River Valley Road, Singapore 179020