Joy Luck Teahouse Brings A Taste of Hong Kong to Singapore
CONTENT: Seraphina Tang

Have a taste of Hong Kong's famed "three treasures" – egg tarts, pineapple buns and milk tea – with the newly-opened Joy Luck Teahouse at ION Orchard. Bringing delights from iconic Hong Kong brands, there's no need to leave Singapore (at least, not with the Covid-19 regulations still in place) to savour these treats favoured by celebrities such as Chow Yun-Fat, Liza Wang, and Dicky Cheung.

Munch on buttery egg tarts (S$2.30) from Hoover Cake Shop, with a choice of either puff pastry or butter cookie. We enjoyed the firm, delightfully crumbly texture of the cookie crust, perfumed with a lovely buttery fragrance that paired well with the silky egg custard. Likewise, the flaky, croissant-like puff pastry makes for an equally lovely afternoon tea snack!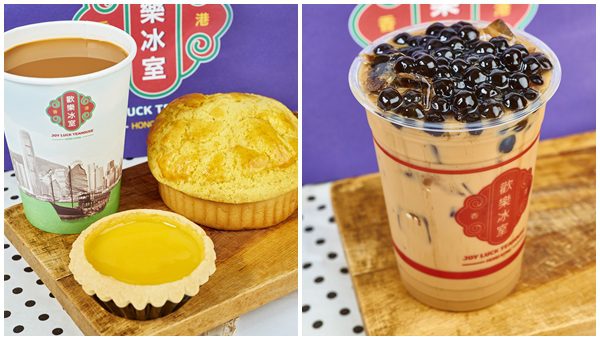 Pair these egg tarts with a cup of Hong Kong-style Milk Tea (hot/S$3.50, cold/S$3.80) from Kam Kee Café, well-known in Hong Kong's cha chaan teng scene. Made with Kam Kee's secret recipe, a blend of superior-quality Sri Lankan tea leaves and European full cream evaporated milk, the milk tea is fragrant and not overly sweet or milky, with a hint of astringent bitter-sweetness characteristic of Hong Kong-style milk tea. Indeed, this tea is said to be a favourite of singer-actor Dicky Cheung, and was even served at the 50th World Economic Forum Annual Meeting.

What's more, Joy Luck Teahouse will be serving up an exclusive drink catered to Singaporean taste buds, the Hong Kong-style bubble tea. Aptly-named Pearl of the Orient (S$4.80), this drink is made with Joy Luck Teahouse's milk tea and topped with house-made brown sugar tapioca pearls. We really enjoyed this drink, pleasantly surprised by the delightfully QQ texture and aromatic caramel flavours of the pearls that melded well with the tea.


The third culinary treasure Joy Luck Teahouse offers is the Hong Kong Pineapple Bun (S$2.00), or bo lo bao. The perfect breakfast bake or tea-time treat, this pastry offers up a fragrant, sweet golden crust on the outside that crumbles in the mouth, with a melty slab of butter on the inside that pairs so well with the fluffy bread. Other fillings such as kaya (S$2.50) and luncheon meat (S$2.80) are available. 

Joy Luck Teahouse
#B4-61 ION Orchard, 2 Orchard Turn, S238801
Operating Hours: 9am – 10pm