Mid-Autumn Festival 2020: Bring Home The Best Mooncakes in Singapore!
CONTENT: Luxe Society Asia

Every year, the Mid-Autumn Festival in Singapore is an annual event wherein friends and families feast on the variety of baked and snow-skin mooncakes flavours from various establishments. Each year will be a huge celebration that most brands have upped their game by continuously coming up with unique and interesting flavours as well as making their packaging as pretty and creative as well.

This 2020 will be a very different celebration as the entire world is in turmoil with the current pandemic crisis, but this is not a reason to skip the celebration, this year will be more memorable as we enjoy these traditional pastries in the comfort of our home, in the company of our family.

After spending hours tasting various kinds of mooncakes, here's our list of brands that made it to our list of mooncakes that you have to bring home this year.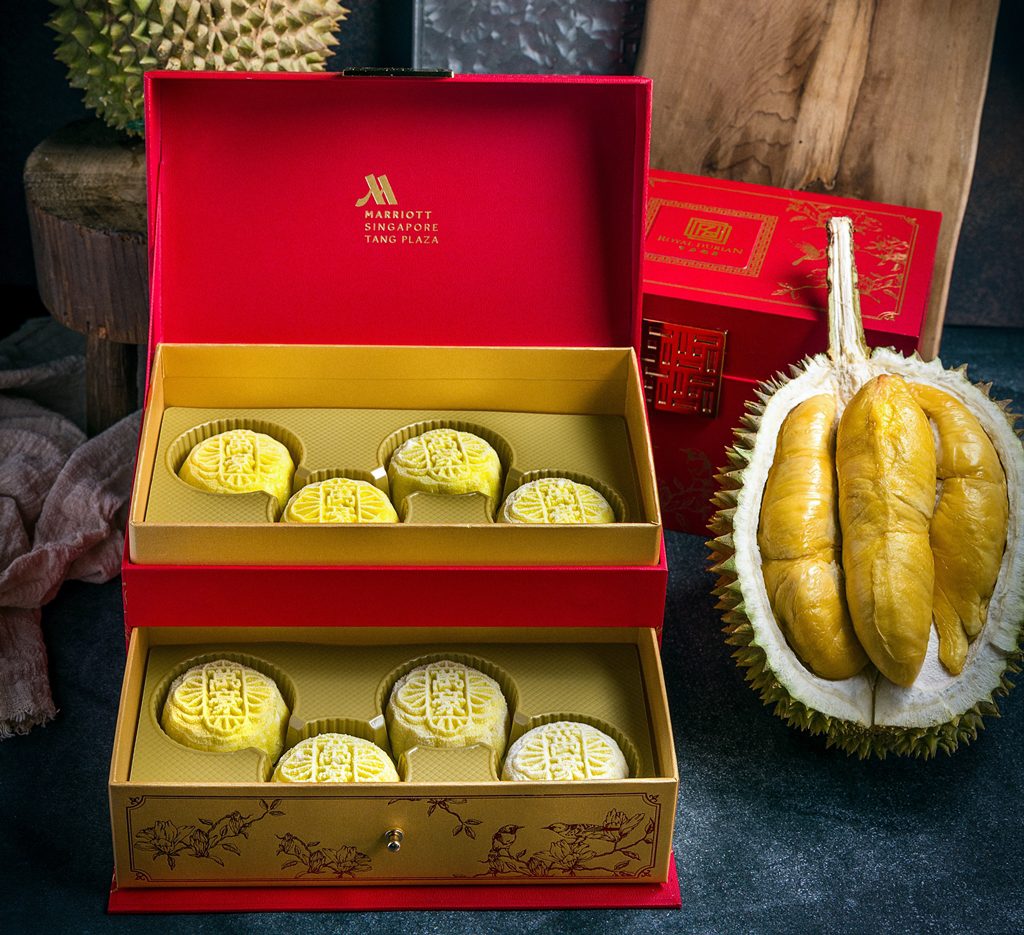 Royal Durian x Singapore Marriott Tang Plaza Hotel
Satiate your cravings & surprise the durian fans amongst your loved ones with the debut of Royal Durian's Mao Shan Wang Snowskin Mooncakes. These glorious golden gems are carefully crafted in collaboration with a team of chefs from Singapore Marriott Tang Plaza Hotel's award-winning Chinese restaurant, Wan Hao. Indeed, these mooncakes will make a gorgeous gift for loved ones or business associates, or perhaps a special treat for yourself, with their elegant red and gold two-tier gift box. The mooncakes come in a set of eight and retail at S$118.

Filled with 100% premium Mao Shan Wang flesh from Pahang, Malaysia – the region said to produce some of the world's best durians – these hearty Mid-Autumn treats were lusciously creamy, bursting with the bittersweet taste of a good Mao Shan Wang, with lovely floral notes. We recommend eating them frozen for a luxurious post-dinner dessert!

In addition, there's an exclusive early bird price: order between 24th August to 15th September and enjoy the Mao Shan Wang Snowskin Mooncake set at 25% off (S$88.50, while stock lasts).

Order Royal Durian mooncakes via +65 8218 3137 on WhatsApp, or in-store at 134 Jurong Gateway Rd, #01-303A, Singapore 600134. Delivery, self-collection, and pickup options are both available with doorstep delivery available island-wide at S$6.50 per order.


Mandarin Oriental Singapore
For this year's Mooncake Festival, Mandarin Oriental brings back crowd favorites. Tagging onto the trend of healthier eating is the baked mooncakes, which comes with Low Sugar Silver Lotus Paste with the choice of Single and Double yolk. Matcha lovers can also expect an earthy yet subtly sweet Matcha Red Bean flavor.

As for their snowskin collection, look forward to the return of the Lychee Martini and Chocolate Truffle, with the debut of an Oolong Tea Infusion with Dried Apricot and Pumpkin Seeds.

The box itself is also makes these mooncakes ideal for gifting – the oriental floral motifs comes in two pastel colours that can be reused as a centerpiece or as storage.

What we liked most:
The star of this year is a twist on the classic pairing of tea and moon cake – Lugu Oolong Tea with Melon Seeds – a sweet, fragrant and aromatic mooncake with bursts of nutty flavours from the melon seeds.

Order Mandarin Oriental Singapore's mooncakes via email at mosin-mooncakes@mohg.com, call +65 6885 3500, or shop online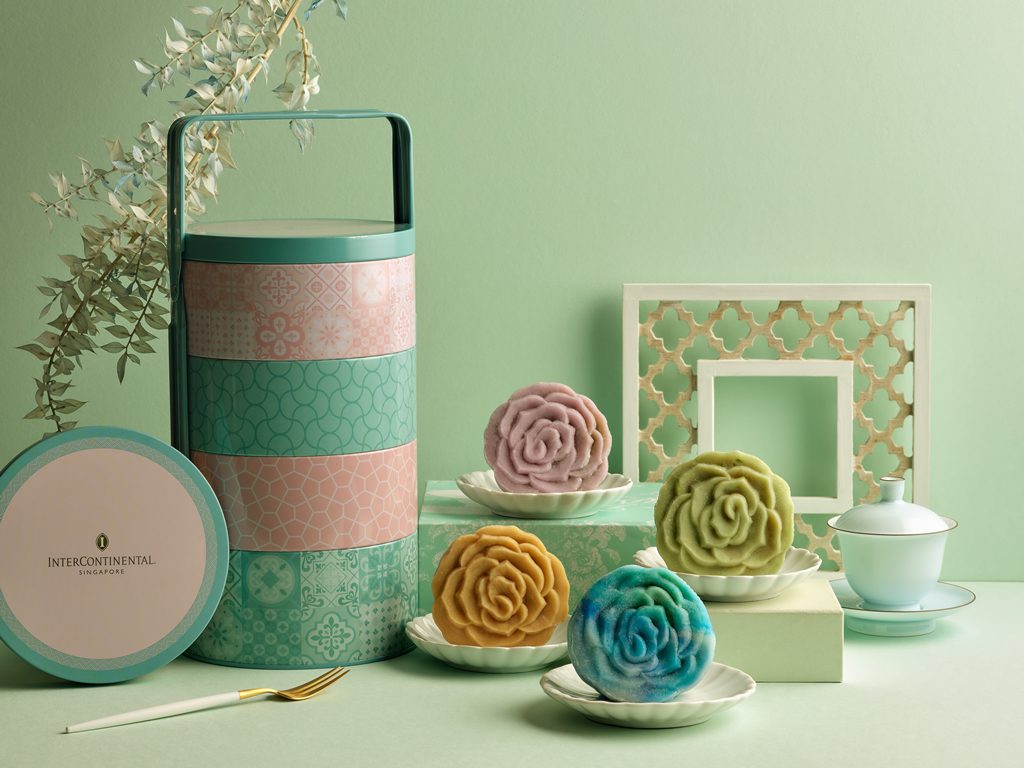 Intercontinental Singapore
InterContinental Singapore has created a line of mooncakes that focuses on paying respect to the time tested flavours of old and fine tuning them to suit everyone's taste buds!

Revolving around a Peranakan theme, the new snow skin mooncakes are crafted in the pattern of a rose in full bloom and houses flavours that are too tempting to resist. Those with a sweet tooth can indulge in the Chendol mooncake or the Pulut Hitam mooncake made with glutinous rice and has a candied longan hidden in the middle of the mooncake.

For traditional mooncake fans who prefer the old fashioned ways, they may select from a diverse range of baked mooncake flavours including the White Lotus Paste with Double or Single Yolk or opt for the healthier Low Sugar White Lotus Paste with Macadamia Nuts.

To further drive the point home of the heritage theme, the mooncakes are presented in modern renditions of tingkat carriers that take its inspiration from traditional Peranakan designs that have taken root in Intercontinental Singapore itself.

What we liked most:
No one can resist the unmistakable taste or scent of durians and the same saying goes for the Durian Pengat mooncake! The creamy texture is enhanced by the sweetness of the gula melaka and the union of flavours is balanced out by the thick snowskin of the mooncake – a full flavoured mooncake for those with a bold palete!

Order InterContinental Singapore's mooncakes online until 28 September 2020 and at the Man Fu Yuan Shoppe, located at the Level 1 entrance of InterContinental Singapore from Bugis Junction from now until 1 October 2020.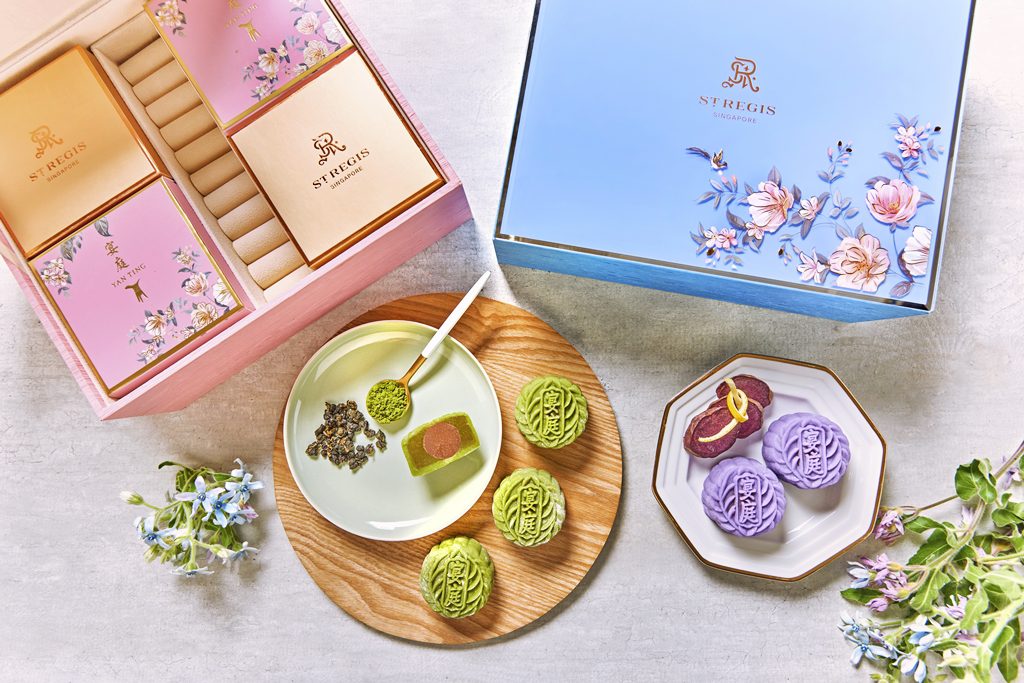 The St. Regis Singapore
Yan Ting at The St. Regis Singapore is renowned for their exquisite snowskin moon cake flavor pairings, making them a treat to look forward to every time moon cake season rolls around. Making their debut alongside the coveted Pure 'Mao Shan Wang' Durian flavor is four new exciting flavors.

For those who don't have a sweet tooth, the Black Sesame Paste with Caramel Sea Salt Truffle is a classic sweet-savoury pairing that will satisfy your snowskin cravings. The Honey Purple Sweet Potato paste with Orange Yuzu Truffle is probably St Regis' most adventurous flavor pairing, as the burst of zesty citrus works together with the sweet potato for a healthy and tasty dessert. A new spin on the milk tea trend is the Royal Milk Tea Paste with Honey Osmanthus moon cake, a milky yet sweet and fragrant moon cake.

St Regis Mooncakes are housed in a floral glass-topped box, and make for tasteful gifts for both business partners and friends alike. There are two colours to choose from – pastel blue and pastel pink, but both equally gorgeous with elegant flower motifs. Once you've enjoyed the mooncakes, you can also use the box to keep trinkets or even jewelry as the box is lined with felt and even comes with ring rolls down the middle for earrings or rings. Talk about practicality!

What we liked most:
The Royal Milk Tea Paste with Honey Osmanthus mooncake, a milky yet sweet and fragrant mooncake. The burst of sweet honey and osmanthus cuts through the rich, milky paste with hints of the roasted tea steeping through.

Order The St. Regis Singapore mooncakes online  or call +65 6506 6888.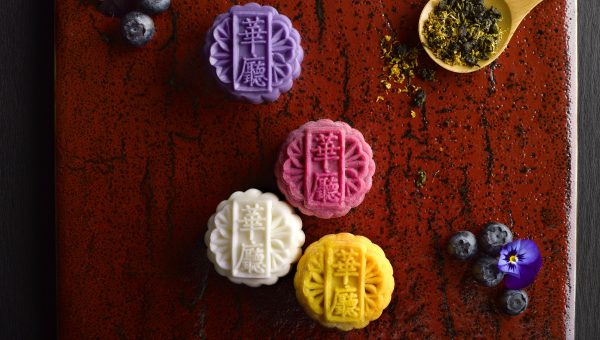 Orchard Hotel
Orchard Hotel Singapore unveils a collection of delicate mooncakes crafted to perfection by Hua Ting's culinary experts. Made with organic ingredients, Master Chef Lap Fai has specially handcrafted traditional baked lotus mooncakes in low sugar as well as the natural flavoured Hua Ting Mini Snowskin Treasures.
For those who enjoy a dash of alcohol in their mooncakes, don't miss the White Lotus Paste with Champagne Ganache, a brilliant pink-hued snowskin with a champagne-filled white chocolate ganache centre amid Hua Ting's premium white lotus paste. Or enjoy Blueberry with Vintage Hua Diao Wine wrapped within a lovely luscious purple snowskin, this dainty delight entices with the delicate balance of sweetness and tartness of blueberries infused with Vintage Rice Wine "Chen Nian Hua Diao".
Apart from mooncakes, Hua Ting has introduced an exclusive set of seasonal teas that are named after the four seasons to add a new dimension to diners' experience, allowing the taste profile and aroma of teas to complement and enhance Hua Ting mooncakes. These fragrant teas help to temper the sweetness of the Mooncakes with its fragrance and refreshing taste.
What we liked most:
The Sour Plum with Roasted Organic Hazelnut snowskin mooncake, a healthy rendition of snowskin creation. The smooth texture of the sour plum filling complementing the crunchiness of the baked organic turkish hazelnuts perfectly.
Order Millennium Mooncakes by Hua Ting online or in store at Orchard Hotel Singapore. Available for sale from now till 1 October 2020.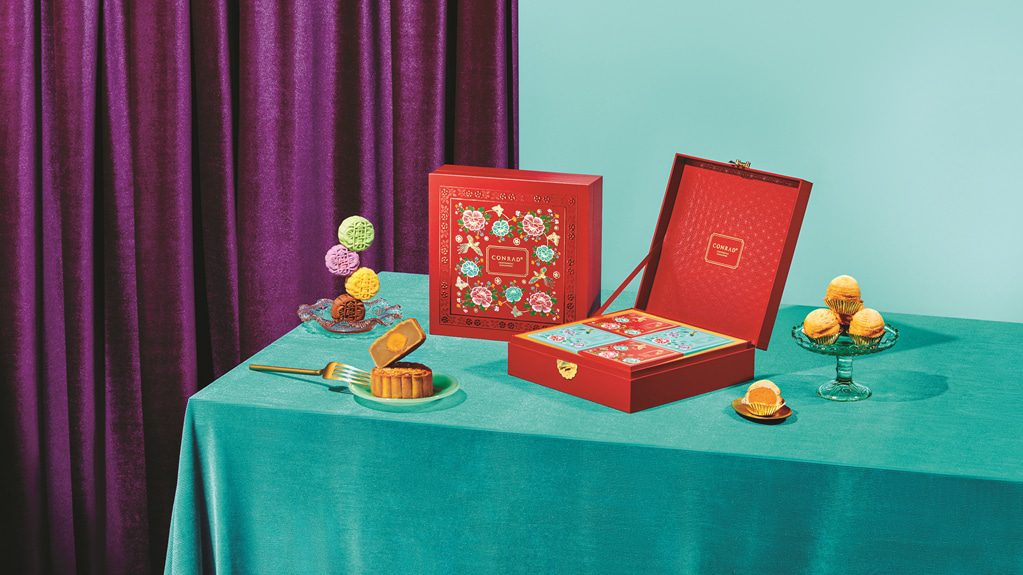 Conrad Centennial Singapore
Enjoy Mid-Autumn Festival with both traditional and alternative delights with Conrad Centennial Singapore's mooncake offerings – take your pick from classic baked mooncakes or prettily-hued snowskin delights, set in a gorgeous floral-patterned crimson gift box!

Savour evergreen classics such as the White Lotus with Single Yolk baked mooncake, or go for the Traditional Baked Mooncake with Mixed Nuts for an added fragrance to your pastry.

This year for the snowskin mooncake range, Conrad Singapore is offering a variety carefully crafted by the chefs at Golden Peony, with favourites including Royal Chocolate Hazelnut Crunch and Green Tea, along with two new flavours: Sea Salt Gula Melaka, and Purple Sweet Potato with Pumpkin.

What we liked most:
The Sea Salt Gula Melaka, a local twist on the ever-popular salted caramel flavour pairing. The coconutty sweetness of the gula melaka filling is oh-so-luscious, with a pandan fragrance that lingers on the tongue. The hints of sea salt also add a lovely nuance to the mooncake – best eaten chilled!

Order Conrad Centennial Singapore mooncakes via email at sinci.festive@conradhotels.com, call +65 64327486 / 89, or online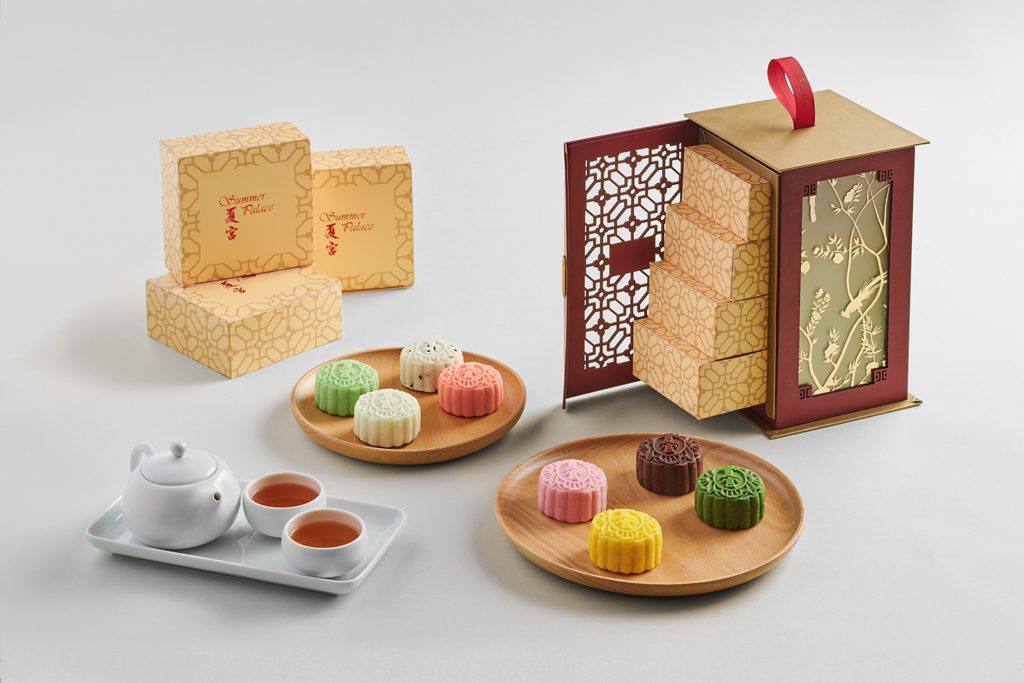 Regent Singapore
Paying homage to the traditions of the Mid-Autumn Festival, Regent Singapore's delectable snowskin mooncakes collection showcases both traditional classics favourites and a unique modern spin-off. These mooncakes are delicately encased in an elegant oriental latticed box that transforms into a lantern with fairy lights.

While other chefs were getting creative, Dim Sum Chef Leong Kwok Sing from Michelin one-star Summer Palace is a master of the classics by doing what he does best. Being the bestselling flavour year after year, the Signature Black Sesame Paste features a stunning juxtaposition of cushion-soft pearlescent skin and a jet-black filling of finely ground black sesame.

What we liked most:
The Green Tea with Melon Seeds, crafted by Tea Lounge with the finest green tea from trusted tea partner, Gryphon, the earthiness of the Green Tea filling complements the crunch of toasted melon seeds.

Order Regent Singapore mooncakes online  or via email at takeregenthome@regentsingapore.com.sg or call +65 6725 3283.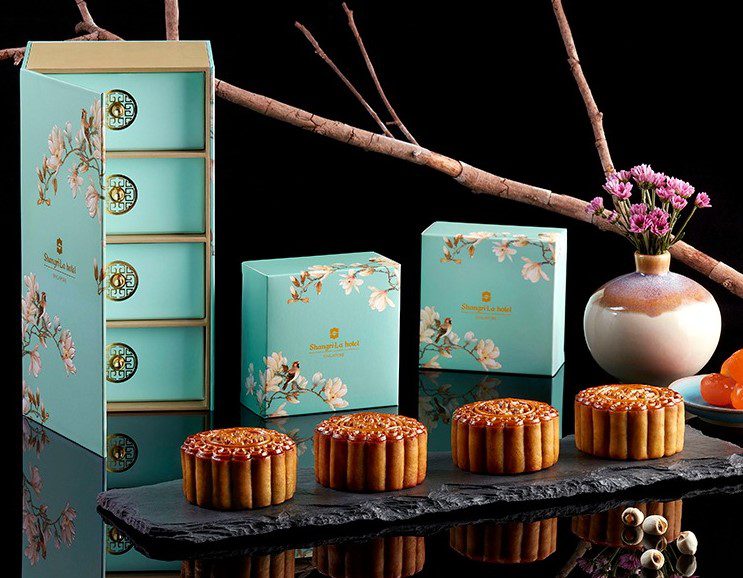 Shangri-La Hotel Singapore
A household name when it comes to Singapore's must have mooncakes, Shangri-La Hotel, Singapore brings back their perennial favourite Shang Palace Four Treasures baked mooncakes. If you want a guilt-free indulgence for you, your family and friends, then you must get this as the mooncakes comes in reduced sugar!

Packed in elegant turquoise gift box and designed with magnolia flowers in full bloom to represent the bountiful harvest, enjoy the baked mooncakes in four flavours, Reduced Sugar White Lotus Seed Paste with Single Yolk, Reduced Sugar White Lotus Seed Paste with Double Yolk, Reduced Sugar Plain White Lotus Seed Paste and Mixed Nuts with Chicken Ham.

What we liked most:
Their Reduced Sugar White Lotus Seed Paste range is so far the best we have tried this year, just the right amount of flavour and being reduced sugar means its less sweet, using only the premium ingredients, not to mention that even the yolk inside is still soft and fresh, this gives the mooncake a melt in your mouth feel.

Order Shangri-La's mooncakes online to enjoy 20% off classic baked mooncakes, you may also call +65 6213 4511/4473 or email shangpalace.sls@shangri-la.com. Delivery and self-collect options are available. Available for sale from now till 1 October 2020.