Kushikatsu Tanaka Launches Limited-Edition Spring Menu!
Japan's largest kushikatsu chain Kushikatsu Tanaka, with more than 169 outlets worldwide, debuts it's new spring menu in time for the Sakura season.
CONTENT: Andrew Kho
IMAGES: Luxe Multimeda
Available only for a limited time from March to May, Kushikatsu created eight new curated spring dishes exclusively available in Singapore.
Popular for its Osaka style fried cutlet skewers and signature dipping sauce, this lively Kushikatsu Izakaya has eight new Singapore exclusive special curated spring dishes such as the sweet and soft rice cake Sakura Mochi Kushikatsu with a red bean paste centre, The baby sweetfish Chi Ayu Kushikatsu is crisp-fried in Kushikatsu Tanaka's signature batter, sweet and bitter taste is the unique flavor of the chi ayu. Young marinated bamboo shoots Takenoko Tosani Kushikatsu – marinated in dashi stock, then deep fried in Tanaka's signature batter.
For starters, you can try the Nanohana Gomaae, a yellow carpet of field mustard flowers, a signature spring scenery in Japan. Popular as edible flower vegetables, the refreshing nano-hana blossoms are cooked and marinated in a light, sweet, sesame-based sauce. The Hotaruika Okizuke, a firefly squid which pairs well with sake is Kushikatsu Tanaka's version of the springtime snack takes fresh hotaru ika from Hokuriku region, marinated in soy sauce, sake, mirin and sugar, lastly is the Hitokuchi Karashi Renkon, a regional specialty of Kumamoto prefecture, this bite-sized lotus root is stuffed with spicy mustard and miso filling and deep fried to perfection.
The last two of the eight spring dishes is Japan's popular Highballs, first is the Sakura Highball, a refreshing highball made from Jim Beam bourbon, amazake, cherry and garnished with beautiful preserved sakura blossoms. while the Amaou Strawberry Highball is regarded as the king of Strawberries having made with extracts from Amaou strawberries. This highball has an elegant sweet flavour that is paired with Jim Beam Highball.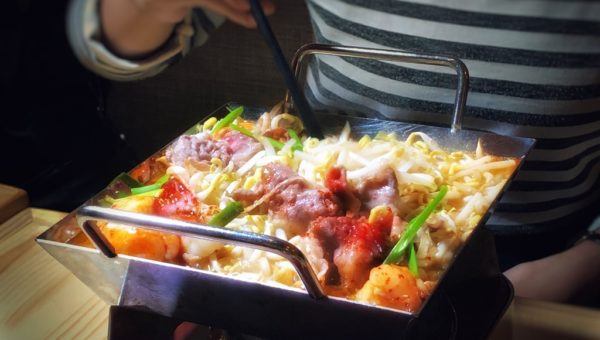 Apart from their spring menu, Kushikatsu offers Chirotori Hotpan, served on a bed of vegetables are sliced beef or pork, beef offal with Spicy Miso soup, this hotpan is a perfect dish to end your meal.
Enjoy authentic taste of Japan without leaving Singapore this Sakura season with Kushikatsu Tanaka's spring menu which is available from 10 March 2018 till end May 2018.
Kushikatsu Tanaka is located at: 3A River Valley Road Merchants' Court Clarke Quay Block A #01-01B Singapore 179020. For more information please call: +65 6258 3789