Rumah Rasa launches Singapore's First Crispy Chicken Rendang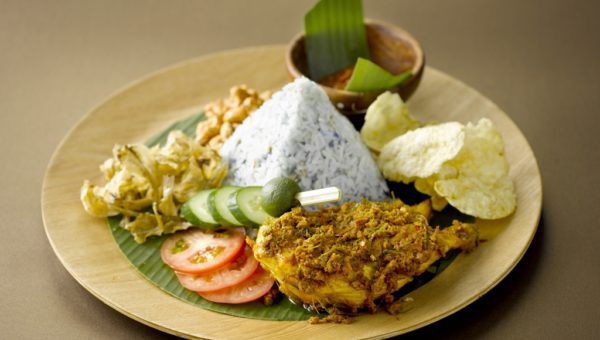 Amidst all the MasterChef UK's saga, Rumah Rasa, Bay Hotel Singapore's halal Indonesian restaurant has launched the Crispy Chicken Rendang ongoing from now till 30th April 2018.
MasterChef UK's Judges John Torode and Gregg Wallace can now taste the crispy chicken thigh with rendang that is also tasty with coconut sweetness.
Rumah Rasa's rendition will be served with Nasi Lemak Telang (blue rice nasi lemak), crispy ikan bilis, sliced tomatoes and cucumber, belinjau crackers, special homemade sambal sauce and of course the highlight – crispy chicken rendang.
Executive Chef Esa Hassim marinates the chicken thigh in his homemade rendang paste using fresh herbs and spices before it is being kept overnight to let the flavour seep in. It is then steamed-bake to make it more flavourful before deep-frying to crispiness. The chicken will be cooked in the rendang sauce once more before serving.
Rumah Rasa stands firm on keeping traditions but also understand that in this very competitive dining scene, the need to innovate is important.
Traditional beef rendang and many other dishes such as Sate Lilit (Balinese satay), Pempek Palembang (Indonesian-style fish cake), Sup Buntut (Oxtail soup) can still be found on Rumah Rasa's menu.
Chef Esa has been trained in cooking Indonesian delights from young and his passion has driven him to create traditional delicacies with a modern twist. While innovating the traditional Ayam Penyek, the MasterChef's episode came just in time for this idea and it is also right after the restaurant's promotional special Indo-mie creations (e.g. Soft shell chilli crab Indo-mie, Sliced beef Indo-mie in lemak sauce, Indo-mie nuggets) ended a few days ago.
Rumah Rasa at Bay Hotel Singapore is located at: 50 Telok Blangah Rd, Singapore 098828
For reservations, please contact +65 6818 6681 or email dining@bayhotelsingapore.com