La Rambla by Catalunya: Authentic Spanish Weekend Brunch in Hong Kong
CONTENT: Andrew Kho
I got to know about Catalunya when they first opened here in Singapore in the year 2012 at the Fullerton Pavillion, which sadly it closed down in 2016. Thankfully, the brand has an outlet in Hong Kong and it is called La Rambla by Catalunya and said i must check it out.
Located in the upscale IFC Mall in the Central district, the 5,000 sq.ft. restaurant has a very modern casual interiors as compared to then their Singapore outlet, not to mention the astonishing views of the Hong Kong harbour which gives you a laid-back comfort as you slowly savour your meal in the company of your friends and family.
We came here on a Sunday to check out La Rambla's famed weekend brunch which is inspired by the style of eating found at traditional spanish markets, here the restaurant offers different stations from the Antipasti ( Iberico, Jamon and Cheeses), salads, Pintxos Bar ('Basque-ified' take on the Spanish word 'pincho', which itself comes from the verb 'pinchar', which is 'to pierce'), Pinchos are traditionally pierced with a cocktail stick to attach it to the piece of bread that they invariably came attached to. However, as Basque cuisine has evolved, the food at La Rambla is not pierced to a piece of bread. Lastly, included in the brunch is the Juice Bar, a selection of fresh juices are available to quench your thirst.
The main highlight of La Rambla's weekend brunch is of course the popular Spanish favourites which is often started off with Tapas , here you get to choose from either Jamon Croquettas (Ham Croquette), Patatas Bravas ( Fried Potatoes) or the "Bikinis" ( a common spanish sandwich in Spain, and the name Bikini comes from the Bikini Concert Hall in Barcelona, where vendors have been selling pressed ham and cheese sandwiches to late-night revelers and concert-goers for years). I remembered Bikinis is one of the dish i enjoyed at their then Singapore outlet.
You haven't gone to a Spanish restaurant if you haven't ordered Paella ( a Valencian rice dish cooked in a large pan), here you get to try three type of paella – classic paella, squid-ink paella or paella vegetarina ( this is suitable for vegetarians). you can;t go wrong with any of these three choices as all are delicious. Our favourite was the squid-ink paella which was gone in less than five minutes.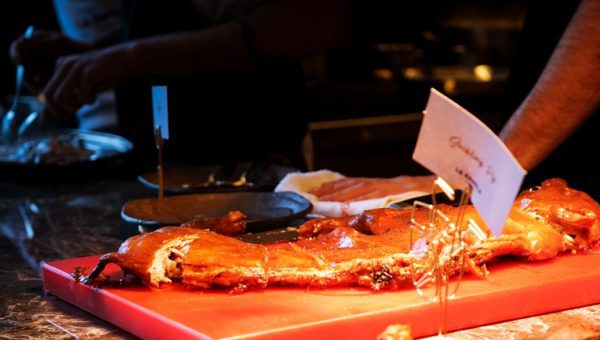 Lastly, you shouldn't leave the restaurant if you haven't tried their Josper Grilled Tomahawak ( Josper is an elegant combination of a grill and an oven in a single machine which is popular in steakhouses) and Traditional Suckling Pig " Segovian Style" ( Segovia is a small city in Spain and is world capital of locally known "cochinillo"). Cochinillo is a name used to refer to roast piglet and here at La Rambla, you get to try this famed dish from Segovia without going far.
Catalunya has always been a top choice for Spanish cuisine in Singapore and at La Rambla by Catalunya they have proven once again why they are considered one of the leading spanish restaurant operator in Hong Kong. We will definitely be back soon for more Spanish tapas and paella when we are back in Hong Kong.
La Rambla weekend brunch buffet is priced at HK$550 per person, available every Saturday and Sunday from 12 noon till 3pm. Top-up HK$320 for free-flow champagne, white and red wines.
La Rambla by Catalunya is located at IFC, 8 Finance Street, Central, Hong Kong.
For reservations or more information please call +852 2661 1161 or visit: www.larambla.hk