Magnum Launches New Magnum Mini Dulce de Leche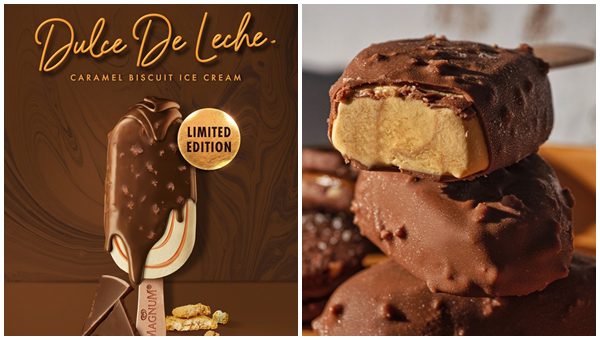 CONTENT: Andrew Kho

Magnum has launched their newest Limited Edition Magnum Mini Dulce de Leche, inspired by the Latin American delicacy.

Each stick is filled with delicious essentials of slow cooked sweet milk, Dulce de Leche together with Magnum's signature classic milk chocolate, velvety caramel ice cream, swirled with caramel sauce that make up a full-size Magnum ice cream served in a perfect miniature. Crunchy bite sized biscuit is added to complete the Magnum pleasure experience.
The Magnum Dulce de Leche is now available island-wide at all major supermarkets/ hypermarkets and on RedMart as well as select FoodPanda territories at the RRP of S$10.90 for mini multipack of six.


Magnum x Absolutely Batter Retail Bundle
To celebrate the launch of the new Magnum Mini Dulce de Leche, Magnum and Absolutely Batter has released an exclusive Magnum x Absolutely Batter " Dulce de Leche Crumbwich" which features the buttery brown Dulce de Leche sauce sanwiched between two crumbly chocolate cookies embedded with crunchy nuts.

The Magnum x Absolutely Batter Retail Bundle is available at Absolutely Batter Website, priced at S$24.90 which includes:
1 box of Magnum Mini Dulce de Leche
1 tube of Magnum x Absolutely Batter " Dulce de Leche Crumbwich"