Marcello: Singapore's Sultry Italian Cocktail Bar
New craft cocktail bar officially launches with Southeast Asia's largest collection of Amari
CONTENT:Yiew Kai Jie
Singapore's cocktail scene has seen various cocktail bars come and go, with some bars rising to the top of their game and some simply fading away from existence. Despite the highly competitive market, many bars and bartenders refuse to give into the odds and continue the hard fight. One of them is Marcello- who is ready to shake up Singapore's cocktail scene with its official launch.
Having carefully amassed Southeast Asia's largest collection of Amari, the high-energy bar serves Italian craft cocktails complemented by gourmet bar bites in a sophisticated and sexy atmosphere tucked at the back of the new InterContinental Singapore Robertson Quay hotel.
Concealed in a thick blue velvet curtain, Marcello comes to life by night with vigorous tunes that escalate to match the vibe throughout the evening, only to dissipate again as the sun goes down beyond the horizon. The bar's concept was designed by leading New York design firm, AvroKO who cleverly built the bar to be adaptable and turn from a bright daytime deli into an intimate, lively bar through hidden walls, cabinets and cleverly used lighting that all comes into play as daylight fades. Various antique bar features mixed with diverse treasures add to the atmosphere, evoking the timeless glamour of fine Italian craftsmanship, fashion and festive drinking traditions.
Helmed by sassy Italian Head Bartender, Palmira Bertuca, Marcello celebrates the best of modern Italian drinking with a stylish cocktail menu created with high-quality craft spirits and ingredients sourced from Italy.
Their signature cocktails include: Smoked Black Olive Negroni ($22): gin, Italian vermouth & bitter, smoked black olives. Despite it's lightly sweet and vibrant taste, make no mistake, this cocktail is extremely potent that is not for the faint of heart and could put you down on the ground in two glasses if one isn't careful. Don't forget to eat the olives once the drink is finished, its smoky taste and texture will help to balance the strong aftertaste of the cocktail.
Milano Fizz ($19): homemade lemon sherbet, Italian bitter, prosecco. A cocktail that is sure to be an instant hit with the ladies, the cocktail is full of zesty and sweet notes that will make anyone sip the cocktail as if it was a thirsty man gulping down a glass of water.
Lastly, the Cinema Paradiso ($24): gin, citrus, agave, chinotto. At first glance, the cocktail looks like a glass of cola topped off with a slice of lemon, however upon the first sip, a burst of fresh and herbal flavours will dance on the tongue, along with a rather harsh bitter aftertaste, so one should consume this drink with some food on the side to complement the drink.
The expertly concocted cocktails are joined by a vast selection of fine Proseccos, Italian wines, beer and, last but definitely not least, an extensive selection of classic and modern Amari.
Classic Amari
Amari (the plural of amaro, the Italian word for "bitter") are a class of bitter Italian liqueurs principally employed for their digestive qualities. Consumed either before or after a meal (aperitivo or digestivo). The usual flavour profile is herbal, sweet and slightly sticky.
Modern Amari
"Modern" amari are a class of bitter Italian liqueurs which incorporate ingredients during production like cardamom, rhubarb, truffle etc. Just like traditional versions, modern amari are usually drunk pre or post dinner. Modern amari are a little more versatile & innovative due to their contemporary flavour profiles, which make them a perfect cocktail ingredient.
To complement the drinks menu, the bar serves a selection of small plates using seasonal ingredients from Italy. Each dish pairs naturally with fine drinking to encourage social eating and sneaky late-night snacking.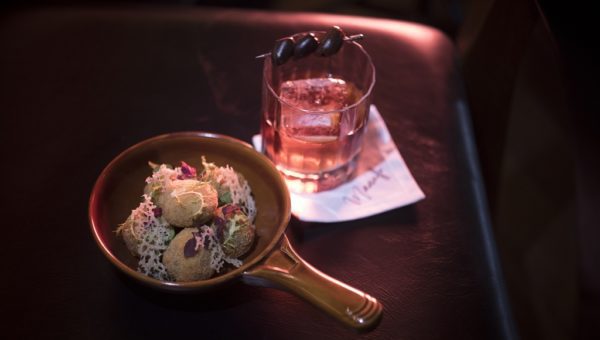 Highlights include Stuffed Dried Dates ($13): a trio of exotic flavours: sweet dates, tangy gorgonzola, spicy salami. Charred Octopus ($14): tender octopus, cannellini beans and pepperoncino, dressed with herb infused extra virgin olive oil; Lastly, Truffle Arancini ($12): fried risotto balls filled with mushrooms and truffle oil- pure happiness in a ball that will explode in an ocean of strong and fragrant flavours once bitten down upon!
With highly bespoke and high spirited service, Marcello is the Quayside neighbourhood's hottest new bar – ideal for a post-work drink or pre- or post-dinner weekend drinks. To meet Marcello in person, stop by for Aperitivo Hour from 7-9pm, Monday to Friday, to enjoy $8 Rosata Spritzes. Once the drinks are done head through to the other side to Publico, for a fantastic Italian meal to end the night with.
Marcello is located at: 1 Nanson Road, Level 1 at the InterContinental Singapore Robertson Quay.
Marcello is open from Sunday-Wednesday and Thursday-Saturday from 7pm-12am and 7pm-1am respectively.
For bookings, please contact marcello@publico.sg or call +65 6826 5041.