MO Bar: Mandarin Oriental Singapore's Newest Experimental Cocktail Bar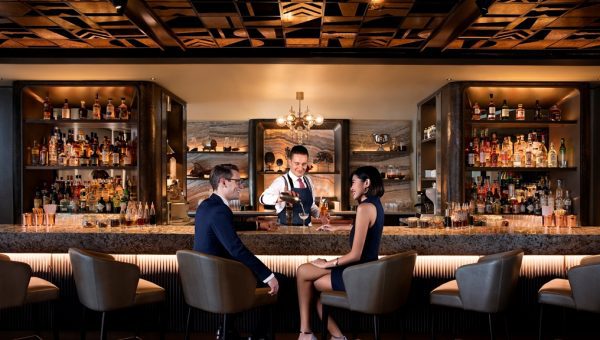 Inspired by the open ocean and the vast arrays of cultures in Asia, MO BAR is the next hottest cocktail bar to open in Singapore.
CONTENT: Yiew Kai Jie
Located on the hotel's fourth floor with floor-to-ceiling views of Marina Bay, MO BAR is the culmination of a unique collaboration with award-winning bar developers Proof & Company and Blueplate Studios. Taking its inspiration from the Pacific Ocean, the sophisticated décor of the bar comprises of travel artefacts from all over Asia, hand-carved wooden sculptures, etched metal panels and hand-woven tapestries. The distinctive bar counter takes centre stage in the bar and offers guests a front row seat from which to view the skilled mixology team in action.
The drinks menu has been specially curated by Bar Manager Michele Mariotti, who has worked at many of Europe's most esteemed bars over his career. The bar menu has an interesting feature that includes a chart that shows the amount of alcohol in a cocktail and it's primary flavour so that cocktail connoisseur are able to enjoy their favourite tipple drink without passing out on the first sip. There are 14 unique cocktails available on the menu including an amazing starter cocktail, The Roaring City (S$24) with sparkling pineapple tapache and vermouth jelly. The light cocktail works as a refreshing tipple to revitalise the tired soul after a hard day's work and ensures that guests won't pass out on the first sip while waiting for the rest of their friends to come.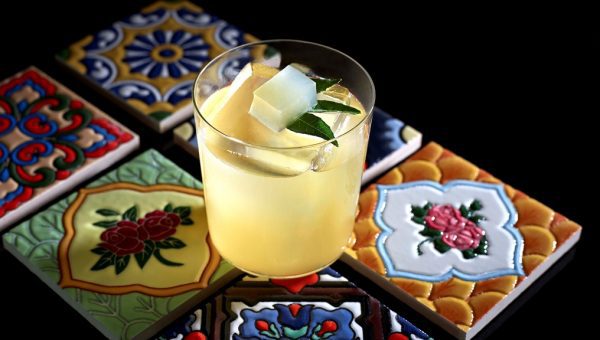 The Rough Waters By The Coral Sea (S$26) is an experimental cocktail that is made using barrel aged water and herb cognac wine that are all made in-house at the bar. Its taste is rather similar to a classic Manhattan cocktail, with the liquor being poured out from a wooden barrel, diluted with ice and finally topped off with edible coral and a mild red pepper sauce that adds a savoury flavour to the drink. The drink should be consumed with a bite-sip-bite-sip method, as the drink has a powerful kick to it but it can be tempered with small bites of the salty coral.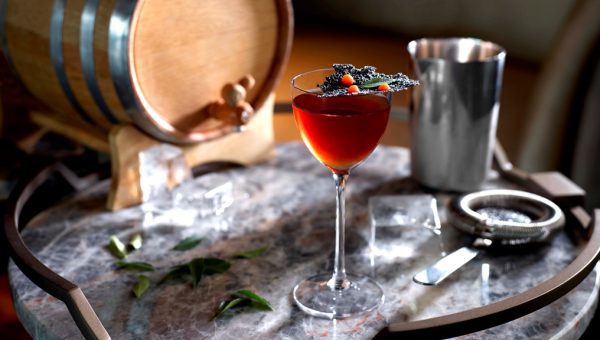 The Tea Time (S$28) cocktail is sure to be a giant hit with many oriental customers! Made with Javanese Bourbon Tea and served in a special cup made from jade with a small Arrack Cashew Cake on the side. The cocktail is almost reminiscent of a traditional chawanmushi dish, with the mild sour taste of the cocktail hidden beneath a light sweet foam that gives the cocktail an amazing sweet and sour aftertaste!
The menu also includes various mocktails, beers and wines, and a one-of-a-kind MO BAR Pilsner- Sailor's Ale (S$20) that was developed in collaboration with local craft brewery, Archipelago.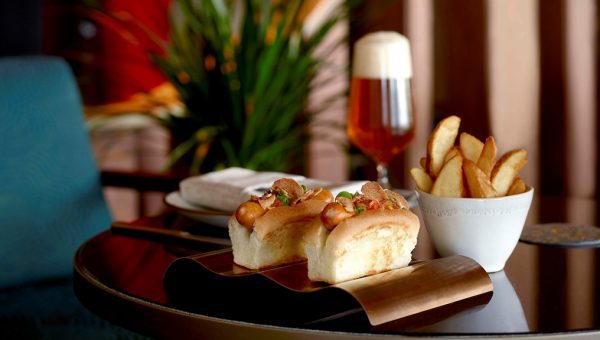 Apart from the titillating tipples, MO Bar also offers up gourmet light bites that will not disappoint and are perfect for sharing amongst friends or fellow cocktail lovers. Highlights from the menu include the Indo-China Prawns with Masala Mayo and Kalamansi (S$26), Hamachi with Pickled Roots and Shiso Aioli (S$28) and Boneless Phoenix Wings (S$32) stuffed and glazed with local spices! Other noteworthy dishes include the aptly named Singdog (S$26) with Achar, traditional nonya sausages and sambal mayo. The hotdog buns are extremely flavourful and have a perfect protein-to-meat ratio to them. While they might look too simple a dish for such a sophisticated bar, the buns come with a side of freshly made fries and are sure to keep the hunger pangs at bay while making a great accompaniment to any cocktail!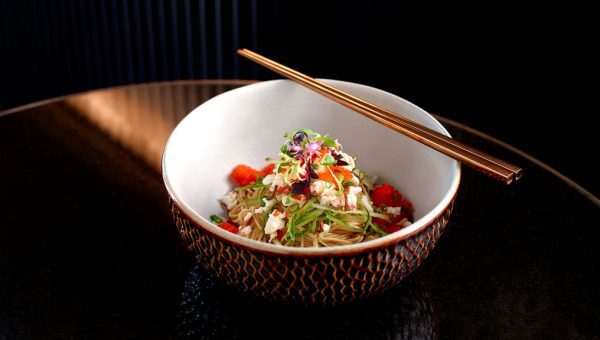 The Somen Noodles (S$32) with Tasmanian Crab and Crab Roe is a must-order dish on the menu! The flavour of the noodles will remind patrons of an old school noodle dish being doused with oyster sauce. There are generous servings of crab and crab roe in this dish- mix the noodles together to get the flavour of the seafood thoroughly imbued with the noodles to achieve a satisfying flavour combination for the palate.
The hotel's popular afternoon tea is also served daily, featuring artisan pastries and a wide range of accompanying local delights, with the personalised service for which Mandarin Oriental is renowned after.
MO BAR is open daily from Sunday to Thursday: 11am to 1am and Friday, Saturday and eve of Public Holidays: 11am to 2am.
Afternoon Tea is available from Monday to Friday: 3pm to 5pm and two sittings for Afternoon Tea for Saturday, Sunday and Public Holidays: 12.30 to 2.30pm and 3 to 5pm.
For further information, please visit: www.mandarinoriental.com.sg or email: mosin-dining@mohg.com, call +65 6885 3500 for reservations.