Morton's Steakhouse Commemorates its 21st Anniversary with a Limited Edition Seasonal Menu
CONTENT: Yiew Kai Jie
To celebrate its 21st anniversary in Singapore, Morton's has introduced a limited edition seasonal menu that features staple favourites and features the best of what Morton's has to offer to its customers to celebrate the flavors of this delightful season.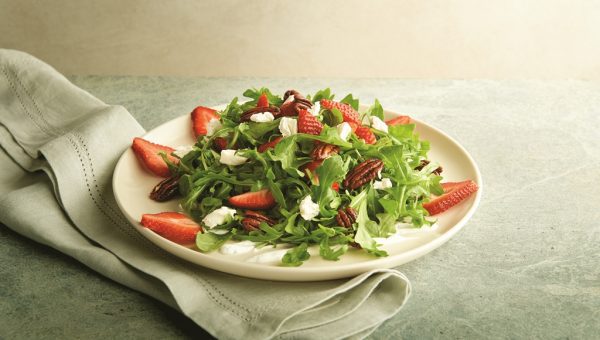 The new Strawberry, Arugula and Goat Cheese Salad (S$28++) places emphasis on the summer flavour by pairing strawberries with tart cheese, fresh arugula, candied pecans and topped off with a refreshing minted Greek yogurt dressing. Fresh and light on the side, the strawberries help balance the dish if the arugula or cheese threatens to overpower the dish while the pecan nuts acts as a palette cleanser that equalises everything at the end -overall a delightful appetizer that leaves plenty of room for the main courses.
Morton's famous Nueske's Bacon Steak, Soy Caramel (S$20++) has made a comeback with as asian twist— a rich, sweet soy caramel sauce made with five spice powder, cracked five-peppercorn and soy sauce, which perfectly complements the pork's saltiness, delivering a punch of umami with every bite. With a single bite, diners can literally taste the grill on the bacon- with hints of smoke and marination from the sauce! This dish makes for a bold starter or a mouth-watering accompaniment to any main course, although due to its robust flavour, avoid any light tasting courses after this dish as this would overwhelm the palette very quickly and leave you unable to taste anything else.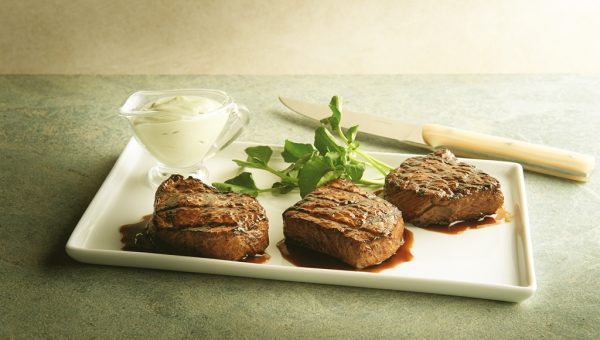 The pièce de résistance of Morton's new seasonal menu is the Prime New York Steak Flight (S$168++) which features three different medallions of steak. Guests will sample Certified Black Angus All-Natural, USDA Prime and Snake River Farm Premium Wagyu Strip steaks alongside steak jus and an irresistible blue cheese fondue sauce. Cut from the loin section of the sirloin, the steaks are highly-marbled for intense flavor and arranged according to grade, giving guests a delicious and educational experience, all on one plate.This extremely rich tasting dish is definitely worth the price of admission and is sure to fill up even the most famished diner and is perfect to share with a friend or fellow steak lover! Perfectly cooked to a medium doneness, the blood helps to add a sweet and velvety finish to the steak! However, pacing is essential as this dish will get extremely rich fast due to the sauces and could get rather dull fast.
Diners can opt to pair this dish with a bottle of Stags' Leap Napa Valley Cabernet Sauvignon (S$180++) or the Roasted Cauliflower with Romesco Sauce (S$28++) dressed with Greek vinaigrette and sprinkled with Kalamata olives and crispy capers to complete the marriage of the steak.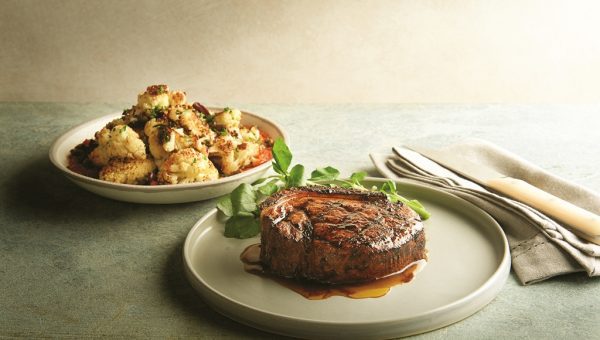 Another limited-time-only steak option is available in the form of a succulent 12.oz Bone-in Filet Mignon (S$138++). Cooked to a medium rare doneness, the steak literally melted away when it enters the mouth, although it was a tad dry due to the dish lacking a sauce! Combine the dish with mustard or the roasted cauliflower and it'll be a perfect union in the mouth.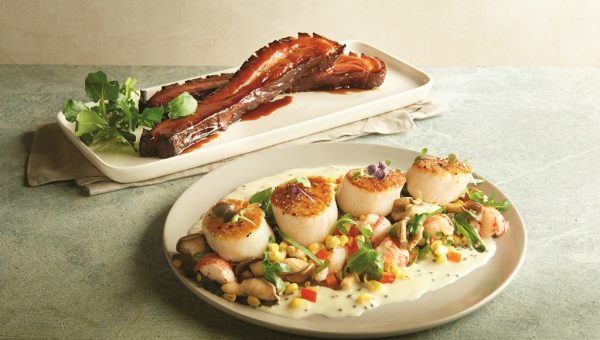 For those who prefer an alternative to red meat, seafood lovers can also enjoy their time at Morton's with their new Seared Sea Scallops with Lobster & Caviar Butter (S$98++). The succulent scallops are served atop a bed of tender oyster mushrooms, crisp sweetcorn, indulgent lobster meat, with sauteéd baby arugula. The decadent dish is then topped off with a slab of caviar butter.The salad itself contained an extremely generous amount of lobster- the most that this writer has ever seen in a dish! The scallop was cooked to perfection with a minimal sear on the top and went nicely with the caviar butter and the other ingredients in the salad.
Morton's, The Steakhouse is located at the 4th storey of the Mandarin Oriental, 5 Raffles Avenue, 039797. The restaurant is open daily from 5pm to 12am.
For reservations, please call: +65 63393740 or visit: www.mortons.com/singapore/