Newby Teas Launches Zodiac Collection In Celebration Of The Mid-Autumn Festival
In celebration of the upcoming Mid-Autumn Festival, Newby Teas, the world's most awarded luxury tea brand is proud to present its exquisite Zodiac Collection decorated with constellations of Swarovski® crystals. The collection includes 12 unique tea flavours for all to indulge in as you admire the beautiful night sky with your loved ones.
Just as every star sign has its own traits, every tea in Newby's Zodiac Collection has its notable characteristics. The collection showcases an exquisite range of black, green and oolong tea offerings. For those born under the Aquarius star sign, the finest taste of black teas from India's Darjeeling region is bound to suit their palate. Named as the "Champagne of teas", Newby's Darjeeling tea comes with a refreshing taste enhanced with a floral fragrance.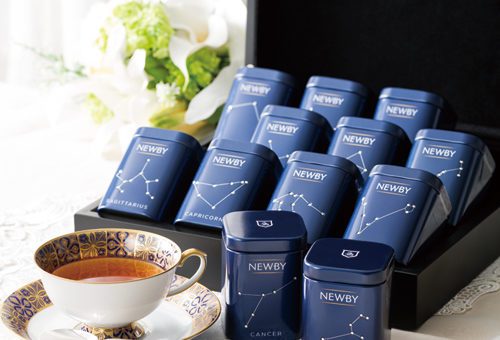 For the artistic and compassionate Pisces, the gentle taste of Newby's Green Sencha will be perfect for their taste buds. Made from spring's finest green tea leaves prepared in the Japanese sencha tradition, every cup gives off a vegetal aroma and a delicate flavor with hints of rice. Another notable tea flavour is the Himalaya – a majestic and memorable black tea that is considered the Himalayas' masterpiece. With an intriguing fragrance of wild grass and mountain flowers, this light amber brew comes with a smooth, subtle and crisp finish that is perfect for the independent Capricorn to relax and wind down.
Each midnight-blue caddy is beautifully adorned with Swarovski® crystals that take the shape of the eponymous star constellations. This is the perfect gift with a personal touch for your friends, loved ones and business partners.
Aquarius – Darjeeling, Pisces – Green Sencha, Aries – African Blend,  Taurus – English Breakfast,  Gemini – Indian Breakfast,  Cancer – Fujian Oolong,  Leo – Assam,  Virgo – Gunpowder,  Libra –  Earl Grey,  Scorpio – Jasmine,  Sagittarius – Ceylon,  Capricorn – Himalaya.
The Zodiac Collection and other Newby Teas range of products is available for purchase at TANGS Orchard until 1st October in conjunction to mid-autumn festival. They are also available on its e-boutique at www.newbyteas.sg.
Each Zodiac caddy measures 25g and retails at a special price of $35 (usual price at S$44), only at TANGS Orchard. The entire zodiac collection gift set retails online at S$541.30.