Proof & Company Introduces World's first "SmartKiosk" technology for ecoSPIRITS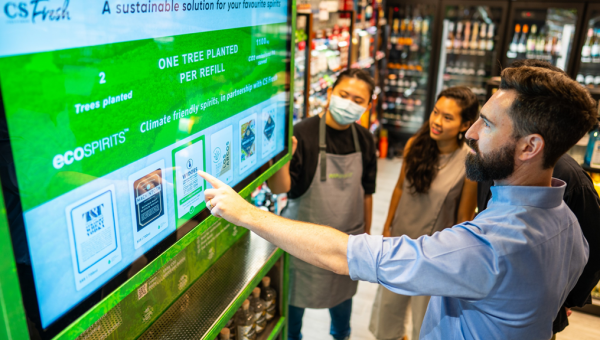 Proof & Company, one of Asia Pacific's leading independent spirits distributors introduces the world's first new patent-pending SmartKiosk technology for ecoSPIRITS in partnership with DFI Retail Group.

This new innovation represents the next step in ecoSPIRITS' Intelligent Circular roadmap and marks its first foray into circular packaging solutions for the retail channel; making sustainable reuse of branded spirits bottles available to consumers.

Proof & Company, ecoSPIRITS' licensed operator for Singapore, Hongkong SAR, China, Australia and New Zealand, is the first partner in the world to own and operate a fleet of SmartKiosk across the Region. Partnering with DFI Retail Group for Singapore launch, Proof & Company has deployed the first SmartKiosk in CS Fresh, Tanglin Mall, Singapore, with four more locations pinned for launch later this year.


The new CS Fresh SmartKiosk will offer Singapore's shoppers access to sustainable refills of a selection of craft spirit brands, including gins from the island's own Brass Lion Distillery. Other spirits available will include Tried & True Straight Wheat Vodka, Widges Gin, Mackintosh Blended Malt Scotch Whisky and Los Arcos Destilado de Agave.
Placing their bottle under an intelligent pouring system with brand authentication through a novel Verified Sustainable Refill feature and using a touch screen, customers can accurately refill with their favourite spirits. Each sustainable refill offers significant environmental benefits, eliminating an average of 550g of carbon emissions and more than 700g of single-use packaging waste. Consumers will also save up to 20 per cent over the same spirit in single-use packaging formats.

"Proof & Company is proud to be the very first operator of the SmartKiosk technology globally," says Brandon Grusd, General Manager, Southeast Asia, Proof & Company. "Having first pioneered ecoSPIRITS in the on-premise channel back in 2018, it's a natural fit for our growing network of retailers across Asia Pacific. It also provides a wonderful opportunity for our brand partners, such as Brass Lion Distillery and True Believers, to be at the forefront of consumer innovation. DFI and CS Fresh should be commended for their sustainability leadership in pioneering such a unique shopper experience."


This technology debut with Singapore's leading premium grocer aligns with the city state's Singapore Green Plan 2030, which commits to reducing landfill waste per capita per day by 30% by 2030. As part of their collaboration, for each refill purchased, ecoSPIRITS, Proof & Company and DFI will jointly plant one tree in the CS Fresh Forest under the ecoSPIRITS Forest Program.

Additional SmartKiosks will be deployed in ecoSPIRITS markets around the world in the coming months.